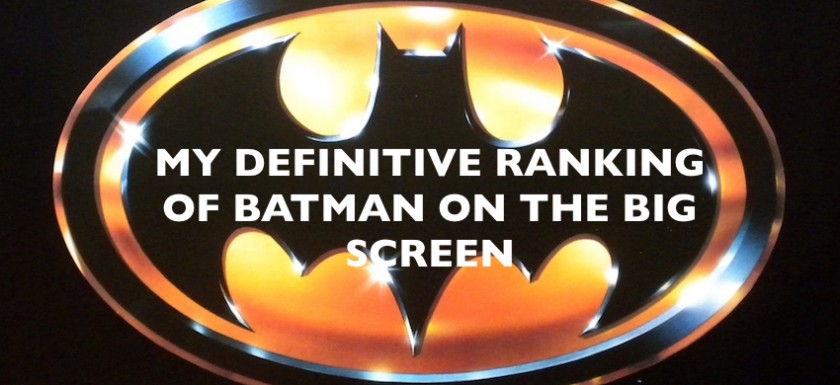 MY DEFINITIVE RANKING OF BATMAN ON THE BIG SCREEN
Originally posted March 21, 2016
Batman is making another return to the big screen this weekend with Zach Snyder's Batman v. Superman: Dawn of Justice. This is the second film in DC Comics' larger Justice League universe. The Caped Crusader is my all-time favorite superhero. I even donned the cape and cowl for Halloween one year when I was a kid. I thought I would take a look back at the many iterations we've seen of the character. We've seen a variety of Oscar winners, villains, styles, themes, bat logos, and nipples in the eight movies that have come before. Let's start with the best and work our way to the very bottom.
1. THE DARK KNIGHT (2008)
"You wanna know how I got theses scars?"
"Why so serious"
Christopher Nolan successfully brought Batman back to the big screen with Batman Begins, but it was the second part in his trilogy that became the quintessential superhero movie. It raised the bar for the genre with its scope, realistic approach, and of course, Heath Ledger's performance as the Joker. Ledger took a completely different approach than previous actors had with the character. He made him a sadistic anarchist and gave one of the best performances we have seen on screen in the last twenty years. Many believe that the hard work he put into the role was one of the contributing factors that caused his death. He was posthumously awarded the Oscar for it. Nolan created such a fervent energy to the film. He opened it with a bang with that exciting bank heist, and it only continued to build from there. He made great use of IMAX cameras for the film which added to the cinematic experience.
2. BATMAN (1989)
"Have you ever danced with the devil in the pale moonlight?"
It had been over twenty years since the last time audiences saw Batman, and Tim Burton did a complete 180 in his attempt at bringing the character and creator Bob Kane's universe to the big screen. Long gone are the days of spandex and campy effects. Burton cast Michael Keaton as Bruce Wayne/Batman and turned Gotham into a dark and violent city. He ditched the character of Robin and gave Bruce a love interest in Kim Basinger's reporter Vicky Vale. Keaton was able to showcase the darker aspects of Wayne. Jack Nicholson's take on the Joker was equivalent to a sick clown. His transformation from Jack Napier into the Joker is pretty frightening, but oh so Jack. He had a sinister laugh that is forever ingrained in my head.
3. BATMAN RETURNS (1992)
" I am Catwoman. Hear me roar."
I'll never forget that my parents forbid me from seeing this film in the theaters. I was a big Batman fan and was begging them to take me to it. I had a friend in school see it and was raving about it. They heard that it was even darker than the first film, so they wanted to check it out first for approval. It's PG-13 rating was a bit alarming for my 9 years old self. Needless to say they came back home with the bad news, and I've never let them forget it! Burton continues to expand his Gotham with new villains that couldn't have been better cast. No offense to Julie Newmar, but Michelle Pfeiffer will forever be my Catwoman. Her transformation from the meek Selina Kyle into sexy Catwoman is fairly scary for young kids. She's pushed from a high office window by Christopher Walken only to have cats nip at her body and bring her back to life. Danny DeVito was perfectly slimy and disgusting as the Penguin. Such cute animals, but such a gross villain. And I mean that as a high compliment.
4. THE DARK KNIGHT RISES (2012)
"You are as precious to me as you were to your own mother and father. I swore to them that I would protect you, and I haven't."
Christopher Nolan had his work cut out for him to deliver a satisfying conclusion to his Dark Knight trilogy. The previous entry, The Dark Knight, was pitch perfect and delivered one of the greatest performances seen in a superhero film. There was no way he could top that one, but The Dark Knight Rises succeeds at feeling like it has its own story while still feeling like it's a part of the overall saga. That saga being the rise and fall and rise again of Batman that the trilogy had laid out for the audience. The film welcomed Anne Hathaway, Joseph Gordon-Levitt, Marion Cotillard, and Tom Hardy to the franchise. Even though Bane isn't the most interesting villain in the Batman films, it was still very evident that Hardy would have a strong and diverse career to come. The final act had to cover a lot of ground, and some moviegoers felt a bit disappointed with some of Nolan's choices. Nolan brought some surprise twists and deepened the connections with how our new characters fit into the larger story at hand, especially between the characters played by Cotillard and Gordon-Levitt. I thought it was a satisfying conclusion even though I didn't want to say goodbye to these characters.
5. BATMAN BEGINS (2005)
"…It's not who I am underneath… but what I *do*… that defines me."
In 2005 Christopher Nolan set out to give his take on Batman and officially cleansed our palette from the atrocity that was the previous Batman film, Batman & Robin. He cast method actor Christian Bale as Bruce Wayne and his alter ego. Nolan made one of the few "origin stories" out there that completely works. It's no secret by now that a young Bruce Wayne witnessed the murder of his parents. While Nolan makes that a part of his film, he also explores what came next in terms of Bruce's training and how Wayne Manor came to be with the Batcave below it. We're introduced to his current "family" consisting of Alfred (Michael Caine), Lucious Fox (Morgan Freeman), and childhood friend Rachel Dawes (Katie Holmes). Dawes would appear in the next film with the role being played by Maggie Gyllenhaal. Holmes decided not to return, but I blame her marriage to Tom Cruise for that decision. Liam Neeson and Cillian Murphy star as two villains we had not yet seen on the big screen with Neeson playing Ra's Al Ghul and Murphy donning the mask for Scarecrow. Nolan made both villains out of standard Gotham citizens without turning them into cartoony characters with special powers.
6. BATMAN (1966)
"Some days, you just can't get rid of a bomb."
As a kid growing up in the '80s, Batman was my only connection to the television series as we didn't have cable to watch the old reruns. My VHS copy was played on repeat. It felt like a greatest hits version of the series with the four main villains appearing in it. It was released in between the first and second seasons of the series. Lee Meriwether stepped in and briefly replaced Julie Newmar as Catwoman. Newmar would go on and play the role again in the second season. Frank Gorshin (The Riddler), Cesar Romero (The Joker), and Burgess Meredith (The Penguin) all reprise their infamous characters for the movie. The movie brought about Bat-shark repellent, a machine that would de-vaporize people into a colorful powder, and of course that bomb scene that finds Batman unable to find a proper place to "get rid of a bomb."
7. BATMAN FOREVER (1995)
"Riddle me this, riddle me that, who's afraid of the big, black bat?"
Did you know that Batman Forever was nominated for 3 Academy Awards? Unfortunately, none of them were for Seal's song "Kiss from a Rose". I will admit to having an appreciation for this movie. I probably like it better than most fans. That's not to say that I think it's great, but I have fond memories of seeing it in theaters. There was so much hype around it, and I remember begging my parents to see it opening night. They caved in and we made it a family movie night at the Coon Rapids Showplace 16 (it's now an AMC Theater). Forever marked Joel Schumacher's first attempt at Batman, and it was vastly different than Burton's. His entries are brighter and more colorful making them a bit cartoony compared to Burton's film. I give him kudos on making it his own, but the script by Akiva Goldsman, Lee Batchler, and Janet Scott Batchler is pretty laughable. Keaton did not return to the role of Batman, and Val Kilmer brought a moodiness to the role. Sidekick Robin was finally brought into the picture and was played by Chris O'Donnell. Tommy Lee Jones and Jim Carrey were the main villains as Two-Face and the Riddler, respectively. Carrey was at the height of his career and brought all of his signature faces and voices with him to the part.
8. BATMAN & ROBIN (1997)
"Tonight's forecast… a freeze is coming!"
Where do I even begin Batman & Robin? Let's start with a little history. I remember my Dad and I going to this one at the Apache 6 theater. A great theater that no longer exists. The same cannot be said for this movie. It's a bad movie that still exists. Kilmer backed out at the last minute, and future Oscar winner George Clooney stepped up to the plate. I bet he's regretting that choice. Let's be real, it was horrid casting all around from Arnold to Uma to Alicia as Batgirl. Batgirl was a great character played by Yvonne Craig in the original series, yet became a bore on the big screen thanks to a wooden performance by Alicia Silverstone. Then there's Arnold Schwarzenegger as Mr. Freeze, and you can't help but laugh. This film is child's play as it is so completely different than what Tim Burton originally set out to do with his films. Yes, Schumacher had his own style, but I don't know of anyone that prefers his movies over Burton's or Nolan's. Don't forget Schumacher also brought us the Bat nipples.
That's it! I'd love to hear your thoughts on the man behind the bat. Which ones are your favorites and where do you think Batman v. Superman: Dawn of Justice will fall into this roster?