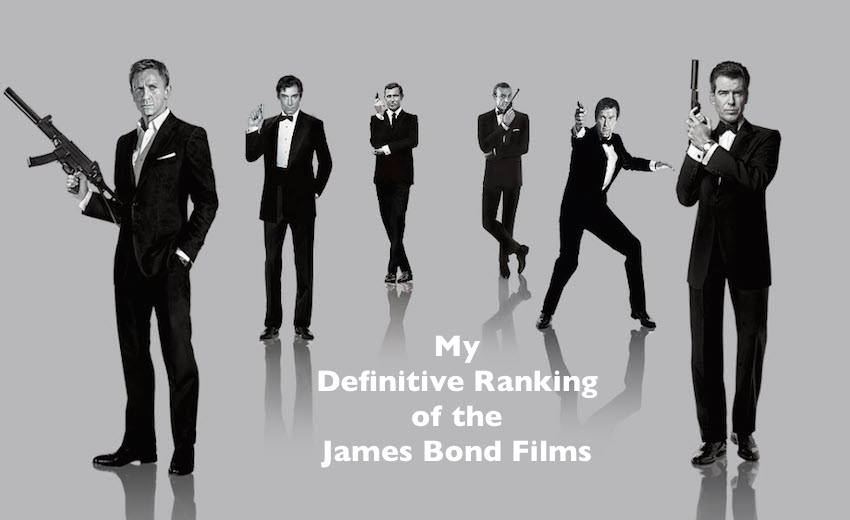 You may remember that before the release of 2012's Skyfall I watched the entire James Bond franchise and wrote about them for "The Bond, James Bond Challenge". Here is my definitive ranking of Bond's missions as written back in 2012 after seeing Skyfall. As I look back at this list after having re-watched the franchise again recently, I will admit that some of these ratings are still too high, especially for those at the bottom of the list.
1. Skyfall (2012)
Daniel Craig
5 out of 5 TICKET STUBS
 It may feel like a cliché to have that at the top of my list, but it still ranks as my favorite.


2. Goldeneye (1995)
Pierce Brosnan
4.5 out of 5 TICKETS
3. Casino Royale (2006)
Daniel Craig
4.5 out of 5 TICKET STUBS
4. Goldfinger (1964)
Sean Connery
4 out of 5 TICKET STUBS
5. On Her Majesty's Secret Service (1969)
George Lazenby
4 out of 5 TICKET STUBS
6. From Russia With Love (1963)
Sean Connery
4 out of 5 TICKET STUBS
7. The Spy Who Loved Me (1977)
Roger Moore
4 out of 5 TICKET STUBS
8. Live and Let Die (1973)
Roger Moore
4 out of 5 TICKET STUBS
9. The Living Daylights (1987)
Timothy Dalton
3.5 out of 5 TICKET STUBS
10. The Man with the Golden Gun (1974)
Roger Moore
3.5 out of 5 TICKET STUBS
11. Licence to Kill (1989)
Timothy Dalton
3.5 out of 5 TICKET STUBS
12. The World Is Not Enough (1999)
Pierce Brosnan
3.5 out of 5 TICKET STUBS
13. You Only Live Twice (1967)
Sean Connery
3.5 out of 5 TICKET STUBS
14. Tomorrow Never Dies (1997)
Pierce Brosnan
3 out of 5 TICKET STUBS
15. Dr. No (1962) '
Sean Connery
3 out of 5 TICKET STUBS
16. Octopussy (1983)
Roger Moore
2.5 out of 5 TICKET STUBS
17. Diamonds Are Forever (1971)
Sean Connery
2.5 out of 5 TICKET STUBS
18. Die Another Day (2002)
Pierce Brosnan
2 out of 5 TICKET STUBS
19. Quantum of Solace (2008)
Daniel Craig
2 out of 5 TICKET STUBS
20. For Your Eyes Only (1981)
Roger Moore
2 out of 5 TICKET STUBS
21. Thunderball (1965)
Sean Connery
2 out of 5 TICKET STUBS
22. A View to a Kill (1985)
Roger Moore
2 out of 5 TICKET STUBS
23. Moonraker (1979)
Roger Moore
2 out of 5 TICKET STUBS