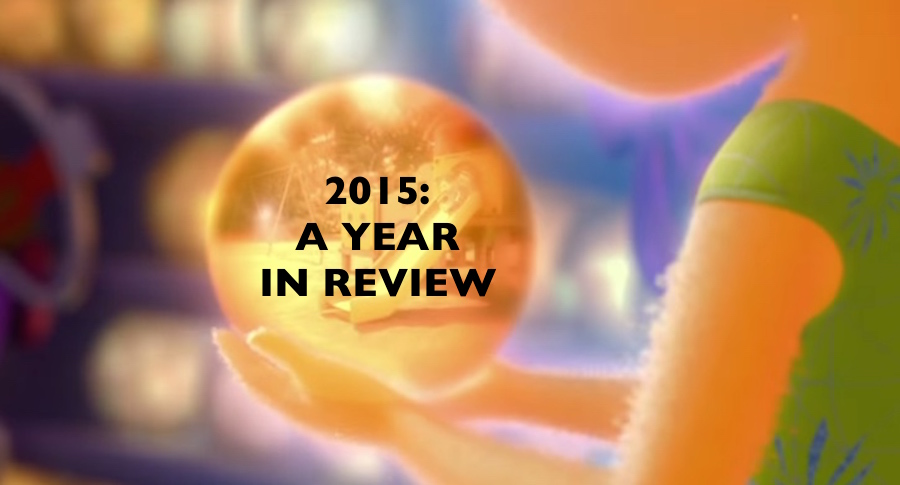 2015: A YEAR IN REVIEW
It's that time of the year again when critics post their best and worst of the year lists. The beginning of 2015 was a big doozy to the point where I thought it was going to be a bad year at the movies. It was one lousy movie after another (Get Hard, Chappie). The summer hit and the year seemed to be turning around especially after long running franchises were brought back to life to thunderous applause (Jurassic World, Mad Max Fury Road). The year ended with some wonderful smaller films packing a punch (Spotlight, Carol) and big studio films that were finely executed and loved by a diverse crowd (The Martian, Star Wars: The Force Awakens). Without further adieu, here are the best, worst, and the performances that stood out.
MY TOP 10 of 2015
Pixar knocked it out of the ballpark with this wildly imaginative look at the emotions of an 11 year old girl as she moves from Minnesota to California. The voice ensemble includes Amy Poehler, Lewis Black, Bill Hader, Mindy Kaling, and Phyllis Smith as the core emotions inside the girl's head. I can't think of a children's movie to date that tackles how the brain works in such a creative way that is easy for kids and adults to learn from. It seems like a good training model for parents when it comes to explaining how our emotions play out. Like most Pixar films, it's honest, personal, funny, and will probably make you cry.
2. THE MARTIAN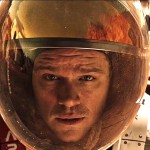 The Martian is Ridley Scott's personal best since 2001's Black Hawk Down. Drew Goddard's screenplay, based on the Andy Weir book, is sharp and intelligent without getting too lofty and ambitious with the science terminology. Damon's character is written with a sense of hope despite his unending isolation. He's a wise-ass with plenty of one-liners and cocky moments. It's the kind of character the Matt Damon is perfect at playing. For two hours and twenty minutes, I never once took my eyes off the screen. The production design was beautiful as they tried to create what life on Mars would look like without it feeling like they just relied on cheap 3D CGI tricks. You'll gasp and be on the edge of your seat as you root and hope for Matt Damon's rescue.
3. SPOTLIGHT
Spotlight is a true ensemble film with Michael Keaton, Rachel McAdams, Mark Ruffalo, and Brian D'Arcy James as reporters from the Boston Globe looking to uncover the truth about the Catholic Church's cover up involving molestation in the hands of their priests. It's an extremely sensitive subject, and the movie handles it with dignity by diving in, asking the right questions, and getting hard to hear answers without it ever feeling exploitative. It can be easy to turn your eyes away from this kind of story, but Spotlight brings it to the forefront and demands it to be heard.
The Mad Max franchise is back in full force and director George Miller is back with a vengence. No need to see the others first as Tom Hardy plays our title character with Charlize Theron along for the ride to kick some serious butt. The whole movie is one massive visual drug trip. Miller and his crew used practical and daring effects that are elaborate and meticulously choreographed. It's one long chase sequence that never lets up and you are quickly buckled in for one hell of a ride. It's sharp, original, and unlike anything else I've seen in quite some time.
5. STAR WARS: THE FORCE AWAKENS

To put it simply, I LOVED Star Wars: The Force Awakens. As a fan of the original trilogy I went in hoping it would live up to that feeling I got when I first watched Star Wars or The Empire Strikes Back. That giddy glee came right back as it exceeded all of my expectations. It completely made the audience forget about the prequels as it harkens back to the old days and sets the course for what will be an exciting new adventure. J.J. Abrams has a fine new crop of actors in Daisy Ridley, John Boyega, Adam Driver, and Domhnall Gleeson to carry on what Harrison Ford, Mark Hamill, Carrie Fisher, and the rest of the gang have brought to this story.
6. ROOM
Room was the opening night film for the Twin Cities Film Fest this year. I went into it not knowing a thing about it as I never read Emma Donoghue's book. I came out of the it having gone through an emotional rollercoaster. Stars Brie Larson and young Jacob Tremblay give two of the finest performances of the year. It is gut-wrenching to watch their journey together as you witness a mother who will do anything to protect her son from the horrible living conditions they are put into.
Director Todd Haynes has another stunning film under his belt. It's a beautiful story that Haynes captures so exquisitely as he shot the film using Super 16mm. It's that grainy look that helps transport you right back to the 1950s. It was a time and place where acceptance and understanding were not welcome. I felt every beat and every moment between stars Cate Blanchett and Rooney Mara as they navigate through Carol and Therese's relationship.
What could be more fun than being stuck in a cabin with a bunch of crazy Quentin Tarantino characters? Now imagine you are stuck there in the middle of a blizzard. QT has gathered the likes of Samuel L. Jackson, Jennifer Jason Leigh, Kurt Russell, and Walter Goggins, to name a few, to see who will come out alive. He's made The Hateful Eight into a movie going experience if you see the "roadshow" presentation. There's an overture with a perfect Ennio Morricone score, an intermission, a collectible program, it was shot on 70mm film, and now projected on film for your pleasure. There's a theatricality to The Hateful Eight; it's part western, part murder mystery and equals one ridiculously good time.
Leonardo DiCaprio gives the performance of a lifetime in the latest film from Alejandro González Iñárritu who won the Oscar last year for Birdman. He sets out to make another grueling film for his actors and the audience. It's a violent and ruthless film as Leo is left for dead after being mauled  by a bear in the icy cold woods. He survives and attempts to get revenge on his team, especially Tom Hardy's character. It is hard to watch, but you don't want to take your eyes off of it at the same time. It will test anyone that gets queasy easily. Look for Leo to win the Oscar for this film. I would also like to see Hardy get some recognition in the very crowded Best Supporting Actor category.
10. (tie) STEVE JOBS

I always love a good Aaron Sorkin script. He brings his usual style of fast-paced dialogue, a meaty concept, and a wicked sense of humor to Steve Jobs. In some ways, he heightens it due to the theatrical nature of it. The film's divided into three acts with each one being a countdown to a product launch. Many biopics this year (Black Mass, Trumbo, Legend)  felt like they were a general wash over the subject's life. They were basically a video montage of their Wikipedia page. Steve Jobs felt more focused than those films. Michael Fassbender gave a commanding performances as Jobs and really drives home the fact that he was a very flawed individual. Kate Winslet once again nails it as an Apple marketing exec who was the only person who could really stand up to Jobs.
and
ME AND EARL AND THE DYING GIRL


I always like to have an obscure choice on my list. This isn't a film you will probably see on other Top 10 lists. It won't win any Oscars or be lauded for its daring cinematic feats. For me, Me and Earl and the Dying Girl was a film that touched the heart. I have a soft spot for this sorts of coming of age, finding your true self types of films. It bares a slight resemble to movies like The Perks of Being a Wallflower and The Fault in Our Stars. Plus, the main character is a film buff. The three leads of Thomas Mann, RJ Cyler, and Olivia Cooke all shine and prove they are young talent waiting to get noticed. It was a little indie hit that played well on the festival circuit and gave me all the feels.
Honorable Mention: Ex Machina, Bridge of Spies, Mr. Holmes, Love & Mercy
UGGHHH!! I can't even talk about these films without getting irate. I'll just leave the titles here with the worst, most offensive title in the #1 spot.
1. Get Hard
2. The Lazarus Effect
3. Blackhat
4. Chappie
5. Jupiter Ascending
6. The Boy Next Door
7. Terminator Genisys
8. Max
9. Fantastic Four
10. Our Brand is Crisis
STELLAR PERFORMANCES
These are the actors that left their mark. Many probably won't see a nomination come their way, but they either moved me, surprised me, or made a mediocre movie worth watching.
Christian Bale, The Big Short
Elizabeth Banks, Love & Mercy
Cate Blanchett, Carol
Matt Damon, The Martian
Jeff Daniels, Steve Jobs
Paul Dano, Love & Mercy
Johnny Depp, Black Mass
Leonardo DiCaprio, The Revenant
Joel Edgerton, Black Mass
Michael Fassbender, Steve Jobs
Walter Goggins, The Hateful Eight
Jake Gyllenhaal, Southpaw
Tom Hanks, Bridge of Spies
Tom Hardy, The Revenant, Mad Max Fury Road, Legend
Oscar Isaac, Ex Machina
Michael B. Jordan, Creed
Brie Larson, Room
Jennifer Jason Leigh, Anomalisa, The Hateful Eight
Rooney Mara, Carol
Rachel McAdams, Spotlight
Ian McKellan, Mr. Holmes
Eddie Redmayne, The Danish Girl
Saoirse Ronan, Brooklyn
Mark Ruffalo, Spotlight
Mark Rylance, Bridge of Spies
Sylvester Stallone, Creed
Charlize Theron, Mad Max Fury Road
Jacob Tremblay, Room
Alicia Vikander, The Danish Girl, Ex Machina
Kate Winslet, Steve Jobs
The casts of Inside Out, Spotlight, Star Wars: The Force Awakens
There you have it! I'd love to hear from you. What films stood out to you? What movies did you want your money back? What actors or directors stuck with you? Feel free to leave your comments below!