IN CONVERSATION: RUTH MARAMIS "HEARTS WANT"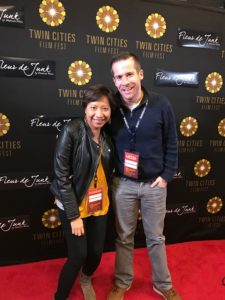 The Twin Cities Film Fest is currently in its eighth year showcasing a variety of films over a ten day period. Whether you want Oscar worthy features and independents to short films and Minnesota-made movies, there is something for everyone at the Twin Cities Film Fest. Ruth Maramis is the resident blogger for the Fest, but this year she wears the title of writer and producer. Hearts Want is her first film and is making its debut in the "The Ties That Bind Us (a Relationships Shorts Block)." I sat down with Ruth to discuss her transition from writing reviews to writing and producing her first screenplay.
Paul McGuire Grimes (PMG): What has been your history with the Twin Cities Film Fest?
Ruth Maramis (RM): I have blogging with Twin Cities Film Fest since it's inception from year one. I've met a bunch of filmmakers since then. They're inspiring people that I've talked to. You get the filmmaking bug. I met someone last year that offered to do a reading of my feature script at her place and from there it snowballed into this short film. It definitely has a Twin Cities Film Fest connection. I met her at the lounge at one of the parties. One of our film producers is also one of the staff members here.
PMG: When did you have that itch to go from blogging and doing reviews to actually writing a screenplay and producing?
RM: You know, I have always been writing. On top of blogging, I like writing film concepts for blog assignments or just writing them on my own. Sometimes I put them on the blog or sometimes I just keep them for myself. Heart's Want is the first one where I thought, "You know, instead of writing a concept, I'll take this and write a screenplay." I went online and studied and read a bunch of screenplays. I studied what its like to write a screenplay. I started writing it and finished it last summer 2016. Then in the fall, I met my connection. The feature script was already finished by then. This was the first fully fleshed out screenplay I did, but I have a bunch of other concepts I'm working on that I'm hoping to turn into a script one day when I have time.
PMG: Tell us about "Hearts Want"
RM: It is romance drama that is all set in a theater setting. It's basically two people who are reunited in a play that's written by their former drama teacher. He brought the two of them together for this play in the UK, and they have this history together. She left him seven years prior and the whole story is that they still carry a torch and have feelings. She never told him why she left him, so there's always this tension. That's the feature script. From there, the short is really taking a subset of that. It's a stand alone story, but also something related to the feature.
PMG: You wrote it as a feature first and then cut it down to a short.
RM: It serves as a teaser, if you will, that I wanted to write a feature one day. Hopefully people will be intrigued with the characters, what's going on with them, what's the story between the two. It's a standalone story, but it makes people curious to learn more about Jack and Lily [the two characters]. I don't want to tell the whole story…
PMG: As there's more to come…
RM: There's more to come.
PMG: It's so fascinating as some people usually start with a short to get the ball rolling. Then if it goes well, they get the response, then they write it into a feature. You've gone in the opposite direction. Are there writers or directors that inspired you or looked to when writing this piece?
RM: For one, I have to give credit to Jane Austen. She's one of my favorite writers, and one of her novels, Persuasion, is one of the biggest inspirations for this story as there's that lost love aspect of it, coming back and seeing if there is hope for them to be together again. I have been inspired by so many female filmmakers these past few years. There's a film called Belle by Amma Asante. I absolutely adored that film. The actress [Gugu Mbatha-Raw] is the muse for my female character. I learn a lot of filmmakers like Christopher Nolan who started with a short.
PMG: "Following"
RM: Yeah, Following. I don't know if he had the feature in mind or not, but the fact that he started with a short. A lot of people did. I believe Ridley Scott started with a short or commercials beforehand. For me, before I make a feature, why not start with a short. Hopefully that will get some investors interested in wanting to collaborate on the feature version. It was tough trying to cut down the story to under fifteen or ten minutes. How do you choose which part from the story? That was the challenge.
PMG: Is the Twin Cities Film Fest the first time the public has seen "Hearts Want"?
RM: Yes, Friday afternoon was the first time. It was nerve-wracking for me.
PMG: It's a different side of what people know of you.
RM: I'm hoping it was well received. I'm hoping I didn't bore them. I'm hoping these characters resonate with them even if they don't have a connection to them.
PMG: Is there a part of you in these characters?
RM: People ask me that a lot, but no. Not at all. I always think of films as escapism so I feel like writing to me is escapism. It has nothing to do with my life. I guess there's a little bit. The character's parents died when she was young. That's similar to me, but that's a tiny aspect of it. It's set in a place I've never been in. It's set in a real town of Chichester in Sussex. It's a coastal town in the UK. I heard about it and it has a great theater called the Chichester Festival Theater that has strong ties to the West End. Everything that happens in my film is very plausible.
PMG: There's that general rule of thumb where you write what you know, but you did the opposite.
RM: Correct.
PMG: You went the escapism route. You didn't write a short first, you wrote a feature first. You like to do things…
RM: Unconventionally. I've been married for a long time and I don't have kids. A lot of people always wonder why. Just because everyone else does it, doesn't mean that's for me. I like to make artistic babies. You have to write what you love and are passionate about. I am totally passionate about telling stories, love stories where you root for the characters to be together. I love stories like that. That euphoria of people falling in love and the juxtaposition of heartbreak. There are both of them in my film, but yet, it's not dark or depressing or super somber. There's hope in there. There is liveliness in the story. As a writer, I fell in love with my characters. It's hard to distinguish [them] now that it's a film. It's hard to separate the actors from the roles, because you fall in love with the characters. It's been quite a journey. It's not the end yet.
PMG: What's next for you as a writer and producer? Is it to make the feature or write another short of a different story?
RM: The dream is to make the feature. I will do whatever it takes to network up a storm, submit this to all kinds of festivals. At the same time, I am trying to write something else too. You don't want to quit your creative process. Just keep on writing. The one I want to do is completely different. It has nothing to do with romance. It's a thriller, noir type with an antihero. I still want the continuation of Hearts Want. I don't want the journey to end here.
Catch the next screening Hearts Want as part of the "The Ties That Bind Us (Relationships Shorts Block)" on Thursday, October 26 5:00. For more information, click HERE. And to follow Ruth's blog, Flix Chatter, click HERE