BROOKLYN
Director: John Crowley
Starring: Saoirse Ronan, Emory Cohen, Domhnall Gleeson, Jim Broadbent, Julie Walters, Jessica Paré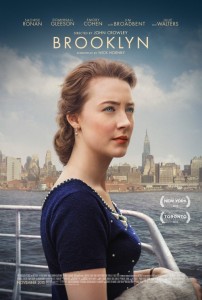 It seems rare to have a romantic film these days that doesn't involve a terminal illness, Nicholas Sparks, vampires, or a bad script. Brooklyn is a rare breed, as it doesn't have any of that. Eilis (Ronan) is a young woman who wants more out of life. She lives a modest life as a baker in early 1950s Ireland. She is presented with a unique opportunity to move to Brooklyn, New York and have a fresh start. She leaves behind her mother and sister and feels homesick during her first few days in Brooklyn. She's a bit shy but makes friends with the fellow girls at the boarding house where she is staying. She finds work at a department store and starts going to school again. Her luck starts to turn around one night while attending a local dance when she meets Tony (Cohen), a cute Italian plumber who lives a simple, carefree kind of life. They have a wonderful rapport together and a romance develops between them. A family tragedy strikes for Eilis forcing her back home to Ireland. Her return visit lasts longer than expected and begins to compromise her relationship with Tony and the new life she has back in Brooklyn.
Maybe it's because I love New York or it's my Irish heritage, but I quickly found myself nestled in to Eilis' journey of moving to the big city and starting anew. It has a classic boy meets girl type of story and even though this story is set in 1952, there's a timeless quality to the way it all unfolds. It's based on the book by Colm Tóibín with a screenplay by Nick Hornby, who also wrote About a Boy, High Fidelity and adapted last year's Wild. Hornby offsets the heavier themes by adding in plenty of charm and humor along the way. He uses it best during many of dinner scenes at the boarding house with Julie Walters' Mrs. Kehoe who's prim and proper ways are vastly different than the chatty girls who live there. There's great humor that also comes regarding the cultural differences between the Irish and Italians.
It's easy to be transported back to the time period thanks to the production design and Odile Dicks-Mireaux's (An Education) costumes. He uses greens and an earthy palette in the Ireland scenes, which contrasts the vibrant and colorful New York. The lovely score by Michael Brook also carries along the romance with grace and elegance.
At the young age of 21, Saoirse Ronan has already proven herself to be an extremely talented young actress who people may remember from Atonement, The Lovely Bones, and The Grand Budapest Hotel. She completely carries this film with ease. She could easily score her second Oscar nomination with this role. She has wonderful chemistry with costar Emory Cohen (The Place Beyond the Pines) as Tony. There's warmth between them that just makes you smile as you watch their relationship bloom. Domhnall Gleeson, Jim Broadbent, Julie Walters all shine in supporting roles that have on impact on Eilis.
Brooklyn is garnering lots of Oscar buzz. Don't be surprised if you see it pop up in many of the top categories. It's sure to be an audience favorite as it's extremely well crafted and enjoyable. It doesn't feel too lofty or try to be artistically different. Director John Crowley treats each scene with care knowing that keeping it simple can be the most effective. On the outside it may be this lovely romance, but the story explores a deeper notion of how home isn't necessarily where you were born. It's an immigrant story about leaving the world you know behind hoping for a better life. For Eilis, it's about growing into the person she want to be and the life she wants to lead despite the pressures she faces when returning home. I bet for many people some notion of that can ring true.
Is It Worth Your Trip to the Movies? It warms the spirit and touches the heart.
RATING: 4 out of 5 TICKET STUBS