CINDERELLA
Director: Kenneth Branagh
Starring: Lily James, Cate Blanchett, Richard Madden, Sophie McShera, Holliday Grainger, Helena Bonham Carter, Haley Atwell, Ben Chaplin, Derek Jacobi, Stellan Skarsgård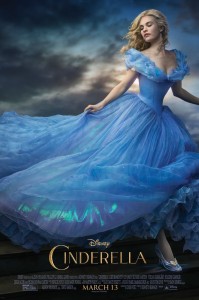 Cate Blanchett as the evil stepmother? YES PLEASE! Disney has been in the habit of making live action adaptations of some of their finest animated films. So far we've seen Alice in Wonderland, Maleficent, and now we have Cinderella to add to that mix. Throughout her childhood, Ella lived a playful carefree life with a mom (Atwell) and dad (Chaplin) that loved her immensely. She loved playing with the animals and making the most out of each day despite leading a fairly normal and simple life. When she was a young girl, her mother fell ill and passed away unexpectedly. Before she died, Ella promised to her that she will "have courage and be kind". It seems like such an easy motto to live by but one that is actually harder to live out. Her father later remarries to the beautiful and luxurious Lady Tremaine (Blanchett). Ella's new stepmother also has two daughters, Anastasia (Grainger) and Drisella (McShera), who are also a part of Ella's new family.
Tragedy strikes Ella (now played by Lily James) once again when her father dies while out travelling. With both of her parents deceased, she is forced to live with her wicked stepmother and evil stepsisters. This newfound freedom for them leads to Ella being treated like their slave when she is forced to do all of the cooking and cleaning. She shows up to breakfast with fireplace ash on her face and Anastasia and Drisella brand her with the nickname "Cinderella". While out in the town square, Ella hears that Prince Kit (Madden) will be hosting a ball looking for his future princess. She returns home excited to attend the grand affair and is laughed at by the other ladies. She is forced to stay home while Lady Tremaine, Anastasia, and Drisella dress to the nines and head to the castle. With the help of her Fairy Godmother (Bonham Carter), Ella is granted her wish to attend the ball. As you know from the classic tale, she has until midnight before the magic wears off.
You may be thinking that this seems like the same Cinderella story we have seen before. That's precisely why this movie is so wonderful. Hear me out. In the past Disney has tried to retell a story through a different character's perspective or they've made the film so CGI heavy that it becomes a big joke. Director Kenneth Branagh (yes, that Branagh) is no stranger to classic stories after spending most of his career directing and starring in many of the Bard's best. He and screenwriter Chris Weitz (About a Boy) have stayed true to the story we all know and love and tell it in the most honest and loving way. Everything about this film is grand, epic, and gorgeous. Sure, some of the sets are probably enhanced by CGI and the magical transformation is obviously done by special effects, but the film doesn't feel saturated in it like some movies do.  The production design and stunning costumes by Sandy Powell (Scorsese's go-to costumer) elevate the film to a prestigious and breathtaking level. Every aspect seemed real and tangible. You wanted to walk around the castle, run down those steps, and see those dresses up close. I know it's only March, but Powell must be remembered come Oscar time especially for Cinderella's blue ball gown and Cate Blanchett's sharp green dress. There is an elegance that is present throughout that sometimes goes missing or is cheapened due to CGI or 3D conversion. Cheers to the fact that there is no gimmicky 3D used to make Disney a few extra dollars.
Not only does Branagh have a fabulous design team, but he has aligned a wonderful cast to bring our Disney princess and her wicked family members to life. Fans of "Downton Abbey" will recognize Lily James (Lady Rose) as our titular character. She has a sweet, innocent, and effervescent quality to her that makes you root for her even more so than in previous versions of this story. She has infectious chemistry with "Game of Thrones" star Richard Madden who plays Prince Charming. He definitely lives up to his name. Helena Bonham Carter brings the small, but vital, role of the Fairy Godmother to life. While it's nice to finally see her step away from playing such frumpy and evil characters, I couldn't help but think she seemed miscast. Were Emma Thompson and Julie Andrews busy?
James is joined by her "Downton" costar Sophie McShera who plays one of the stepsisters along with Holliday Grainger. Both are hysterical and I couldn't get enough of their awesomely hideous dresses with ugly prints. Last, but not least, is Cate Blanchett as the Wicked Stepmother. Where do I even begin? It should go without saying that she is wickedly perfect. What I appreciated about her performance is that she still made Lady Tremaine a grounded human character without simply retreating to playing her like an over-the-top monster. It wouldn't have worked with this version of Cinderella.
I sat in awe throughout most of the movie due to the lavish scale that was put forth. I honestly went in a little tentative as I hated Alice in Wonderland and thought Maleficent was decent, but not great. I love when a film takes you by surprise. They stuck to the original animated classic right down to Gus, the rest of the mice, and the magical transformation without turning it into a fake looking mess. It's hard not to smile and be taken in by that Disney magic again.
Is It Worth Your Trip to the Movies? Yes, kids will no doubt love it, but so will the parents.
RATING: 4 out of 5 TICKET STUBS