FOXCATCHER
Director: Bennett Miller
Starring: Steve Carell, Channing Tatum, Mark Ruffalo, Vanessa Redgrave, Sienna Miller, Anthony Michael Hall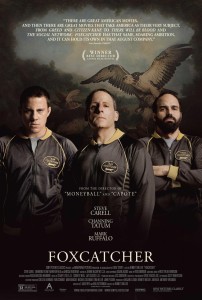 When you think about casting a wealthy, bizarre, and mentally disturbed wrestling coach, I don't think Steve Carell's name is at the top of the list. Leave it to director Bennett Miller to take on that challenge of putting Carell is a role completely different than anything we have seen from him before. He plays John du Pont, a member of the du Pont family, one of America's wealthiest families. He was a noted ornithologist, author, and had a passion for wrestling. He took an interest in Olympic goal medalist Mark Schultz (Tatum) and his brother David (Ruffalo). Three years had passed since Mark and David won the gold together.  Mark leads a simple and lonely life spending many nights alone playing his Gameboy. David makes a living as a coach and trainer.
One day out of the blue, Mark receives a phone call from John inviting him to come live at his estate where he will help train and coach him for the world competitions and 1988 Seoul Olympics. Mark has no idea who John is and has never heard of the du Pont family, but he can't pass up on the $25,000 a year offer. Mark tries to convince David to join him per John's request, but David's skepticism wins over instead. Once Mark arrives at the estate, it's a life that is far different than he is used to living. John has a way of inspiring young talent and has lofty dreams for their collaboration. He tells Mark that he's a patriot who wants to see the country soar again. He believes he is the man to do that by coaching a winning Olympic wrestling team. He also wants Mark to step out of his brother's shadows. The friendship between Mark and John grows in a peculiar fashion. All the while, John desperately tries to get David to come to his training facility that rests on the estate. It's not until David relinquishes and joins them at Foxcatcher Farm that tragedy strikes altering the lives of both the du Pont and Schultz families.
There is a cold chill that emanates throughout the film. I love a good true crime story and director Bennett Miller (Capote) teases us with complex character portraits shaped with just enough mystery to keep us intrigued. There is a brotherly love between Mark and David that is very evident. At the same time, there is a desperation there and you get the sense that Mark really needs David and can't seem to live his own life without David around. When John enters Mark's life, he fills that void left by David. There is an acceptance, value, and worth that Mark now feels. We, as the audience, know all too well that there is something wrong with John and you wish Mark would realize that. There is the eccentric, wealthy, delusional aura with John that immediately comes out. He is that guy that you just don't want to trust, as what he has to offer is almost too good to be true. Miller wisely keeps du Pont a mystery. He has some mother issues, but you know there are some other ingrained problems that play into his demeanor. Miller's focus on character over heavy action gives the film a slow burn effect. The relationships and attitudes shift and alter throughout the film and it's only matter of time before the ticking bomb within one of the characters goes off.
Bennett Miller seems to have a knack for taking actors that we all know and love and showing us a completely different side of them. He did this with Jonah Hill and Chris Pratt in Moneyball and now Steve Carell and Channing Tatum. Moviegoers and studios have very specific images of Carell and Tatum leading them to being cast in very similar roles throughout their careers. Miller defies those stereotypes and pulls career-defying performances out of both actors that will no doubt surprise the audience.
Carell is given some facial prosthetics to further disappear into the role and keep us from thinking about Michael Scott or Brick Tamland. He never once tries to embed any humor into John du Pont. His voice is slow and gravely but always assured about what he wants. He is guarded with a false façade that is creepy. Carell keeps him as untrustworthy as possible without dipping into a caricature. I will not be surprised if he is in the running in the Best Actor race this year. Tatum infuses Mark with an ape-like quality in his mannerisms. Unlike du Pont, what you see is what you get with Mark. Tatum gives a very physical and brutal performance. I was asked recently if Tatum should stick to comedies like 22 Jump Street or action flicks like White House Down. I suggested dramas as this film proves he is more than we give him credit for as an actor. I love seeing actors step out of the comfort zone and Tatum and Carell do just that. Plus, the always sharp and poignant Mark Ruffalo and divine Vanessa Redgrave join them as David Schultz and John's disapproving mother, respectively.
Miller shoots the film with many wide shots letting the camera sit back and take everything in without forcing us into a manipulated emotion. There are scenes and moments that are dialogue free that are meant for us to focus on what's not being said. In the end, it's a puzzling and bizarre story for which Miller doesn't always put all of the pieces back together. This leaves many questions unanswered. Maybe this is Miller's response to not knowing all of the answers himself. This very well may be one of those all too real stories that you can't make sense of everything in the end. The approach may leave some moviegoers unresolved and needing more. I don't mind ruminating on a mystery awhile longer after stepping out of a movie.
Is It Worth Your Trip to the Movies? It may be slow and quiet at times, but Miller's style and approach with these actors provides a good character study on wealth, inheritance, acceptance, and madness.
RATING: 4.5 out of 5 TICKET STUBS
Click HERE for my interview with director Bennett Miller