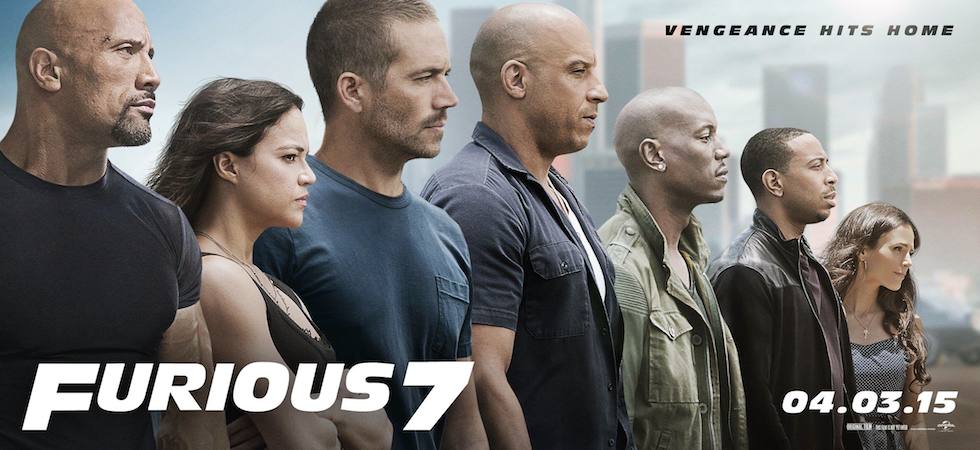 FURIOUS 7
Director: James Wan
Starring: Vin Diesel, Paul Walker, Jason Statham, Michelle Rodriguez, Jordana Brewster, Dwayne Johnson, Ludacris, Tyrese Gibson, Kurt Russell, Nathalie Emmanuel, Djimon Hounsou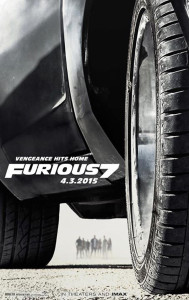 The Fast and the Furious franchise continues at full throttle for its seventh entry. The film picks up directly after the post-credit sequence that happened at the end of the sixth film. If you're a die-hard fan, you will probably catch on that chronologically that event takes place after the events of the third film, not the sixth one. Hopefully I haven't lost you yet. Jason Statham has joined the cast as the main villain Deckard Shaw who is out for revenge after his brother Owen (Luke Evans) was severely injured and left hospitalized. He shows up at the DSS office of Luke Hobbs (Johnson) to steal the files containing the location of Dominic Toretto (Diesel) and the rest Dom's team who Shaw blames for his brother's injuries. A brawl ensues leaving Hobbs hospitalized and Shaw getting the files on Dom and his crew.
Meanwhile, Dom and Letty (Rodriguez) continue to work on their relationship as she is still fighting the flashbacks of being kidnapped and losing her memory. A package arrives at Dom's house and explodes with Brian (Walker), wife Mia (Brewser), and their son outside. No one is injured, but his house is destroyed. Dom and Brian learn that Deckard is also the man behind Han's death. They team up with Mr. Nobody (Russell), a secret covert agent that has the inside knowledge of a massive tracking device that can be the key they need in locating Shaw. To add into this mess is a terrorist, played by Djimon Hounsou, and a computer hacker that he's kidnapped, played by Nathalie Emmanuel.
One would think that after seven films, a series would lose steam. Furious 7 is by far the biggest, boldest, and craziest one yet in the franchise. I mean that in a good way as the cast and crew are dedicated to raising the stakes and upping the ante to please the die-hard fans. With Fast Five, the series got a jolt with the work of director Justin Lin. He wasn't new to the series but reshaped how we thought of this franchise. He gave it a purpose with an actual plot, through line, and made them more than some stupid action movie about cars racing through the streets of Los Angeles. Lin did not come back for this film, but we are kept in the more than capable hands of director James Wan (Insidious, The Conjuring) who is primarily known for work in the horror genre. With this continued through line, it's pretty important to go into this one and have a general understanding of the series and characters as there are direct references and plot details that carry on in this film. Don't count out the third entry,Tokyo Drift, as some of those characters pop up again.
These types of films can be tricky to pull off and be successful. What's so smart when it comes to this franchise is that by this point they know what their audience wants and they know what works. They know that there is a fine line to tread so they don't end up taking themselves too seriously. At the same time, the movie can't just be campy, over the top absurdity. The action sequences may be out of control and unrealistic, but that's the fun of it. I find it very hard to believe that you can have a lineup of cars exiting a plane, parachuting down directly landing on a road, and to be able drive away without completely injuring yourself in the process. Nor do I find it believable that a heavy duty sports car could plow through three of the tallest buildings in Abu Dhabi at a high altitude. These sequences are just insane, but they are quite exhilarating and jaw dropping nonetheless. It makes you appreciate the men and women that perform all of the stunt work who typically go unnoticed. I know these films pride themselves in using real practical effects versus CGI as much as possible. There is also a fair share of campy dialogue throughout that Vin Diesel has to deliver. To balance all of this, there is a topical feel to the story with this idea of a tracking system that uses security cameras and a cell phone's GPS to continually track our every move. Add drone weaponry on top of that and you have an epic finale. With all of these gadgets, heists, and death-defying action sequences, there is a Mission:Impossible/James Bond feel at times which adds an extra bit of excitement as you grip your seats, hold your breath, and wonder if our crew with make it out in one piece.
Furious 7 marks the final film for star Paul Walker who died halfway through filming. It's hard to talk about the movie and not bring this fact up. The rest of his scenes were filmed with his brothers used as stand-ins and his face CGIed on top of them. I found myself thinking about his death quite a bit throughout the film wondering how they were going to work it into the script, especially during one particular scene. You will know the scene I'm talking about when you see it. His death makes the overarching theme of family and loyalty all the more poignant. The film ends with a nice tribute to him including a montage from his work in the franchise.
The cast has formed a bond that has made these characters fun to watch as their friendships grow and evolve. There's no denying the chemistry between Diesel and Walker or even the buddy dynamic between Ludacris and Tyrese Gibson. Gibson is quite funny in this one as he tries to claim he wants to lead the mission. Dwayne "The Rock" Johnson delivers some comedic bits when he gets to have his Hulk-inspired moments. Joining the cast are Jason Statham, Kurt Russell, and Djimon Hounsou. Hounsou can normally be a strong actor but feels a bit miscast and out of place here. Statham and Russell are perfect additions, and I wouldn't be surprised if they stuck around for more films. Yes, you read that correctly. It would seem fitting to call it an end with this seventh entry. End while you are on top. However, they sure left it wide open to take the series in different directions. When the credits started rolling, the movie got a huge applause and it deserved it as it's well made and one hell of a ride.
Is It Worth Your Trip to the Movies? It may be because this is the only one I saw in theaters on a massive screen and blaring sound system, but it stands as my favorite in the series.
RATING: 4 out of 5 TICKET STUBS