INTO THE WOODS
Director: Rob Marshall
Starring: Emily Blunt, James Corden, Anna Kendrick, Meryl Streep, Chris Pine, Billy Magnussen, Daniel Huttlestone, Lilla Crawford, Christine Baranski, Tammy Blanchard, Lucy Punch, Johnny Depp,Tracey Ullman, Mackenzie Mauzy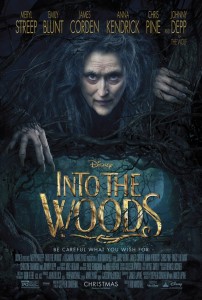 Many of you may not know this, but I was a musical theater major in college. I have had a love of composer Stephen Sondheim for quite some time. I think it's safe to say that he is the grand master and god of musical theater lovers everywhere. Into the Woods just happens to be my favorite in his diverse canon. He and lyricist James Lapine have combined characters from various fairy tales and put them together as the targets of a baker (Corden) and his wife (Blunt). They learn from the evil witch (Streep) next door that she has placed a curse of infertility on their home. In a flashback sequence, she placed the curse when she caught the baker's father rummaging through her precious garden.
The Witch agrees to reverse the curse if the baker and his wife can gather four items that would be used as ingredients in a potion to make her beautiful again. The items are a cow as white as milk, the cape as red as blood, the hair as yellow as corn, and a slipper as pure as gold. This all has to happen before midnight in three days time. The baker and his wife set out into the wood having no idea where they are to supposed to find these items. Throughout their journey, they run into Jack (Huttlestone) and his cow, Little Red Riding Hood (Crawford), Cinderella (Kendrick), and Rapunzel (Mauzy) who is stuck high up in her tower. If you know your fairy tails, you know all of them have their own problems as well including a giant, a wolf (Depp), and an evil stepmother (Baranski).
Into the Woods is one of those musicals that fans have been eagerly awaiting for the movie adaptation. The material sounds light and kid-friendly, but it all goes to hell in a hand basket in its second act. It takes a complete tonal change to being dark and grim versus the lively and joyous first act. Being a Disney property, there was hesitation that director Rob Marshall would lighten it up, and forgo some of the more adult themes and elements of the staged version. Some of that may be true here, but I think Marshall did the best he could at keeping it as close to the original source material as possible given the circumstances. Composer Stephen Sondheim and lyricist James Lapine were directly involved with Lapine being its screenwriter. I hope the fans realize that changes have to be made, and that they can be reassured that Lapine made the correct changes. This is a very theatrical show that wouldn't work if it were directly translated to the screen. Some songs have been cut, but in certain cases, the instrumentals are still incorporated into the film's score. A prime example of that is "No More" between the Baker as his father. The instrumentals can still be heard at that moment in the story, but the vocals have been removed due to the changes with that storyline.
The musical has wildly imaginative lyrics and a beautiful score to it. It is very apparent that great care was placed on the lyrics. Even though I've seen the staged version multiple times, I have always missed some of the witty wordplay in each song. In the film, you can understand every single word sung or spoken by the actors. Some of it sounds more speak-singing in order to bring the words out. It may not always sound the prettiest, but I would rather understand it and see great acting behind each number that than have a number sung pretty without any depth. I would have also have liked the instrumentals in some songs to be amplified a bit more. They can be a little too quiet while letting the vocals take center stage.
Bernadette Peters famously portrayed the Witch on Broadway, and only one actress could step into those shoes. Goddess Meryl "I've won three Oscars" Streep. We've seen her sing before in the movie musical Mamma Mia. While that may not have shown off her vocals in the best light, rest assured she triumphs as the Witch. I think people will be blown away by the power and gravity in her voice. She completely owns and commands the screen anytime the witch appears. She will no doubt receive her 19th Oscar nomination.
Do not be fooled in thinking that this is just Meryl's movie. Rob Marshall cast a strong ensemble consisting of Broadway actors and film actors who may not be known for their singing abilities. Anna Kendrick previously sang in Pitch Perfect and brings out her soprano as the smart and strong Cinderella. Her voice is not as "pop-y" as you may expect it to be. As the Baker and his wife, James Corden and Emily Blunt are delightful and have wonderful chemistry together. Corden is a previous Tony winner. His singing may not always be the best, but he brings out the humor and charm in his baker. Blunt also starred in this summer's underrated Edge of Tomorrow. These are two very different movies and roles for her and she is wonderful in both of them. Who would have thought that Chris Pine (Star Trek) would be one of the film's highlights? He lays the suave and dashing Prince qualities on so thick, it becomes absolutely hysterical. He and Billy Magnussen, Rapunzel's prince, make their song "Agony" a standout, which is normally a number that I typically fast-forward through when I listen to the Original Broadway Cast Recording. Then there's Christine Baranski ("The Good Wife") who doesn't have a huge part as Cinderella's wicked stepmother, but she makes each scene punch like she always can.
There will be music theater snobs that will inevitably scoff at it, but I truly think Marshall, Sondheim, and Lapine did the best job they could at bringing this musical to the bring screen. I would hope people understand that changes had to be made. They have a winning ensemble with no weak links. There is no A-list actor cast that ends up distracting from the film like: Hugh Jackman (Les Miserables), Alec Baldwin (Rock of Ages), Pierce Brosnan (Mamma Mia), Beyonce (Dreamgirls), or John Travlota (Hairspray). The film stays true to the beautiful story and heart of the musical that may have its fair share of deaths, but can also be downright hysterical and joyous.
Is It Worth Your Trip to the Movies? Into the Woods is the best movie musical since Chicago, which was also directed by Rob Marshall.

RATING: 4.5 out of 5 TICKET STUBS