THE GOOD DINOSAUR
Director: Peter Sohn
Starring: Raymond Ochoa, Jack Bright, Steve Zahn, Anna Paquin, Frances McDormand, Jeffrey Wright, Sam Elliott, A.J. Buckley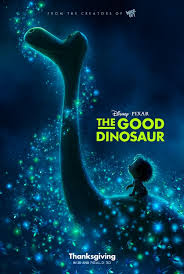 It's not every year you get two Pixar releases. We were treated with Inside Out earlier this year, and now they bring us The Good Dinosaur. This calendar placement may be a wrong move by the studio as the masterful Inside Out is still fresh on the mind. It's hard not think about that film while watching their take on dinosaurs. One of the theories posed about dinosaurs is that an asteroid struck Earth killing the entire species rendering them extinct. Pixar takes a look at what may have happened if said asteroid missed Earth entirely. For one dinosaur family, they've learned how to cultivate the land and herd a bird species. Arlo (Ochoa) is the runt of the family compared to his brother Buck (Scribner) and sister Libby.
They have a family tradition of earning a mark on their silo after accomplishing something special, but Arlo has a hard time earning his mark. His Poppa (Wright) sets up a trap so that if he can catch a critter, he can earn his mark. The trap catches a little cave boy (Bright), but he can't muster the courage to kill him. Arlo's a little bit clumsy and a little cowardly and lets the boy run away. It's not long before their paths cross again where an unlikely friendship forms when Arlo finds himself a long ways from home. Arlo gives him the name Spot and together they must battle an unknown landscape, unfriendly creatures, and other surprises along the way.
If you're a big Disney and Pixar fan like myself, you may already know that this film hasn't had the easiest road to the big screen since it's inception. The film changed directors from Bob Peterson to Peter Sohn, went through some rewrites, received a new ending, and has a new voice cast. Sohn has done voiceover work and has been a storyboard artist for Pixar. Frances McDormand, who voices Momma, is the only actor that was part of that original cast. All of these changes caused the delays in its release date. I would be curious what the original film would have looked and sounded like. It's a pretty bold move for the company.
From early on in the film, something felt different about The Good Dinosaur. It didn't feel like so many of the Pixar movies to date. That's not to say that different is bad or that we can't have change. I think we're used to a variety of funny characters with a memorable voice cast, a witty script, and lots of slapstick along the way. The Good Dinosaur is missing that tone and sensibility. I was surprised at how much of the film is dialogue free. Arlo and Spot are not the kind of characters that are going to be having deep and meaningful conversations along the way, so a majority of the journey is told through silence and the physical altercations and rough spots that occur along the way. It made me think of the old silent era of Hollywood. Due to this structure, there are very few characters and voices that are all that unique or memorable. Sam Elliott may be the standout as one of the three T-Rexes. I attribute that more to the fact that he has such a distinct voice and the fact that he's SAM ELLIOTT in a Pixar film.
What it excels at tremendously is the animation in all of the landscapes and nature elements. The attention to detail is quite astonishing, and I think I was fooled at times. It looked so lifelike I thought I was looking at live action instead of animation. There are some sweeping shots that feel straight out of a National Geographic magazine. In contrast, the dinosaurs, Spot, and some of the other critters look a bit more basic and cartoony. I don't typically use those two words to describe Pixar animation. Maybe it's intentional as a way of making nature stand out with the thought of it being the antagonist. Nature is not always kind to our characters. There are some traumatic lessons to be learned that nature can be very dangerous. I don't want to divulge too much, but younger kids may be a bit frightened and have to close their eyes. If the stampede in The Lion King scared them, this may have the same affect.
Has the bar already been set too high for Pixar that we then expect every film from them to be a masterpiece? The Good Dinosaur may not be a laugh-a-minute riot like the Toy Story films, nor is it as wildly imaginative as Inside Out. It's just a sweet little adventure between two new friends rather than being this intelligent and deeply profound story. The next question people will ask if the ending will make you cry. I was not that affected by the ending, but the people around me were shedding a few tears and passing around the tissues. The Good Dinosaur probably won't rank high on any Best of Pixar lists, but it's still better than most animated films released in any given year.
Is It Worth Your Trip to the Movies? The Good Dinosaur feels like a very different kind of movie for Pixar, but that's not a bad thing.
RATING: 3.5 out of 5 TICKET STUBS