THE SECOND BEST EXOTIC MARIGOLD HOTEL
Director: John Madden
Starring: Dev Patel, Maggie Smith, Judi Dench, Bill Nighy, Celia Imrie, Penelope Wilton, Shazad Latif, Tina Desai, David Strathairn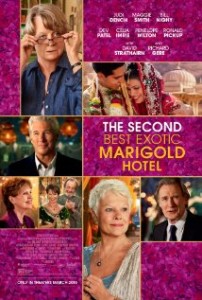 "It made death more appealing."- Muriel (Maggie Smith) in response to being asked how America was.
I think I can safely say that I worship Judi Dench and Maggie Smith. They are both Oscar winning acting titans having played the greatest roles from the stage to the screen. The Second Best Exotic Marigold Hotel is no Shakespearean tragedy that these ladies are used to, but having both of them in the same movie is still a fine treat. The sequel picks up with Sonny (Patel) and Muriel (Smith) in the United States meeting with a potential hotel chain owner (Strathairn) to see if he is interested in opening another location. The original Best Exotic Marigold Hotel is full up with one room to spare at the present moment. As the owner and proprietor, Sonny is looking to franchise it. He has a frenetic energy in their meeting hoping for the best while Muriel has that saucy Brit attitude as she begs for boiling water for her tea. Back in India, the hotel's residents are busy relishing in this new chapter of their lives. Evelyn (Dench) is offered a new job sourcing fabrics. Douglas (Nighy) is yearning after her, but they haven't fully been able to express their feelings for each other. He still is technically married but separated from his icy wife Jean (Wilton).
The expansion of the hotel is not the only stressful situation in Sonny's life. It also happens to be the week he is getting married. He is at odds with his wife's cousin Kushal (Latif) who pops up at a rundown hotel Sonny has his eye on remodeling. When the Best Exotic Marigold Hotel receives two new visitors, Sonny believes Guy Chambers (Gere) is the American hotel inspector that would make the final decision about a second location. His obsession with accommodating Guy in every way possible leads to him ignoring what should be the happiest moment of his life, his wedding.
The big question that comes to mind is whether or not this is better than its predecessor. At first thought, the answer is no. If I remember correctly, I had more fun the first time around when our cast was coming to India. There seemed to be more at stake when they were all adjusting to their new surroundings. That being said, it may not be a fair comparison, as I haven't seen the first film since 2012. I will say that this separation period probably served me well as I could really take in this film on its own merit and not sit in comparison mode the whole time.
Dev Patel is a wonderful actor who has continued to make a name for himself after his breakout role in Slumdog Millionaire. He appeared in the underrated HBO show "The Newsroom" and had Chappie opening the same weekend this film did. His charm and energy in Sonny makes the beginning of the film quite funny. Screenwriter Ol Parker has returned for the sequel and centers most of this movie on Patel's character. He aptly structures the other side stories around Sonny's quest for getting a second hotel and getting married. While I understand the reasoning behind this as a storytelling device, I grew a bit tired of his character. He starts getting high-strung and obnoxious trying to impress Guy Chambers and in turn irritating his fiancé.
I found myself more interested in the subplots involving our older cast members. Maybe it's my adoration for Smith, Dench, Nighy, Wilton etc… but there was a depth and life behind all of their stories that appealed to me more. Spending time with these actors and characters is like spending precious morsels of time with your grandparents. There is so much to learn and soak up from the lives that they have led and how they have started these new chapters. It's quite evident that they all have a mutual admiration and respect for each other. It is quite funny watching Dench and Smith trade jabs at each other. You also have the sweet chemistry between Dench and Nighy as you sit and hope they get together in the end. Richard Gere joins them this time around. While Sonny believes he's the hotel inspector, he tries to assure him that he's purely a writer working on his first book about getting old. With it being Gere in the role, it's natural someone like the saucy Celia Imrie would have her eyes on the younger handsome guest.
Director John Madden is the other familiar face returning to the Best Exotic Marigold Hotel. It's a testament to him and the cast that even though it's a sequel with multiple stories that have to be juggled with, they manage to pull it off better than most sequels can do. Who would have ever thought that the first film would do so well that a sequel would be made with the same cast and still be delightful and heartwarming. It does feel a bit long at times. Again, they could have cut some of the Sonny story down while still maintaining that structure. It's not giving too much away by saying that it has a very satisfying ending with a big wedding dance and a touching Maggie Smith monologue. Then again, I could listen to hear read the darn phone book any day of the week.
Is It Worth Your Trip to the Movies? It's hard to go wrong when we have Britain's finest in one movie.
RATING: 3.5 out of 5 TICKET STUBS