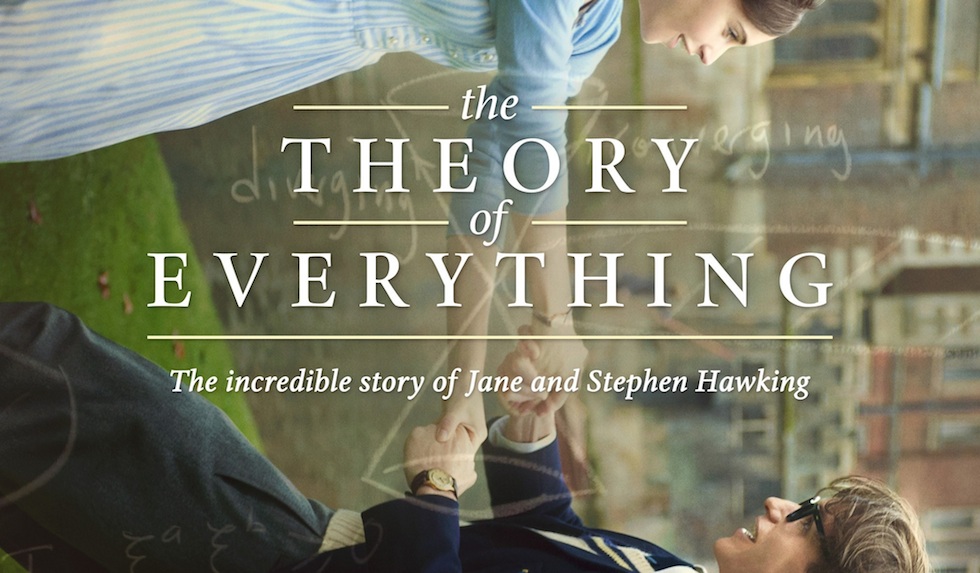 THE THEORY OF EVERYTHING
Director: James Marsh
Starring: Eddie Redmayne, Felicity Jones, David Thewlis, Enzo Cilenti, Charlie Cox, Emily Watson
You better have Eddie Redmayne down as a frontrunner in your Oscar predictions. It's too early to tell if he's a lock for a win, but he will definitely hear his name called among the nominees for his role here as Stephen Hawking. In 1963, Hawking was earning his PhD while studying physics and cosmology at the University of Cambridge. While attending a party one night, he meets Jane Wilde, (Jones) and there is an infectious spark between them. They fall into deep conversation and before she leaves with her friend, she slips him a napkin with her number written on it. It's hard not to feel all warm inside with the instant chemistry shown in this scene.
During his first year at Cambridge, Stephen starts noticing some changes in his health as his speech starts to slur and he has trouble walking. After a tragic fall, he is forced to go to the hospital and is diagnosed with a motor neuron disease similar to ALS. He feels embarrassed and depleted after receiving a two year life expectancy. His inclination is to end his relationship with Jane, but her resilience and forcefulness wins out. She stands up for herself by telling him that, while it would affect their relationship, love conquers all. Even with his health in rapid decline, they marry and have three beautiful children. Life wasn't always easy for the Hawkings as their relationship becomes tested when the reality of his health becomes more than their family can handle.
If you think a film about Stephen Hawking is going to be a whirlwind of scientific concepts and overwhelming ideas, think again. This film is also not one of those biopics focused on just one person while their significant other is left as a poorly written supporting player. Anthony McCarten's script is based off Jane Hawking's book "Traveling to Infinity: My Life with Stephen" and focuses on their relationship instead of the contributions Stephen has had in his field. This exploration creates a beautiful story giving focus on both Stephen and Jane as a couple and as individuals.
I think the idea of portraying Stephen Hawking sounds so unbelievably challenging that I can't imagine many actors that would want to take on this task and do it justice. Eddie Redmayne (Les Misérables, My Week with Marilyn) gives one of the most captivating performances I have seen all year. The transformation he goes through in his ability to perfectly capture Hawking is quite staggering. He brings a sense of humor and wit to him when he first meets Jane, and as his health declines, it becomes truly heartbreaking to watch. Redmayne bears a striking resemblance to Hawking, and I never once thought of it as a showy performance. There's honesty, precision, and care with how Redmayne went about becoming Stephen Hawking. The detail in his physicality is truly astonishing and cannot be taken for granted. It's the kind of performance where the actor becomes lost and you feel like you are watching the real-life inspiration on screen.
Felicity Jones (Like Crazy, The Amazing Spider-Man 2) deserves just as much credit for this movie as Redmayne does. She makes Jane a force to be reckoned with. There is a strength and determination to her as you realize the extremely important part she played in Stephen's life. As the film progresses, you completely feel for her and the struggles she goes through when his health takes its toll on their family. I hope members of the Academy recognize her work as well. I will be curious to see if she is submitted in the lead actress or supporting actress category.
Like I mentioned earlier, this is not a film about the groundbreaking achievements of Stephen Hawking. Director James Marsh (Man on Wire) gives the audience a glimpse into his personal life and the woman that changed his life for the better. He was given something to live for when he hit rock bottom after his initial diagnosis. Jones and Redmayne have such wonderful chemistry together right from their very first moments on screen. If you have studied Hawking's work, you probably know more about the inner workings of their relationship and may be disappointed to know that some of the larger details of his life have been left out of the film. I was shamefully unaware of the specifics regarding his life and career, so this film provided me an insightful behind the scenes study. After this film and Interstellar, I regret not paying more attention in my physics classes in school. I may even go pick up Jane's book or Hawking's "A Brief History of Time" to continue my education.
Is It Worth Your Trip to the Movies? Jones and Redmayne are not to be missed.
RATING: 4 out of 5 TICKET STUBS