TRAINWRECK
Director: Judd Apatow
Starring: Amy Schumar, Bill Hader, Colin Quinn, Brie Larson, Tilda Swinton, Ezra Miller, LeBron James, Jonn Cena, Vanessa Bayer, Mike Birbiglia, Evan Brinkman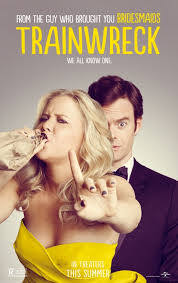 Amy Schumer is hotter than ever in 2015 even though her TV show "Inside Amy Schumer" is currently in its third season. If you haven't watched her sketch "Last F…able Day" go watch that right now and come back to my review afterwards. She has now made a successful foray into movies with help from Judd Apatow (The 40-Year Old Virgin, This is 40). In Trainwreck Amy plays Amy, and you guessed it correctly, she is a trainwreck. Unlike her sister Kim (Larson), she has not settled down, gotten married, and started a family. She believes that monogamy isn't real. She first heard this advice from her dad (Quinn) when she was a little girl and is currently living up to that expectation. She may be dating a huge beefcake (Cena) who can't stop talking about sports and the gym, but that doesn't stop her from sleeping around on the side.
Amy works as a columnist at a magazine called S'Nuff. It's closer to a Cosmopolitan than Time in terms of content. Her overly tanned boss Dianna (Swinton) thinks it would be fun to assign her a piece about Aaron Connors (Hader), a sports medicine doctor who counts LeBron James as a client. He is making strides in his field, and they want to do a piece about him. Amy doesn't know a thing about sports and has no choice but to take it on. The interviews with Aaron are a bit eye opening for her when they turn romantic after she spends the night at his place. He is unlike any other guy that she has been with before and may just change her mind on that idea of monogamy.
This is the first time Apatow has directed a movie that he didn't write. Amy Schumer is the sole writer and creator of this character. From what I've read, Schumer made this film very personal and based a lot of it on her own experiences. You don't often see a female protagonist in a rom-com shy away from the rom portion, but that's actually what Schumer sets out to do. This is a far cry from the kind of comedies we are used to seeing actresses like Cameron Diaz, Meg Ryan, or Reese Witherspoon star in. The character of Amy is by no means a romantic and balks at any attempt a guy tries at being all lovey dovey toward her. I have not watched a lot of her sketches before, but I can understand why Schumer is attracting all of this attention. She's blunt star who will tell it like it is no matter how shocking or crude it may be. If you are turned off by politically incorrect or bawdy comedy, you will not like a majority of the language or themes in the movie. Her script is by no means perfect, but I appreciated how it all felt very grounded in reality. She's a character that's a bit lost and unfocused, and I think we've all met someone like that before.
So much of this comedy feels very unconventional, especially when it comes to the casting. I'm telling you right now that, yes, it is Tilda Swinton as her boss at the magazine. You probably won't recognize her as she is giving another chameleon style performance. Last year she played an old lady in The Grand Budapest Hotel, a vampire in Only Loves Left Alive, and as a train car orderly in Snowpiercer. This is probably the most realistic of these characters, yet somehow you probably won't recognize her. She's given a ridiculous tan, wavy hair, and resembles one of the Real Housewives. I've become a huge fan of hers over the last couple of years, and she is another scene-stealer here. Ezra Miller, whom she co-starred with in We Need to Talk About Kevin, plays her intern at the magazine. I implore you to check that out as well as I cannot recommend it enough. Other notable casting choices belong to John Cena and LeBron James. Cena is a WWE wrestler turned actor who gives quite a revealing and mushy performance here as Amy's romantic beefcake boyfriend. He plays his scenes quite seriously which elevates the comedy even more as we're not used to seeing this side from him. James is playing himself, and like Cena, he can definitely deliver the laughs, as his role is to be the protective and nurturing friend to Bill Hader.
Schumer and Hader have cute chemistry throughout the film. Hader has been making a strong attempt at a film career since he left "Saturday Night Live". I feel like I've seen him in a slew of supporting and leading parts over the last few years, and think he's done a decent job at separating himself from his SNL characters. If you're an SNL fan, you'll spot appearances by Colin Quinn, Vanessa Bayer, Pete Davidson, Tim Meadows, and Leslie Jones. There are other cameos by other athletes and actors along the way. I wish I knew more about sports, so I could have a connection with some of the names and teams that are tossed around.
Apatow has been known to guide young comedians and help them develop their work. He frequently works on Lena Dunham's series "Girls". I know he had a big influence on the script as its scope is different than what Schumer had original laid out. Like other Apatow films, there are continual pacing issues that come into play. I sometimes questioned why it was taking so long to get to the ending you know is coming. I don't know if Apatow is too afraid of cutting material or just wants each scene to feel like it's naturally progressing, but there is room for cuts. There's a big subplot involving Amy and the relationship she has with her family including her "perfect" sister played by Brie Larson and her dad who is suffering from MS. It adds more depth to her character but could use some trimming. Trainwreck delivers plenty of laughs as Schumer has written in multitudes of punch lines, jabs, and various references. It's one of the smarter comedies this year, as it's grounded in the truth and doesn't rely on cheap gags like Get Hard or Hot Pursuit.
Is It Worth Your Trip to the Movies? As I wait for the next Schumer movie, I'll have to catch up on past seasons of "Inside Amy Schumer".
RATING: 3.5 out of 5 TICKET STUBS