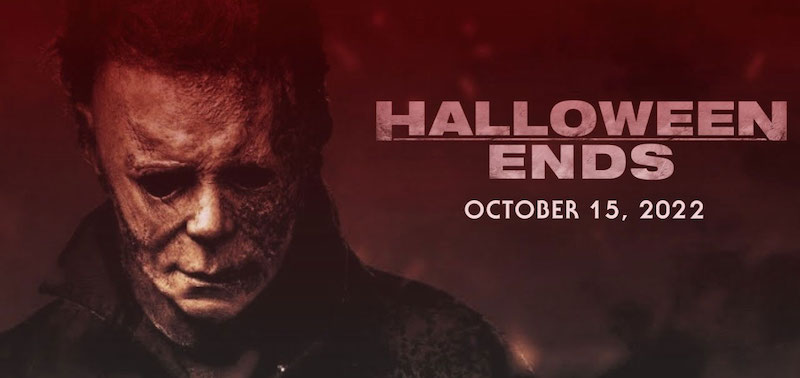 HALLOWEEN ENDS
Director: David Gordon Green
Starring: Jamie Lee Curtis, Andi Matichak, Kyle Richards, Will Patton, Nick Castle, James Jude Courtney
Fans have been eagerly anticipating the trailer for Halloween Ends, the final film in the new trilogy by David Gordon Green. Green set out to make a direct sequel to the original John Carpenter classic reuniting Jamie Lee Curtis' final girl, Laurie Strode, with Michael Myers forty years later. The sequel, Halloween Kills, picked up the very same night as Halloween (2018) and saw Haddonfield coming together as a mob to take down Michael. Four years have passed when Halloween Ends picks up. Here's the official plot synopsis
Four years after the events of last year's "Halloween Kills", Laurie is living with her granddaughter Allyson (Andi Matichak) and is finishing writing her memoir. Michael Myers hasn't been seen since. Laurie, after allowing the specter of Michael to determine and drive her reality for decades, has decided to liberate herself from fear and rage and embrace life. But when a young man, Corey Cunningham (Rohan Campbell; The Hardy Boys, Virgin River), is accused of killing a boy he was babysitting, it ignites a cascade of violence and terror that will force Laurie to finally confront the evil she can't control, once and for all.
The trailer acts as a little teaser of what's to come in the final showdown between Laurie and Michael. It has to end, right? But who survives? The final girl? Michael? I will be very curious to see what tone Green takes with this final film, as he and Curtis have stated this will feel different than Halloween Kills. John Carpenter described to SYFY Wire, "You'll see it's a departure from the others. It's interesting. Dave is a really good director. I love working with him." Kills was absolutely brutal with depicting Michael's vicious kills, and I'd love to see it go back to Carpenter's style more to close out the trilogy. The teaser is just a taste as it pays homage to the original reminding audiences of the decades long battle between Laurie and Michael.
Let me know what you think of the teaser on social media, and stay tuned as you know I'll have more coverage as the final opens!
Here's the trailer
And don't forget to check out some of my other Halloween content including my Halloween retrospective "Halloween" Retrospective – 40 Years of Terror.
My 1:1 with Jamie Lee Curtis for Halloween Kills. I'm still pinching myself!