MISSION: IMPOSSIBLE-ROGUE NATION
Director: Christopher McQuarrie
Starring: Tom Cruise, Jeremy Renner, Simon Pegg, Alec Baldwin, Ving Rhames, Rebecca Ferguson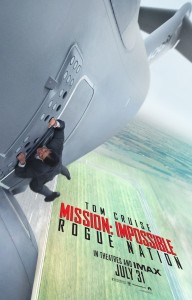 Tom Cruise has hit a bit of a rough patch over the last decade. I found Edge of Tomorrow enjoyable, but unfortunately, it didn't have the big box office draw it should have had. He manages to win over audiences when he plays Ethan Hunt in the Mission: Impossible films. I was honestly surprised by how much I enjoyed the last one, Mission: Impossible-Ghost Protocol. Cruise pulls no punches by his death-defying stunt work in each film, and the latest in this twenty year old franchise looks to be another winner. We now have a name and teaser trailer for Mission: Impossible-Rogue Nation. If Ghost Protocol was any indication, you will definitely want to check this one out at the biggest IMAX screen you can find.
Release Date: July 31, 2015

Here's the trailer: