TRANSFORMERS 6-Film SteelBook
Paramount Home Entertainment is proud to announce two new arrives for your physical media library.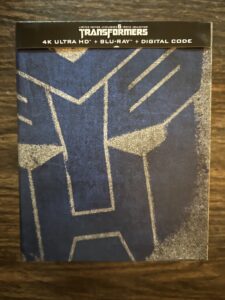 Just in time for the release of Transformers: Rise of the Beasts (June 9, 2023), Paramount has released an exciting 6-film SteelBook box set for fans on 4K, Blu-Ray, and digital codes included. Titles include:
Transformers (2007)
Transformers: Revenge of the Fallen (2009)
Transformers: Dark of the Moon (2011)
Transformers: Age of Extinction (2014)
Transformers: The Last Knight (2017)
Bumblebee (2018)
Please note that the animated film Transformers: The Movie is NOT included in this set. Here's an unboxing video I made for TikTok (@PaulsMovieTrip)
DUNGEONS & DRAGONS: HONOR AMONG THIEVES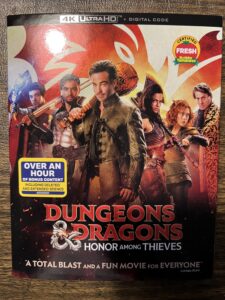 The big screen adaptation of the extremely popular game Dungeons & Dragons is here with Chris Pine starring in Dungeons & Dragons: Honor Among Thieves. The film did extremely well with critics and audiences scoring a 90% Critics score on Rotten Tomatoes and 93% Audience Score. It was a relief knowing not every board game or video game has translated to the big screen successfully (Battleship!) Despite the high praise, box office receipts were average, so it's unclear if we can expect a sequel. This film may just to better with at home audiences watching the movie with friends and family and playing the game afterwards.
SPECIAL FEATURES
-Deleted and Extended Scenes
-From Dice to Dragons: Honoring The Lore
-Rogues' Gallery: The Heroes of Dungeons & Dragons
-Fantastic Foes
-Forging Through the Forgotten Realms
-Broadswords, Battleaxes & Badass Brawls
-Gag Reel and more