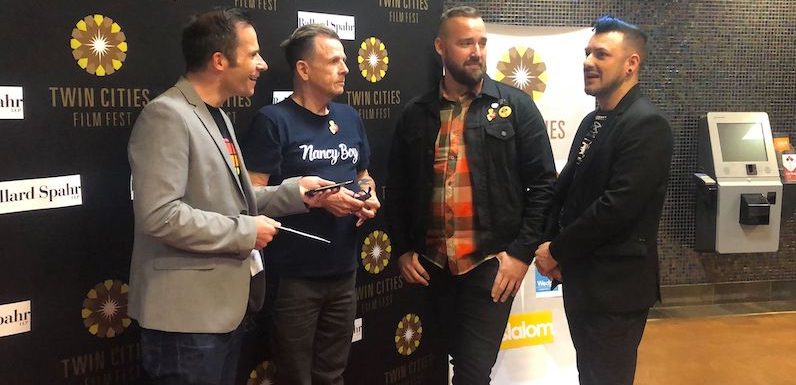 "SCREAM, QUEEN: MY NIGHTMARE ON ELM STREET" Interviews
Nightmare on Elm Street 2 takes on different meanings depending on who you ask. For franchise devotees, it deviated from Freddy Krueger creator Wes Craven's original concept. Ask members of the LGBTQ+ community and they may view this as the movie that made them realize they were gay. For actor Mark Patton, it was the film that ruined his budding career and made him leave Hollywood. That's just the tip of the iceberg that unfolds in the documentary Scream, Queen!: My Nightmare on Elm Street. It played to a sold-out audience at the Twin Cities Film Fest with a second showing added due to high demand.

Patton and directors Tyler Jensen and Roman Chimienti were in attendance for the first screening, which also posed as a homecoming for Jensen who's from Minneapolis. He had many family and friends in the audience. It was satisfying to hear Patton talk about both films and how he views Nightmare on Elm Street 2 with a new lens. As a gay man myself, Patton's story is a much-needed history lesson for a new generation.
Tyler and Roman, do you remember what your first impressions were when you originally saw Nightmare On Elm Street 2?
Roman Chimienti (RC): I absolutely do. It was the scariest movie I had ever seen. It was the first movie that made me fall in love with horror.
Tyler Jensen (TJ): I love the "Nightmare on Elm Street" series ever since I saw the fourth one when when I was seven years old. Part 2 was the last one I saw as it had a very negative connotation and reception about it. It wasn't until I became an adult did I understand what they were saying when they said it wasn't their favorite part of the franchise. That's what birthed this whole thing.
Did you originally see all of the gay tones when you first watched it or was it only after reflecting and learning about it did it come into focus?
RC: I didn't notice it as I was only ten years old. I gravitated toward it for other reasons as it was just scary.
TJ: I didn't know until I was in my twenties and I was like "Oh my god! There's something going on here that no one else is talking about."
How did you get connected with Mark and how much convincing did it take?
RC: I think we were all gravitating toward each other as it was just the perfect time. We all just found each other. Mark was reaching out as he was wanting to tell his tale, and I happened to connect with him at that time.
Mark Patton (MP): I had done the "Never Sleep Again" documentary, which was not actually a documentary. I enjoyed it for what it was, but it was not what I had been led to believe that I would be doing. I signed a contract and went on tour with Comic-Con, which is where I began to formulate the idea of building this onto a bigger story and we came together and did it.
Mark, what made you realize you wanted to tell this story and share what this experience had been like?
MP: I had known I wanted to tell this story when I made the movie. I have that kind of brain. When you see the film, you'll understand my personality, and the way I'm set. I was built to make this kind of movie. I was on a mission, I knew exactly what my platform was. They [Chimienti, Jensen] discovered theirs. For me, this is about empowering young gay boys who have worked in the business so they don't have to go through the things I did.
What reactions have you been getting from fans as you take the documentary around to festivals and does it change state by state?
MP: Actually, no. We've shown it in Alabama, San Francisco, Toronto, Kansas City, here. There's always a wave that comes over the people in the movie.
TJ: They come up to us after the film and have tears in their eyes. They don't have a question, but say, "Thank you. I didn't know I needed to see that. I didn't know I needed to hear that story. You told it in such a way that really connected with me deeply." I think that's the most validating and rewarding part.
MP: I don't think people expect it. Freddy Krueger's the icing, but we get into the cake and we take you on a deep dive. Be prepared, it's a wonderful film that takes you on a roller coaster.
Mark, I know Wes Craven wasn't directly involved but was he present on set at all or was he pretty far removed?
MP: Wes wasn't on our set, but I do know Wes. I had a little bone with Wes. He's a very nice man and brilliant for what he did, but he did something that was unconscionable to me. They made "Nightmare on Elm Street", but he wanted to stop there. [Producer] Bob Shaye was broke, because he sold off the rights to everything and he needed money. They did the second one and it was very successful, critically and financially. Wes took our $30 million dollars from our movie and made Part 3 and never mentioned us. Of course, we're going to be an outlier, because we were excluded intentionally. If he had only said that from the beginning, it would have saved all of us a lot of grief. I think, it really stands as a stand-alone film. I actually think "Nightmare on Elm Street 2" holds up better than any of the others at this point.
Mark, Do you have plans to return to acting?
MP: I just finished shooting a movie in Portland called "One Dead Dog". I was offered movies for many years after I stopped acting, and then once I began to travel to Comic-Con, I started getting offers for movies again, and I was pretty adamant about not doing it. One day I thought, "Walk through the door" and this last film I really enjoyed a lot. I liked the director and script. It's about serial killers, but really about codependency. I'm playing a grown up for the first time. I was a little nervous about it, but they have a lot of colors too. You don't have to just be a young cute boy. I thought that's what it was all about when I was young.
What's your favorite scary movie outside of Nightmare on Elm Street 2?
RC: The Exorcist
TJ: Hello Mary Lou: Prom Night 2
MP: Carrie

I'm hope Scream, Queen!: My Nightmare on Elm Street finds wide distribution whether it's in theaters, OnDemand, or streaming. Patton's story reaches wider than horror fans. Until then, check out their website for more information and future festival dates.