BIG HERO 6
Director: Don Hall and Chris Williams
Starring: Ryan Potter, Scott Adsit, Jamie Chung, Daniel Henney, T. J. Miller, Genesis Rodriguez, Damon Wayans Jr., James Cromwell, Alan Tudyk, Maya Rudolph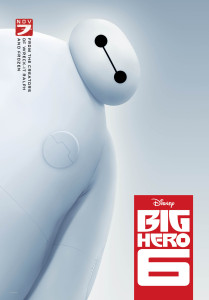 For a while it looked like Pixar was cranking out the hits and leaving the traditional Disney animated films in its dust. Leave it to Disney to remind us all who's boss. They have had a string of hits recently that have fared better than some of Pixar's latest. Big Hero 6 is their first attempt at the Marvel Comics canon since their acquisition of the company in 2009. I bet you can already assume the nature of this film. Hiro (Potter) is a rebellious fourteen-year-old kid who likes to spend his nights at illegal bot fights with his secret little weapon known as a microbot. He lives with his Aunt Cass (Rudolph) because his parents died when he was three. He goes to visit his brother Tadashi (Henney) at his "nerd school", aka the San Fransoyko Institute of Technology. Yes, their city looks just like what you think it would if San Fransisco was made with Tokyo inspired architecture. There he meets his brother's friends and his latest invention, Baymax (Adsit). Baymax is an adorable and inflatable health care companion robot.
This is just the inspiration Hiro needs to embrace his inner nerd and do something with his life instead of the illegal bot fights. He applies and presents his microbots as his entrance piece. Everyone is wowed over and considers them revolutionary. Tragedy strikes that evening and Hiro believes all but one of his microbots have been destroyed. The one microbot starts to act up taking Hiro and Baymax on a chase to a warehouse where a masked foe has been secretly making a mass supply of Hiro's invention without his knowledge. Hiro gathers four of his friends and transforms them into superheroes. With the help of Baymax, the six of them suit up and try to catch this nemesis before it's too late.
If you have any kids in the house that have been begging to see The Avengers or X-Men and you question the violence and action, take them to Big Hero 6. This is the perfect answer as it is a wonderful companion piece for kids that may be too young for the live action comic book movies. For the adult moviegoers, have no fear, as you will quickly get sucked into the geeky nature of it. It is a Marvel movie after all, so you can expect your Stan Lee cameo and post-credit sequence.
The whole first half of the movie is quite hysterical as the friendship and bond between Hiro and Baymax grows. Baymax is another Disney sidekick character who seems to have a simple look and design, yet he completely comes alive by the physical humor behind him. The second half goes all in on the action elements once the gang sets their plan into place. The script is intelligent and never feels dumbed down in an attempt to appeal to the masses of children that are its target audience. Too many times the humor gets resorted to fart jokes and the sidekick is loud and obnoxious. You won't find any of that in Big Hero 6. Instead there are some reassuring themes of embracing your inner nerd, loving technology, loyalty, and teamwork.
Walt Disney Animation Studios is bound to have another hit on their hands with their 54th film. It veers along the lines of Wreck-It Ralph and The Lego Movie (not Disney) it terms of its creative approach. This will probably be a relief to parents who are sick of Frozen. Don't worry; there are no catchy musical numbers in this one that would end up on repeat in your car. If you can spring for it, I would recommend seeing it in 3D. Normally I scoff at the gimmicky ploy, but I make an exception for animated films. It really does enhance the overall look of the animation in a way that doesn't work for live-action films. I have no doubt that this will inevitably spawn a franchise much like many of the other Marvel films.
Is It Worth Your Trip to the Movies? One of the best animated films of the year. Don't be late as the animated short Feast that comes before the movie is another winner and will definitely appeal to dog lovers.
RATING: 4 out of 5 TICKET STUBS