KUNG FU PANDA 3
Director: Alessandro Carloni, Jennifer Yuh
Starring: Jack Black, J.K. Simmons, Bryan Cranston, Angelina Jolie, Seth Rogen, David Cross, Jackie Chan, Dustin Hoffman, James Hong, Lucy Liu, Kate Hudson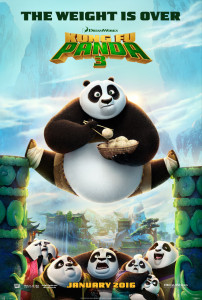 The adventures of Po and the Furious Five continue on this third chapter of the Dreamworks' franchise. Jack Black, Angelina Jolie, Seth Rogen, Dustin Hoffman and the rest of the gang are all back along with some new faces for this story about the power between fathers and son. Master Shifu (Hoffman) announces that he is offering his final class of enlightenment and kung fu training and is handing the teaching reigns over to Po (Black). Po's first day goes horribly awry as he doesn't believe he has the power inside of him for such a task. In an unexpected turn of events for Po, his long lost biological dad Li (Cranston) shows up and takes him back to his home village. His "adopted" dad, Mr Ping (Hong), fears being replaced by Li and sneaks along for the trip. Po's unaccustomed to true panda life so this is all very new to him. Throughout all of this, an evil spirit by the name of Kai (Simmons) has been sent back to Earth from the spirit realm. He was a supreme warlord of China who stole the chi (the energy flowing within us) from ancient warriors and was banished to the spirit realm. He's back and can only be stopped by a true master of chi.
When you start getting multiple sequels to an animated film, it starts to feel more like the studio is just banking on easy money versus telling a good story. Dreamworks Animation did the same thing for Shrek who sequels just weren't as good as the original. What I will say about Kung Fu Panda 3 is that this actually feels like the story and themes come first versus a set of annoying characters that are guaranteed to make kids laugh and adults groan. There are plenty of kids' movies that fall into that second category. Writers Glenn Berger and Jonathan Aibel have written all three films and make family a priority in this one. Maybe that's a returning theme from the first two, but it's been years since I saw them and I don't have kids yet playing them on repeat. The idea of family extends to the film's cast as Jack Black's son has a voice in it as well as some of Angelina Jolie's children.
We all wear many hats in life, and Po struggles with that in Kung Fu Panda 3. He may be a dragon warrior and a panda, but now he's called upon to be a master of chi. He learns that your real strength comes from being the best version of yourself even if it takes some time for him to learn that. Po also learns that two dads are better than one when his birth dad, Li, shows up. For Mr. Ping, it's a lesson that Po's love for him can never be replaced and that he's still an important part in Po's life even after Li arrives.
What you've come to love from this franchise all returns for this third entry. The animation is impressive with the multiple locations in which the story takes place. If you can spring for the 3D, it's worth it for the kung fu battles inside the deeper realms that Kai and Po are transported to for the finale. I always think when the animation is this good that 3D enhances it in a way that it can't do for many live action films. Joining the franchise for the first time are Bryan Cranston as Po's dad and Kate Hudson as a ribbon-twirling panda who has her eyes on Po. J.K. Simmons is no stranger in playing the villain, and his take on Kai has a scare level reminiscent of Scar in The Lion King. Jack Black successfully keeps Po sweet and endearing without becoming obnoxious, which frankly, he slips into during some of his live action roles. The film is funny without relying on old gags or potty humor, which is another trap for animated buddy films. The humor seems innocent and shouldn't ware thin on the parents taking their kids to the theater.
Is It Worth Your Trip to the Movies? For its third outing, Kung Fu Panda 3 is still wholesome entertainment with good lessons behind it.
RATING: 3 out of 5 TICKET STUBS