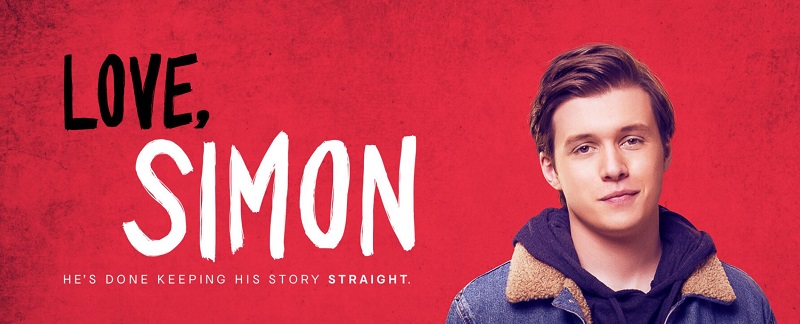 LOVE, SIMON
Director: Greg Berlanti
Starring: Nick Robinson, Katherine Langford, Jennifer Garner, Josh Duhamel, Alexandra Shipp, Logan Miller, Keiynan Lonsdale, Miles Heizer, Joey Pollari, Clark Moore, Tony Hale, Natasha Rothwell
It's a little shocking to think that it took until 2018 to finally have a teen movie whose lead character is gay. We have seen plenty of gay characters on television and in movies before, but they're usually the sassy sidekicks offering moral support to the female protagonist. Love, Simon finally breaks that convention in telling Simon's story. Nick Robinson (Jurassic World) plays the titular character who explains to the audience in his opening narration that he's just like any perfectly normal teenager. He comes from a loving and supportive home and has a close circle of friends. There's just one major secret that he's keeping from them. He knows at the age of seventeen that he's gay. He wouldn't be the first openly gay kid at school as Ethan (Moore) already lives his truth despite the constant mocking he gets from their classmates.
The kids at school use a secret online forum to post their inner reflections and juicy hallway gossip. One day Simon reads a message from someone nicknamed "Blue" who opens up that he's gay. Simon is somewhat elated in knowing that there's someone else out there at school just like him. Simon creates a fake email and replies back to Blue as "Jacques." They begin an email correspondence opening up about their "when did you know" stories. It's a safe space for both of them to be who their true selves. Back at school, Simon and his friends go about their days getting ready for homecoming and rehearsing their fall production of Cabaret. Simon starts to look around trying to discover Blue's true identity as he starts to fall in love. Could it be Cabaret's pianist Cal (Heizer), his good friend Bram (Lonsdale), or is it Lyle (Pollari), the waiter at the local Waffle House? It's fun to see Simon's inner thoughts play out as he tries to connect the dots with each guy.
Like any good teen flick, Simon's journey to acceptance is not an easy one. Teens can be cruel, and we see that played out here when the emails are found on an school computer. It becomes heartbreaking to watch someone start to come into their own only to witness the negative reaction that comes with it. That's just one of the reasons why Love, Simon works so well. It gets it right. It may be a Hollywood flick, but that doesn't make it out of touch with reality. As Simon and Blue's emails continue, their stories and natural fears ring true to what it's like to discover one's sexuality. I clearly remember that initial fear of how coming out could change everything when you just want your life and relationships to stay the same.
In the '80s it was the John Hughes films, and in the '90s we had movies like American Pie, She's All That, or 10 Things I Hate About You. This generation of teens can look upon films like Love, Simon or The Perks of Being a Wallflower to represent their youth. Much like those films, Simon comes with a cast of characters each having their own individual style and personality. It's refreshing to not see a bunch of teen stereotypes. They're all going through something as we see with Simon's best friend Leah, played by Katherine Langford from 13 Reasons Why. They're always together, but Simon's deft ways doesn't allow him to notice that she has a deep crush on him. Nick Robinson is extremely charming as Simon. He's a flawed character, but someone worthy of love. Natasha Rothwell is a scene-stealer as the drama teacher. She has a fantastic scene where we see her put two bullies in their place. Jennifer Garner and Josh Duhamel also co-star as Simon's loving, and sometimes awkward, parents.
Love, Simon has those quintessential grand gestures where some come with rejection while others will have you cheering and applauding loudly from your seat. It's all set against a stellar soundtrack curated by Jack Antonoff. It was refreshing to be in a theater with an audience that was rooting for Simon to fall in love. You could hear and feel the excitement in the air. It was a needed reminder that there is hope and love in this world when it seems like fear, anger, and bullying are ramping up again to dangerous highs. Love, Simon is that perfect movie to help teens, or anyone else, live their truth.
Director Greg Berlanti, best known for his work on television with Dawson's' Creek, Brothers & Sisters, and the DC superhero universe on the CW, is an out gay man. I can only assume that his own history helped him navigate this story with just the right touch to keep it grounded. The film starts off fairly easy-going, but there's a turning point in the story that takes it to even greater depth. It's a heartfelt drama with consequences where no character or action felt inauthentic. Characters make stupid decisions and are held accountable. By the end you'll be laughing through the tears, which is how it should be.
Is It Worth Your Trip to the Movies? Go fall in love with Simon and support these stories.
RATING: 4 out of 5 TICKET STUBS