THE LONGEST RIDE
Director: George Tillman Jr.
Starring: Scott Eastwood, Britt Robertson, Alan Alda, Jack Huston, Oona Chaplin, Melissa Benoist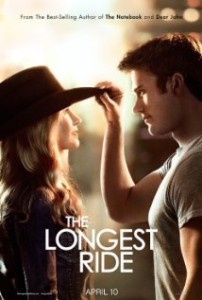 It seems like every year we are given a new Nicholas Sparks romance story. He quickly cranks out the books and the studios rush the film adaptations into production. I will admit to getting sucked into those early stories, but I had to take a break. They all start to blend in and feel like they're the exact same book after awhile. The latest one, The Longest Ride, is adapted from his most recent book. The only thing Luke Collins (Eastwood) knows how to do is ride a bull. He is a champion bull rider who continues to work his way up in the leaderboard. One night he eyes Sophia (Robertson) rooting him on in the stands. She's not your average cowgirl as she is typically found in her sorority house working hard at finishing school and starting a potential internship at an art gallery. He tosses her his hat, which ignites a spark between the two of them. They later reconnect at a line dance furthering their attraction to each other. On the night of their first date, they become heroes after rescuing Ira Levinson (Alda), an elderly gentleman whose car slides off the road. As Sophia continues to visit Ira in the hospital, she reads him old love letters he wrote to his wife. These letters may just be the fuel Sophia and Luke need to keep their relationship going when they realize they have different goals and aspirations in life.
I have not read this book, so have no fear as there will be no comparisons to how closely it follows the original source material. Even without knowing this book, I knew there would be many of Sparks' signature elements and themes thrown into the mix. I was waiting and expecting some of these Sparks-y choices: twist in the final act, a heavy rainstorm, lovers with different ideals and ambitions, and a ruggedly sexy hunk who makes some dumb choices along the way. I'm pretty sure there is a BINGO card on the Internet you can use to play along. There is definitely that cookie cutter type formula to it. I think my break from reading his books or even seeing some of these movies led me to enjoy this one a bit more than I should have. Yes, there may be some eye rolling moments, but the dual romantic timelines and themes of sacrifice make the story more relatable and interesting than I had expected.
The film is given incredible help with the casting of Scott Eastwood (Clint's son) and Britt Roberston ("Under the Dome") as our two main lovers. They are two hot young actors who have wonderful chemistry. They have a playful, down to earth mentality that helps make this movie more tolerable than your average cheesy romance. I've seen some other Sparks films where the couple have little to no chemistry and it can't save the mess of a storyline they are put in. Eastwood is aptly believable as a southern cowboy and smolders on screen. You can't help but think of his father. Robertson has that girl next door charm about her. I was a little worried when he made her character a sorority girl, but of course, she's the exception to the stereotype being the art major that she is.

I found myself drawn to the other subplot involving Robertson's character and the relationship she has with Alda's. I'm a firm believer that there is so much we can learn from the past and what our elders have to teach us. I always loved listening to the stories my grandparents used to tell. It was such a different world back then. As the Ira Levinson back story unfolds, we are introduced to two more actors that come from a lineage of old Hollywood. Jack Huston ("Broadwalk Empire") plays the younger version of Ira. He is the nephew of Anjelica and Danny and the grandson of legendary director John Huston. Oona Chaplin plays his wife in the flashback sequences. You should recognize her name as she's the granddaughter of Little Tramp himself, Charlie Chaplin. I don't know if this was stunt casting or extremely coincidental. In the end, it doesn't really matter as both are wonderful actors who keep that storyline just as engaging as the contemporary one we see with Eastwood and Robertson.
The Longest Ride is by no means a perfect romance, nor is even all that great. Some of the bull riding sequences looked very CGIed. With the dual timelines, it clocks in at one of the longest Nicholas Sparks movies. Maybe it is the similarity in feel, but I think it's the best one since The Notebook. These types of movies rely heavily on the casting and if there's chemistry between our lovers. Eastwood and Robertson have it, and Chaplin and Huston have it. Plus, there's always something you can learn from Alan Alda. It will work for anyone that is looking for a soapy story with some shirtless scenes, country music, and some cheesy dialogue.
Is It Worth Your Trip to the Movies? If you're a Sparks fan, you may shed a tear. If not, you won't get much out of it.
RATING: 3 out of 5 TICKET STUBS