THE WATER DIVINER
Director: Russell Crowe
Starring: Russell Crowe, Olga Kurylenko, Dylan Georgiades, Jai Courtney, Yilmaz Erdogan, Ryan Corr, James Fraser, Ben O'Toole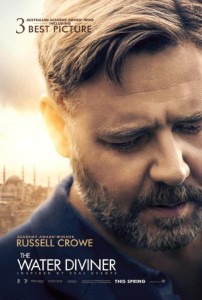 I'll admit I am not at all familiar with the Battle of Gallipoli, so this was all new territory for me. The heart of the story takes place four years after that tragic battle in Turkey. Joshua Connor (Crowe) had three sons who went off to fight but never returned home. Like many of the soldiers, they are now presumed dead after their bodies have gone missing. His wife has been stricken with grief ever since then and takes her own life, as she can't come to terms with the loss of their sons. At her grave, he vows to find them and bring them back home where they belong. Joshua heads to Turkey from Australia in order to track down the location of where his sons may be found. Along the way he stops in Istanbul where a precious little boy (Georgiades) leads him to a clean and welcoming hotel run by his mother Ayshe (Kurylenko). Joshua's journey is by no means an easy one as the battlegrounds are protected, and he cannot get permission to travel there legally. With the help of Ayshe, her son, and some willing Turkish officers (Erdogan, Courtney), Connor is able to seek out the truth of what happened to his sons while at war.
According to the film's poster, The Water Diviner is inspired by true events. I usually interpret that with a grain of salt as that particular phrasing means that great liberties have been taken from the actual story to make it more dramatic for the screen. I don't know if Joshua Connor really existed or if it's merely the basic plot of a man looking to find his sons and bring them back home that is true. In this case, it doesn't really matter, as I have no connection or knowledge of the Battle of Gallipoli that would deter me from the what's presented with Connor's story. Sometimes it's best to go into a movie without any preconceived notions of what to expect.
The script by Andrew Knight and Andrew Anastasios starts to wander at times, which doesn't help Russell Crowe who is making his directorial debut. I personally don't think for a movie called The Water Diviner that enough attention is made to this concept. One scene at the beginning does not suffice, but I digress. It's an epic project for a debut director to tackle this kind of dramatic territory while he is playing the title character. He needs to show off the personal side to this character and convey the tragic and historical aspects of the war. The pacing is a bit slow at the beginning and there could be a tighter focus on the heart of the story. There is a love story that slowly develops between him and Olga Kurylenko's Ayshe but feels unnecessary.
I feel like I have see a plethora of war movies lately, and these scenes are no easy task to execute. I applaud Crowe's handling of the battle sequences. At times they are uneasy to watch, but I never felt like Crowe was trying too hard to show the brutality. He knows how to balance a bloody aftermath in order to dig into the pit of your stomach without feeling the need to show explosion after explosion with bodies being flung all over the place.
We've seen many actors transition to going behind the camera. Some are more successful than others. The Water Diviner is proof that Crowe has the capabilities for a shift in his career if he feels the story is right for him. It is by no means a perfect film, but it's very evident throughout that it feels like this a very personal story for him. Due to his Australian heritage and being a father, he really connects to the story as a director and actor. We get to see a different side of Crowe the actor. He gets to show off the quieter internal layers of himself, as this character is not the loud, brutish force we are used to seeing out of him. I saw and believed Crowe as the heartbroken father instead of Crowe the authority figure. He's joined by Olga Kurylenko (To the Wonder, Oblivion) and Jai Courtney (Divergent, Unbroken), two promising young actors I've had my eye on recently. Even though there is this tragic and sad feeling emanating throughout, I was found myself clinging to the story hoping for closure or a discovery for the journey he's on.  The film received a wonderful response in Australia and multiple awards at the Australian Academy Awards. I don't think it will get the same response here, but it's one that will surprise you.
Is It Worth Your Trip to the Movies? Don't let the bizarre title throw you off. You will be glad you went on this journey with Russell Crowe.
RATING: 3.5 out of 5 TICKET STUBS