TRUE STORY
Director: Rupert Goold
Starring: James Franco, Jonah Hill, Felicity Jones, Ethan Suplee, Gretchen Mol, Robert John Burke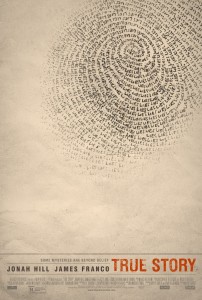 One would think that if a movie has James Franco and Jonah Hill in it together, it could be box office gold. Somehow this movie is being released and I feel like no one has heard of it. Maybe it had a small budget with minimal spent on marketing or maybe the studio thought it would be a dud and didn't want to waste it's money. I'm going to go with the second. Jonah Hill plays Michael Finkel, a New York Times reporter who has been let go from the publication after it comes out that he slightly fabricated his most recent article. What he doesn't know is that a man named Christian Longo (Franco) has been using his identity while on the run for murder. Michael only learns about this when a local reporter calls him asking for his opinion on Christian's arrest. Christian has been accused of killing his wife and three kids and throwing their bodies off a bridge and into the bay. Michael visits Christian in jail where he learns that the accused is finally ready to tell his side of the story. Michael believes Christian's case could be the story of a lifetime that could revitalize his career.
I love a good true crime story. I think my overall intrigue with the genre kept me more invested than I should have been considering the lack of specificity and attention paid to this case. At one point James Franco's character says, "Everybody deserves to have their story heard." For anyone that has seen his or her fair share of crime-driven movies, you know this isn't the most original line of dialogue. This is just one example of the overall amateur feel the film has for writer and director Rupert Goold. Yes, it's his first film but I think he gets stuck without having a very clear viewpoint of what he wants out of his actors or audience. There is also an abundance of transition moments that are dialogue free. That wouldn't be a bad choice, but a majority of them feel like filler used to expand the runtime instead of as used as a device to show the unspoken, the discoveries of our characters, or build tension.
We have seen Franco and Hill turn in rich performances in the past that have garnered Oscar nominations for both of them. They have collaborated on other projects over the years (This is the End), and they may have seen this script as another attempt to work together but move away from the stoner comedies that have come before. Don't get me wrong, I wasn't expecting them to turn this into a comedy or find humor in the situation. They aren't given the material or direction that they both need in finding the specificity of each character. There is a surface level to their acting as I kept watching each one looking for the depth of an inner subtext. You know from the first meeting in the jail what Michael wants out of Christian and vice versa. I never understood their relationship as anything deeper than a supposed book deal for Michael or Christian wanting to learn how to be a better writer, nor did I feel like there was any question of Christian's guilt or innocence.
The only actor that brings any nuance and drive to their performance is Felicity Jones, fellow Oscar nominee due to her work in The Theory of Everything. She plays the standard supportive wife to Jonah Hill who still remains cautious as her husband visits a killer behind bars. This easily could have been a throwaway role, but unlike the gentlemen, I saw a depth behind her eyes. I felt for her character even though this isn't her story.
During the closing credits I noticed that Dede Garner and Brad Pitt produced the film. Their production team also backed films like 12 Years a Slave and Selma. I wonder if Jonah Hill called his buddy Brad and asked for a favor to help get this film off the ground. I can understand the appeal to this story. I have not read Michael Finkel's book of the same name, but the publisher description has more focus than this film while offering a probing look at the relationship between these two men. With some of the other true crime stories in the media lately like the podcast "Serial" and HBO's "The Jinx", I couldn't get enough. I was sucked in with each episode and wanted more. I wanted to dive in and read additional material about each case. I didn't have those feelings with True Story.
Is It Worth Your Trip to the Movies? You can find better true crimes stories on "Dateline".
RATING: 2 out of 5 TICKET STUBS