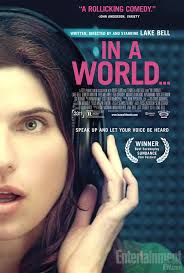 IN A WORLD… (2013)
Writer/Director: Lake Bell
Starring: Lake Bell, Ken Marino, Fred Melamed, Michaela Watkins, Rob Corddry, Demetri Martin, Alexandra Holden
Try to think of a movie trailer that uses a female voice behind it. You probably can't think of too many as it is a male dominated field. This realization was the motivation for Lake Bell (It's Complicated, Million Dollar Arm) to write, direct, and star in this look at a very interesting part of the industry that doesn't always get the attention it deserves. After the death of movie trailer voice over artist Don LaFontaine, there were only five heavy hitters that were known for lending their voice to trailers. Sam Sotto (Melamed) is another legend in the field that is about to publish a memoir and receive a lifetime achievement award. His daughter, Carol (Bell), is a vocal coach and is trying to break into the trailer business and make a name for herself that is separate from her father's. Her life is a bit of a mess as her freelance work isn't quite paying the bills. She is kicked out of her dad's house and is forced to move in with her sister Dani (Watkins) and her husband Moe (Corddry).


Carol has a charming, odd, funny, and inquisitive nature about her. She's always trying to secretly record people on her cassette recorder in order to practice various voices or dialects. She starts getting some trailer work for a children's movie, but keeps the news from her dad. They have an aggravating relationship as he is a sexist pig that can't imagine his daughter having success and working in the movie trailer industry. The big news comes out that a new quadrilogy of films based on a young adult series is being made, and the studio hopes to resurrect the infamous "In a world…" phrase to be used for it's trailer. Don is championing for his protégé Gustav (Marino) to get the gig and goes ballistic when he learns his very own daughter is testing for the coveted job.


This is Lake Bell's first attempt at writing, producing, and directing a full-length feature film, and she makes a strong freshman effort. I have seen her act in quite a few films, and it's a pleasure to see her shine in other areas as well. We've seen other actors attempt to direct or write, and it doesn't always work out so well. Bell tackles a really specific part of the film industry that doesn't get a lot of notice and appreciation. I always love a good movie about a movie, but we don't see many about trailers and voice over work and the little nuances and tricks to the trade. Bell uses this portion of the business to shed light on the sexism found with the fact that the majority of movie trailers are all done by male voices.


She has cast a great ensemble of supporting character actors that you will recognize, but probably aren't on a first name basis with. Ken Marino is constantly popping up in these types of small budget, independent movies (Role Models, Wanderlust) and has played many sleazy characters before. Alexandra Holden is wisely cast as the much younger girlfriend of Fred Melamed's character. I couldn't help but think of her in Drop Dead Gorgeous as she applies another thick Midwestern accent here. Coincidence? I think not. I think Bell's only mistake is with the scenes involving Rob Corddry (The Way Way Back) and Michaela Watkins (Enough Said). Both are fine actors, but the film gets a bit off track when it comes to the scenes involving their marriage. The characters are important, but too much time is spent on an insignificant sub-plot. Geena Davis has a small role as the studio head that is producing the quadrilogy. Again, very smart casting due to Davis' previously work. Can she return to the big screen full time now?


In a World…focuses on the power of someone's voice. Many people like Corrdry and Watkins' characters are simply turned on to people solely based off their foreign accents. Bell really speaks to the idea of what your voice means and says about you. Young women should take note of Bell's message. At one point she's giving a seminar and states, "Women should sound like women, not baby dolls." It is the perfect line for a generation of people that model themselves after Kim Kardashian.
Is It worth Your Trip to the Movies? The film proves that Bell is great at comedy and that she can deliver some bite with it.

RATING: 4 out of 5 TICKETS STUBS