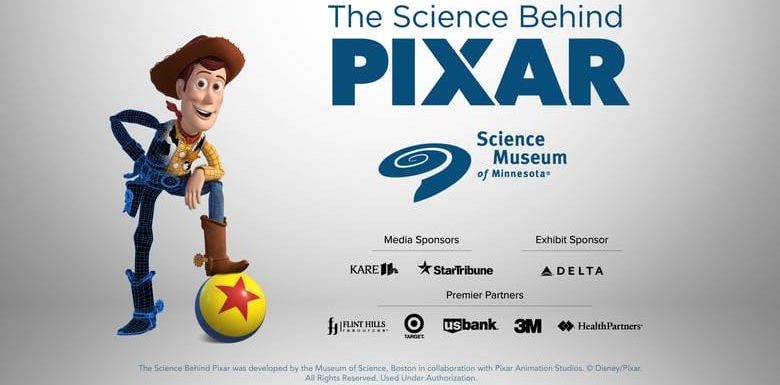 THE SCIENCE BEHIND PIXAR
TIME IS RUNNING OUT!! AHHH!! Okay, I'll calm down, but seriously. Back on June 22, my husband and I went to The Science Behind Pixar exhibit at the Science Museum of Minnesota as we both adore Pixar movies. They've taken their magic on the road with this new exhibit that lets moviegoers of all ages get a glimpse into the science, math, and hard work that goes into making any one of their classic movies.
The exhibit is beyond immersive and creative with a variety of activities to give kids and adults a hands on approach to every aspect of making an animated movie. For example, they'll take a scene from Brave and show how special effects are used to make Merida's hair and dress. You can also learn about lighting by using a set model from Up by adjusting the lights to change the mood of the scene. You can also adjust cameras that are buried beneath a mound of grass to learn what it took to make A Bug's Life. Those are just a few of many activities you can get your hands on.
Admission Prices:
Pixar + Omnitheater + Museum Admission
Members
Adult $9.95
Child (4-12) $9.95
Senior (65+) $9.95
Non-Members
Adult $34.95
Child (4-12) $28.95
Senior (65+) $28.95
Pixar + Museum Admission
Members
Adult $9.95
Child (4-12) $9.95
Senior (65+) $9.95
Non-Members
Adult -$28.95
Child (4-12)$22.95
Senior (65+) $22.95
The Science Behind Pixar ends September 4. I cannot stress enough how creative this is for all ages. If you like animated movies, if you like Pixar, if you are looking for that last activity to do with your kids before school starts, GO NOW! To infinity and beyond!
These are just a couple of photos I took when I was there of some of my favorite Pixar characters. Plus, Edna from The Incredibles is so full of sass and attitude.