YOUR FIRST LISTEN: "WRITING'S ON THE WALL " By SAM SMITH FROM SPECTRE
Director: Sam Mendes
Starring: Daniel Craig, Christoph Waltz, Léa Seydoux, Ralph Fiennes, Monica Bellucci, Dave Bautista, Naomie Harris, Ben Whishaw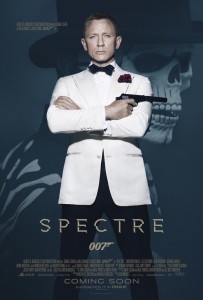 The latest James Bond theme, "Writing's On the Wall", has finally been released weeks after it was announced that Grammy winner Sam Smith won the coveted position. He follows in the footsteps of Paul McCartney, Shirley Bassey, and Adele who all lent their vocals to a James Bond theme song. Adele even won the Oscar and Grammy for the theme to the last Bond film, Skyfall. Smith brings out his high falsetto sound to this dreamy and quieter theme. I've listened to it a couple of times now, and it is growing on me. It doesn't quite hit me with that charge that "Skyfall" did. There was a drive and build with that song that is lacking here. He performs it beautifully, and his voice is great for a James Bond theme. The song itself doesn't quite have the same strength to it that I had expected it would coming from him. It has a slower and "this is the end" feel to it which makes me wonder if that is the overall tone of the movie.
I'd love to hear your first impressions. Do you think it will become one of the better Bond themes? As a fan of the franchise, I'm looking forward to seeing how it fits the film's themes and what the opening credits will look like against it. I may grow to really love it in context.
Here's your first listen: