A MOST VIOLENT YEAR
Writer/Director: J.C. Chandor
Starring: Oscar Isaac, Jessica Chastain, Albert Brooks, David Oyelowo, Alessandro Nivola, Elyes Gabel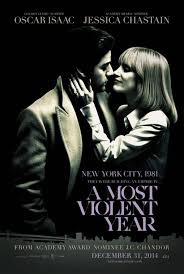 Oscar Isaac trades in Llewyn Davis' pesky cat and guitar for a suitcase full of cash to play Abel Morales, the owner of Standard Heating Oil Co. He and his lawyer Andrew (Brooks) are one step closer to gaining a piece of property after signing a contract with a group of businessmen including Jerry Adler's Josef. They still need to come up with the rest of the money that is needed to close the deal, but coming up with that money becomes a sticking point for Abel. He is always trying to do the right thing for his business, which he inherited from his father-in-law who didn't always abide in lawful practices.
There are others that are trying to get in his way which we see when the film opens. One of his truck drivers is the subject of a hijacking in the middle of the highway and $6000 worth of fuel is stolen from the truck. Abel and Andrew seek help from the D.A. (Oyelowo) only to have him turn on them when he announces a fourteen count indictment for fraud and tax evasion will be brought on them in the next week. Abel continues to face corruption and violent acts against his workers and business without a clear answer of who is behind it all. As the danger starts to threaten their family, his wife Anna (Chastain) starts to take matters into her own hands against Abel's wishes.
A Most Violent Year is the latest from writer/director J.C. Chandor (Margin Call, All is Lost). With only three films under his belt, he is quickly rising to the top of a list of filmmakers we should keep our eye on. He has already been nominated for an Oscar for his screenplay to Margin Call. Bradford Young's cinematography gives it a cold winter feel similar to Fargo or Inside Llewyn Davis. While you may think that this film sounds familiar or similar to other crimes stories, think again. Chandor wisely has a different way of telling this kind of story. Chandor brings us in somewhere in the middle of the larger story at hand. We aren't given an inciting incident that leads into the danger placed on Abel and Standard Heating Oil Co. We don't know why the truck driver is robbed, who is behind it, or why Abel is our target. The audience is given some of the pieces to this larger puzzle, but it's not a clear cut progression of events.
Chandor's characters aren't the standard archetypes you would find in this type of story either. Abel is a torn character. He continually wants to be an honest businessman, but as the film progresses, we see the corruption and situations around him challenge him at every step. Oscar Isaac manages to keep a part of Abel a mystery. There is so much internal turmoil that I continually questioned just how much of the behind the scenes actions he is aware of and if he is truly trying to figure it out at the rate the audience is. Like Llewyn Davis, Isaac plays another character where you're not entirely sure if you should be rooting for him. If you are unfamiliar with his work, you will know him next year as he will surely become a household name once Star Wars: The Force Awakens opens.
Playing next to Isaac is two-time Oscar nominee Jessica Chastain as Anna. There is an interesting duality with her character. She isn't quite the "mob wife" that you would expect from this type of movie. She has that feminine external appearance with the perfect nails and blonde "Michelle Pfeiffer in Scarface" bob. There is also a scene where she wears a low cut top to a business meeting. That outfit is never discussed, but you can just bet that the costume designer chose that top on purpose for this scene. Anna is different in the fact that she's a powerhouse who is not afraid to use a gun to protect her family. She continues to go against Abel's wishes by staying involved and taking matters into her own hands. Chastain has the right amount of edge to play both sides of Anna. I have loved watching her career evolve since 2011's The Help. She always picks such diverse characters and completely succeeds at every one.
Chandor has crafted a sharp and on-point film. He wanted to make a film that took place during a year filled with crime and corruption. He found that 1981 was one of the most violent years recorded in New York City. For a film with that idea behind it, he manages to keep a lot of the violence off screen. It's nowhere near as gruesome or bloody as you may expect. He knows that he doesn't need to show it in order for it to still live in the atmosphere of his characters. I wouldn't say the film has a lot of twists and turns, but just when you think you can predict these character's next moves, Chandor goes in a different direction. I am excited to keep an eye on his career to see where it goes next.
Is It Worth Your Trip to the Movies? It's a stylish crime story about family, business, and desperately trying to do the right thing when no one else around you is doing that.
RATING: 4 out of 5 TICKET STUBS