AMERICAN SNIPER
Director: Clint Eastwood
Starring: Bradley Cooper, Sienna Miller, Kyle Gallner, Sam Jaeger, Jonathan Groff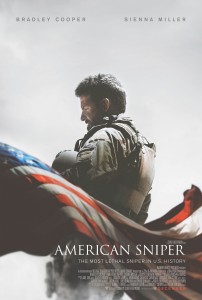 Chris Kyle (Cooper) was told by his father at a very young age that he had a gift with guns. At that time, it was a simple shotgun for hunting pheasant and other wild game. His father also taught Chris how to protect himself and survive. These life lessons stuck with him into adulthood. Life as a cowboy in Texas isn't giving Chris the satisfaction he needs in life so he joins the Navy SEALs. The attacks on September 11, 2001 cemented his need and mission to do whatever it takes to protect himself and his country. He is deployed to Iraq as a sniper and gains a reputation for his precise eye and the number of kills he is responsible for. He forms a brotherhood and relationship with his fellow soldiers, but the same cannot be said about his marriage to his wife Taya (Miller). As we see early on in the film, they meet at a cowboy bar and start throwing back the shots. His time away in Iraq starts impacting Chris' mental state. When he is back home in between tours, their relationship is a struggle. Chris suffers from PTSD which takes a severe toll on Taya and their children.
The film is based on the true story as told by Chris himself in his memoir "American Sniper: The Autobiography of the Most Lethal Sniper in U.S. Military History". I've never read the book, but am familiar enough with the story. He was recently in the news regarding an incident with former Minnesota Governor Jesse Ventura. I will say that the Ventura section is not in the movie. In case you don't know how this story ends, I won't go into details regarding that matter in fear of spoiling anything. I came out of the movie and was surprised to hear people talking about how they had no idea how the movie was going to end.
We have seen quite a few movies within the last decade about September 11th and the Iraq and Afghanistan wars. Lone Survivor, Zero Dark Thirty, and The Hurt Locker each had their own way of examining what happened to the men protecting our country. You can definitely add American Sniper to that list of sharp films. The story goes back and forth in chronological order as Chris serves time in Iraq and the time he spends back at home. It may be due to the fact we have already seen recent movies about this war, but I was not as interested in the war scenes presented in this film. It makes sense due to the nature of Chris' story on why that makes up a large portion of the film, but they didn't have that same explosive visceral sensation that we have seen before. If you watch Lone Survivor or even the ending of Zero Dark Thirty, you physically feel like you are in the middle of the action to the point of your stomach churning. This may actually make Sniper more accessible to some moviegoers. Where this excels is how it also focuses on Chris' posttraumatic stress disorder. This portion of the film proved far more compelling as you watch the distance between him and his wife grow. There are also moments where Chris confuses everyday noises and events for sounds and images that bring him right back to the war. There's a tension and uneasiness that erupts which oddly didn't happen in the war scenes.
We've seen Bradley Cooper play the "bro" type character multiple times before in films like The Hangover or Wedding Crashes. I think people started taking him seriously as an actor with Silver Linings Playbook. I loved him in David O. Russell's film and have been on the bandwagon ever since then. He manages to top himself with his performance as Chris Kyle. The journey Cooper goes on from the "bro" cowboy we first see in Texas through the end of the film is staggering. PTSD seems like it is a hard concept for people to understand from an outsider's perspective. Through Sienna Miller's performance, we learn that Chris' wife even had a hard time coping and understanding what her husband was going through. Somehow Cooper manages to get inside Chris and really brings PTSD to the forefront. It's a compelling performance that will hopefully draw in any naysayers he may still have out there. He managed to earn his third Oscar nomination in three years beating out the likes of David Oyelowo, Jake Gyllenhaal, and Ralph Fiennes. Sienna Miller is also having a strong year playing another suffering wife with this role and her work in Bennett Miller's Foxcatcher.
Clint Eastwood manages to redeem himself after his extremely disappointing take on the film version of the musical Jersey Boys. These are two very different movies that cater to very different audiences. I give him credit for trying to stretch himself, but American Sniper is far more in his wheelhouse as he has tackled war stories before. I think his understanding and familiarity of the material helps him out and makes it his best film in years. I do question why he so blatantly used a fake baby in one scene. They don't even bother trying to cover it in blankets as the head is clearly visible and you can easily catch Cooper using his pinkie to move the doll's fake hands. Talk about obvious, Clint. Maybe that's what lost him an Oscar nomination for Best Director. Fake babies aside, Eastwood and Cooper remind us that Chris Kyle is more than just killing machine; he's a father, son, husband, and someone that risked his life for his country. American Sniper will hopefully shine a light and give a better understanding of the effects of posttraumatic stress disorder on our soldiers and their families.
Is It Worth Your Trip to the Movies? American Sniper is a career highlight for star Bradley Cooper.
RATING: 4 out of 5 TICKET STUBS