BLACK MASS
Director: Scott Cooper
Starring: Johnny Depp, Joel Edgerton, Benedict Cumberbatch, Jesse Plemons, Kevin Bacon, Peter Sarsgaard, Rory Cochrane, Dakota Johnson, Adam Scott, Corey Stoll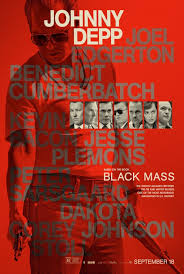 Black Mass is the intriguing true story of James "Whitey" Bulger (Depp) who was known as one of the most violent and dangerous gangsters in South Boston. The film spans twenty years from 1975-1995 when Whitey was working as an informant to the FBI. Throughout that time he was working closely with John Connolly (Edgerton), a childhood friend turned FBI agent, in order to bring down the Angiulo family. They were an Italian family of gangsters who were rivals to Whitey's Winter Hill Gang. Whitey wanted to claim the territory they occupied while the FBI wanted to bring them down. Whitey did not see himself as a rat, but rather saw this as a business exchange with Connolly if he would ignore the heinous crimes Whitey and his men were committing. Whitey sees this as the perfect time to continue his racketeering and murder spree. His brother, Billy (Cumberbatch), was a Massachusetts senator at the time and also turned a blind eye to Whitey's actions.
The buzz regarding the film seems to be heading toward Johnny Depp as he's branching out from his typical Tim Burton films and the cartoony performances he has been giving lately. He tried this last year with the artificial intelligence film Transcendence, but it was a grave disappointment. All the naysayers can have a sigh of relief as this is the best performance we've seen from Depp since 2004's Finding Neverland. It's one of the more intimate and understated characters he's played leading to a multi-layered portrait of this man known to be charismatic and endearing in one moment and can completely turn into a ruthless, menacing monster in the next scene. The story does a decent job of humanizing him by showing him as a family man while living the gangster life. There's a turning point for Whitey when he becomes downright diabolical, and it's eerie to watch Depp channel this side of him. As I look at his IMDb profile, I want to see more this but in turn see more Mad Hatter and Captain Jack Sparrow performances in his future.
Even though this is seen as a movie about Whitey Bulger, Black Mass is just as much about John Connolly as it is about Whitey. It's a compelling partnership they had, and Joel Edgerton (The Great Gatsby) gives one of his finest performances as Connolly. We are heading into awards season vocabulary, and I certainly think Edgerton should be considered in the Best Supporting Actor category. In fact, he and Depp should share top billing. The rest of the cast is top-notch including: Benedict Cumberbatch, Kevin Bacon, Corey Stoll, Adam Scott, Julianne Nicholson, Dakota Johnson, and Jesse Plemons. Plemons is nearly unrecognizable as Winter Hill member Kevin Weeks. It's a far cry from his days as Landry on "Friday Night Lights". Peter Sarsgaard (Blue Jasmine) and Juno Temple (The Dark Knight Rises) give memorable performances despite their minor roles. He plays a drugged out snitch against Whitey's men while she plays a flighty prostitute.
The film's biggest problems come down to the script. It's based on the book of the same name by Dick Lehr and Gerard O'Neill and adapted for the screen by Jez Butterworth and Mark Mallouk. The wide time span of twenty years doesn't allow for enough specificity with certain moments and relationships. It falls back on a conventional interview style approach with Whitey's men giving their accounts to what happened when they were members of his gang. This is director Scott Cooper's third film as director following Crazy Heart and Out of the Furnace. You can tell he's done his research of watching old gangsters movies and TV shows in order to craft some of the more intense and violent scenes. I've seen my fair share of these stories and could sense how each scene was going to unfold. You know that whenever a character is caught in a lie or snitching that they would be meeting their demise in the next scene at the hands of Whitey or his men. There was a repetitive nature to this that the ultimately hurt the film's pacing making it feel a bit slow.
When movies are based on true stories, especially when crime is involved, I find myself asking if I'm still interested in learning more about its subject. Black Mass left me with lots of questions afterwards making me want to research and dive deeper in his whole story. James "Whitey" Bulger is a complicated and mysterious person. This movie couldn't cover everything, but at the same time, tries to cover too much ground. I always appreciate the use of real life footage or photos that roll over the credits with title cards explaining where each person is at in the present day. They do that here and then end with a scene that feels very forced and doesn't fit the rest of the movie. It looks like it was cheaply done at the last minute. I won't spoil that here for those that don't know how Whitey's story ends, but you'll see what I mean when you see the movie. Scott Cooper's attempt at telling Whitey's story is not nearly as good as it should be, but I would like to see this again and read the book. Audiences will be talking about Depp's "transformation", but I hope they pick up on Edgerton's performance at the same time.
Is It Worth Your Trip to the Movies? Strong performances make up for a mediocre script.
RATING: 3 out of 5 TICKET STUBS