ENTOURAGE
Writer/Director: Doug Ellin
Starring: Adrien Grenier, Kevin Connolly, Jeremy Piven, Kevin Dillon, Jerry Ferrara, Emmanuelle Chriqui, Perry Reeves, Rex Lee, Debi Mazar, Haley Joel Osment, Billy Bob Thornton, Constance Zimmer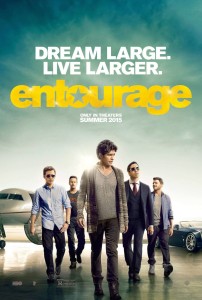 All of the "bros" out there will be flocking to the theater in the next couple of days to catch their favorite guys from HBO's hit show "Entourage" back in action. Creator Doug Ellin is back writing and directing the big screen adaptation that takes place approximately nine months after the series finale, which aired September 2011. When we last saw hotshot actor Vince Chase (Grenier), he was engaged to his brand new girlfriend and ready to start a new life. We pick up with him on a huge yacht living the newly single and party heavy lifestyle. His former agent Ari Gold (Piven) is now a studio head, and has a new project that Vince has his eye on. There's one catch though as Vince wants to direct and star in it.
In pure Entourage style, Vince gets his way, which leads to disaster. The movie becomes way over budget and is plagued with those rumors that happen when actors become directors and tackle a bigger project they can't handle. Ari is left scrambling with plenty of loud, angry rants to wake the dead. He has to turn to a father (Thornton) and son (Osment) team in Texas who are financial backers of the film. Vince tries to keep his cool knowing that the filming is not going well. Luckily he has his best friends: manager Eric (Connelly), older brother Johnny "Drama" (Dillon), and his driver "Turtle" (Ferrara) to keep his head in the game.
Those die-hard fans of the show will no doubt laugh and cheer along with the movie. Ellin has picked up with these characters right where they left off. The movie essentially feels like an extended episode. This target audience isn't looking for deep character development or mature themes. They want to see their favorite characters party, have fun, and feel like they're in the Hollywood scene. Ellin has brought back a majority of the characters from the show and fans will no doubt get a kick out of seeing so many of them, even if its for one or two scenes. There are many references and nods to the show to get us right back into this world. I admire him bringing back the title credits and theme song. You don't always get that when TV shows get adapted into a movie.
This may surprise you, but I actually enjoyed the show and watched it when it originally aired. I began to lose interest in those last few seasons but never gave up. I understand why Ellin wanted to keep the film in this direction, but I wanted to see more of an evolution and growth with the material. I get that I may be asking for too much coming from the Entourage movie. Maybe if more time had passed in between when the final episode aired and when the movie picks up, we could have seen more change. Instead, these characters are up to their same old antics and behavior as before. They've aged a bit, but haven't really grown up. The show is all about brotherhood and being there for each other, but I wish we had seen what this brotherhood would look like later on down the road for our characters. Couldn't Vince have gotten married and had a kid? How would fatherhood change our favorite bachelor? Instead, it's Eric and his ex-girlfriend Sloan who are dealing with the arrival of their new baby as that was announced in the series finale. Johnny "Drama" is still Johnny "Drama". Jeremy Piven's Ari is working on his anger management issues as he tries to be a better husband and father. It's no surprise why he won the Emmy three times for playing this character. His vein-popping explosions are some of the film's highlights with some very shocking outbursts that spew out of his mouth.
It's a testament to the cast and crew for wanting to come back and do a movie after they have all moved on to other projects in the years that have passed since that final episode. Ellin has lined up so many cameos that it becomes a guessing game as to how many you can spot in any given scene. For a story that takes place in Hollywood that makes some sense. You would have some star sightings at some of the bigger party scenes, like the one where Vince screens his movie for a "small" group of friends. After awhile, the tally marks of celeb cameos become a bit distracting as if Ellin was making that the point of the movie as we see him try to add in a quick cameo in practically every scene. It's one thing for Mark Wahlberg to appear in the film, as he's one of the producers and the show was loosely based on his life. On the other hand, you have people like Chad Lowe, who shows up in a Lamaze class for no apparent reason. Entourage does boast some new faces like Ronda Rousey, Billy Bob Thornton, and Haley Joel Osment in key roles. This is Osment's biggest role in years. Apparently he was attracted to this character as a way to shed his wholesome child actor image.
We've seen other movies adapted from beloved television shows like Sex and the City, Veronica Mars, and The X-Files where the same cast reprises their roles again. It's a tricky task for the creator of the show to adapt it for a different medium. There are different approaches you can take and Entourage scribe Doug Ellin chose to keep everything in tact the way the audience has come to know these characters. Hoards of fraternities will no doubt love the movie, but I think my time with these boys may be over, or maybe I'll just pop in those first few seasons into my Blu-Ray player instead.
Is It Worth Your Trip to the Movies? Yes, it's a movie made for the fans but I don't know if it will reach a new audience.
RATING: 2.5 out of 5 TICKET STUBS