FREEHELD
Director: Peter Sollett
Starring: Julianne Moore, Ellen Page, Michael Shannon, Steve Carell, Josh Charles, Luke Grimes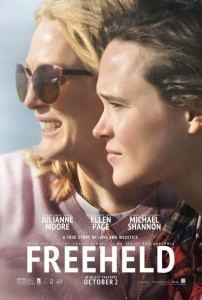 Last year, Julianne Moore won every acting award out there for her beautiful performance in Still Alice as a professor who finds out that she has early on-set Alzheimer's. She tackles another heavy story with another powerful performance in Freeheld. She plays Laurel Hester who was a member of the New Jersey police squad for twenty-five years. In 2002, she met Stacie Andree (Page), and the two of them fell in love. Stacie was always more out and open about her sexuality, while Laurel felt like she had to hide it. She felt like she would not be offered the promotions or important cases as a cop if her sheriff and fellow officers knew she was gay. They legally became domestic partners and realized all too soon that it didn't come with the same benefits that are given to married couples. In 2005, Laurel was diagnosed with terminal lung cancer and wanted to give her pension to Stacie so she could keep the house they recently bought. The members of the county commissioners, known as Freeholders, attempted to block this from happening due to their own personal beliefs.
Freeheld is based on a groundbreaking true story, which was also turned into an Oscar winning documentary short in 2007. Ellen Page became inspired after seeing the documentary and has been with this movie as a producer for many years trying to get it made. Director Peter Sollett (Nick and Nora's Infinite Playlist, Raising Victor Vargas) is working off a script by Ron Nyswaner (Philadelphia). Sollett knows how to get moving performances from his actors. There's a warmth and tenderness whenever we see Laurel and Hester together. I wish Nyswaner had built more background into the earlier days of these two characters. We're given some standard exposition of Laurel's days as a cop and how she meets Stacie, but Stacie than isn't given the same introduction. It clips along pretty quickly with them moving in and then given the cancer diagnosis. It's a fairly short movie clocking in around 100 minutes, but should have taken the time to build the relationship even more. It would have made the whole rest of it even more powerful.
Julianne Moore can do no wrong in my book. She and Ellen Page have great chemistry together and are both gripping by giving intimate and honest performances. Michael Shannon also stands out playing Laurel's police partner, Dane Wells, who joins the fight for them. We see a softer side of Shannon who has played such villainous and abrasive roles in the past. One of the performances I'm torn on is from Steve Carell. He's the only one that seems to play into over-the-top stereotypes. While his character, Steven Goldstein, is described as being a "loud gay Jew" activist who works for Garden State Equity, it still rubbed me the wrong way. It's as if Carell couldn't think of anything else to focus on when it came to character choices. He was a last minute replacement for Zach Galifianakis who was originally cast but had to back out. Moore and Carell also starred in Crazy, Stupid, Love together so maybe he was pulling in a favor for her.
At one point I questioned if the movie was coming out too late now that marriage equality has passed in the United States. Laurel makes it a point to differentiate that she was just fighting for basic equality when Steven Goldstein wanted to push further for marriage equality. I quickly realized there is no expiration date for this story. It's a story about the love between two people. The film is a good example of how far we've come in the fight for equality even though this took place ten years ago. It also reminds us that we continue to have these conversations about people in government positions using their personal beliefs as a way to do their job. I couldn't help but think about Kentucky clerk Kim Davis throughout many of the Freeholder scenes.
Julianne Moore has stated in interviews that she and Ellen Page worked really hard at getting this story right. Stacie Andree and Dane Wells worked with them and can be seen as extras in the film. The movie is receiving some criticism for playing into stereotypes a little too easily when it comes to the behavior of the cops and Freeholders. I can understand that, but I also wonder if that was just accurate for these people in 2005. Despite the film's weaker moments, the story is an important case for the fight for equality that deserves to be heard.
Is It Worth Your Trip to the Movies? It's not an easy movie to watch, but hopefully it will lead to strong discussions afterwards.
RATING: 3.5 out of 5 TICKET STUBS