GOOSEBUMPS
Director: Rob Letterman,
Starring: Dylan Minnette, Jack Black, Odeya Rush, Ryan Lee, Amy Ryan, Jillian Bell, Ken Marino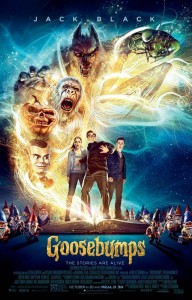 I remember reading R.L. Stine's Goosebumps and Fear Street series as a kid. I was also reading Stephen King at the time, so apparently I liked to get scared that far back. The Goosebumps books were first individually turned into a television series in the late 1990s. Now they've been adapted for the big screen in a greatest hits style approach. Zach (Minnette) is your average teenager who is frustrated about having to move to a new town. He and his mom Gale (Ryan) are trying to settle into their new house in Madison, Delaware while coping with the loss of his father. After meeting his neighbor Hannah (Rush), her down to earth ways are a welcome reprieve to the pressures of a new school and new life.
Her father (Black) is quite the opposite. He's known as "Mr. Shivers" and is the crotchety, over protective type that you don't want as your neighbor. He warns Zach to stay away from Hannah or else "something bad will happen." After hearing screams coming from her window one night, Zach attempts to get to the bottom of what's going on. He coerces his friend Champ (Lee) to be his wingman and investigate. They manage to distract her dad, and break into the house. Upstairs they find a shelf full of old Goosebumps manuscripts with individual locks on them and make the connection that "Mr. Shivers" is actually R.L. Stine himself. Their curiosity gets the best of them, and they unlock the manuscript of The Abominable Snowman of Pasadena. Hannah tries to warn them not to, but it's too late as the title character is released from the pages of the book. Their nightmare is just beginning, as he's not the only demon that comes to life. Slappy from Night of the Living Dummy magically appears and becomes the puppet master for the rest of the werewolves, lawn gnomes, insects and other creatures to seek revenge on R.L. for keeping them locked up.
The old television series is currently streaming through Netflix, but I haven't watched it in years. I haven't really felt the need to as it came out after I was done reading the books. This adaptation, on the other hand, caught my eye. Darren Lemke (Jack the Giant Slayer) has written the script based on a story by Scott Alexander and his writing partner Larry Karaszewski (Ed Wood, Man on the Moon). The idea of placing it in the "real world" with R.L. Stine as a character in the film and the overall acknowledgment of what these books are like felt like the right approach if someone was going to do another Goosebumps adaptation. For someone of my age, there is a nostalgia factor here as Stine's world is brought to life again.
The writers really capture the tone and feel of the books, while poking fun at Stine at the same time. There's a running gag throughout regarding his jealousy for Stephen "Steve" King. It's all in good fun though as the film is quite funny throughout to keep kids entertained and not overly scared. You would expect the laughs to come from Jack Black, but Stine isn't meant to be funny. Instead, there is the standard goofball sidekick friend character with Champ played by young Ryan Lee (Super 8). Champ's not the brightest bulb out there and is a complete scaredy cat. Jillian Bell (22 Jump Street) is an absolute stitch as eccentric Aunt Lorraine.
Jack Black is no stranger to family friendly movies after working on the Kung Fu Panda franchise. This is his third film with Rob Letterman after doing Gulliver's Travels and Shark Tale. His take on R.L. Stine, while appropriately odd, doesn't always work. He decided to use an accent, which stands out and is not always consistent. He's more successful with voicing Slappy and the Invisible Boy. It makes sense in a marketing approach to give him top billing, but I'd say that Dylan Minnette has more of the lead role than Black. He's a promising young actor who is making a name for himself after roles in "Scandal", Prisoners, and Alexander and the Terrible, Horrible, No Good, Very Bad Day.
Goosebumps is very family friendly and took me back to films like Hocus Pocus and The NeverEnding Story. We really haven't had a good live action Halloween movie that appeals to the whole family in quite some time. The special effects with the creatures are cartoony enough as to not overly frighten the target audience. Tim Burton was once attached to direct a Goosebumps film, but that version never materialized. You can sense some inspiration to his world with this version, especially with the Danny Elfman score. Elfman's music has a unique sound, and it works perfectly here. Goosebumps will naturally appeal to anyone that grew up reading the books. Maybe it will even inspire some moviegoers that are new to R.L. Stine's world to go and pick up the books from the library or bookstore.
Is It Worth Your Trip to the Movies? Goosebumps is very entertaining and far better than I would have ever expected it to be.
RATING: 3.5 out of 5 TICKET STUBS