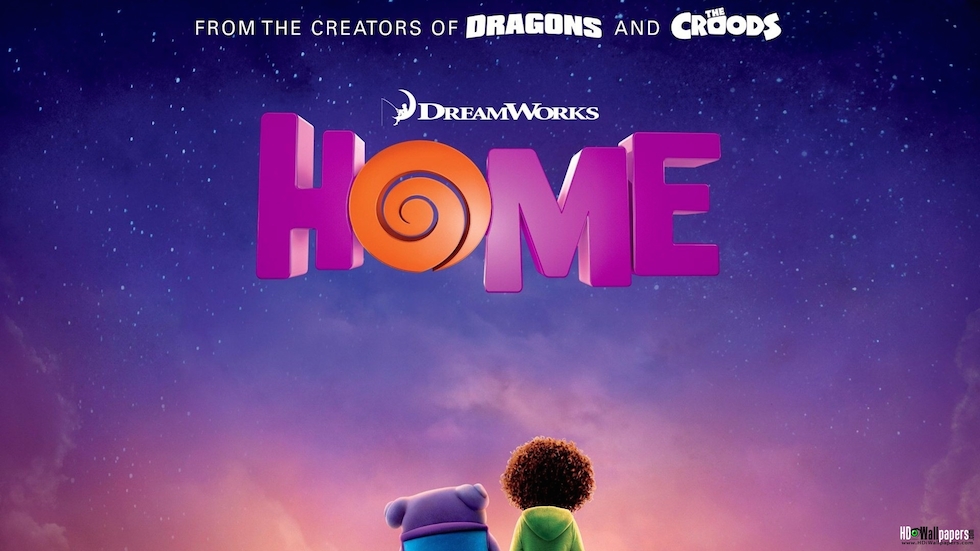 HOME
Director: Tim Johnson
Starring: Jim Parsons, Rihanna, Steve Martin, Jennifer Lopez, Matt Jones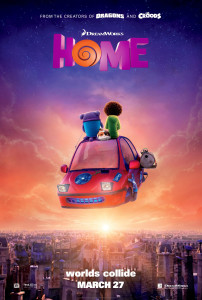 Many people thought DreamWorks Animation would have taken home the Oscar this past February for their hit How to Train Your Dragon 2. They lost to Disney's Big Hero 6, and I'm pretty sure they won't be feeling that much love for their latest film, Home. It's moving day for the alien species known as Boov as they leave their planet behind and head to Earth in an attempt to hide from their enemy, Gorg. All of the humans are sucked up and transported to another area known as "Happy Humantown" except for a little girl named Tip (Rihanna) and her cat who have managed to hide and avoid capture. Oh (Parsons) is a very energetic and excited Boov, but what he doesn't realize is that most Boovs find him annoying. He gets his name by the reaction he gets whenever he enters a room. The other Boovs sigh in disappointment that Oh has popped up again.
He thinks moving day is the "best day ever" and decides to throw a party and invite his friends to his new apartment. His excitement level is off the charts causing him to make the mistake of sending the invitation with his address out to everyone in the galaxy, which points the Gorg to their secret location. Oh becomes a banished Boov and tries to escape the clutches of the evil Captain Smek (Martin) only to run into Tip at a convenience store. An unlikely friendship forms between them when Oh decides to help Tip find her mom (Lopez) who has been taken by the Boov. They head out on a road trip to the "Great Antenna" (the Eiffel Tower) where Boov headquarters are to track down the location of Tip's mom.
I always like it when I can recognize an actor's voice right away when I'm watching an animated film. That's not to say that they are doing a lazy job if they haven't morphed their voice into fitting a character, but then I don't sit there wracking my brain trying to put a face to a voice. It's very clear right away that Oh is voiced by the talented and funny Jim Parsons. I just wish I could use those words to describe him here. Audiences have gotten to know Parson's alter ego Sheldon from "The Big Bang Theory" very well. Now just picture Sheldon more annoying and energetic and you can hear the voice of Oh without even going to the movie. Oh also speaks with poor grammar. I started to lose tolerance for our main character very early on. The grammar part especially bugs me when I think kids may try to mimic Oh. Maybe that's the adult in me as I am sure that young kids will eat it up and find it funny.
Younger moviegoers will probably get a kick out of Tip and her feisty cat. Lending her voice to the independent young girl is Rihanna. This is her second major movie role after 2012's Battleship, and it's apparent she doesn't quite have the acting chops yet. The character seems very much catered toward her as they both are from Barbados and have a pop/hip-hop vibe to them. Rihanna also provides a lot of music in the movie with multiple songs on the soundtrack including new tracks and her mega hit "Only Girl (In the World)". Jennifer Lopez who voices Tip's mother also provides a ballad to the soundtrack. While I enjoy the music of both of tem, it seems a bit self-serving to have their music also featured throughout the movie. Again, something that bugs me but the target audience will not even pick up on it.
I sat through Home pretty bored most of the time. I didn't find it all that clever or funny and realized it's the kind of animated movie where the humor is very catered towards little kids. It's very evident in the writing of Oh. It doesn't have that intelligence or wit to challenge kids and entertain parents at the same time. DreamWorks has been able to successfully do that in the past, but Home neglects to add that extra dimension. I will say that there are some nice themes about understanding and celebrating other cultures, but you have to put up with some exhausting characters and dumb jokes along the way.
Is It Worth Your Trip to the Movies? Young kids will probably like it, but the parents will probably be bored and annoyed.
RATING: 2.5 out of 5 TICKET STUBS