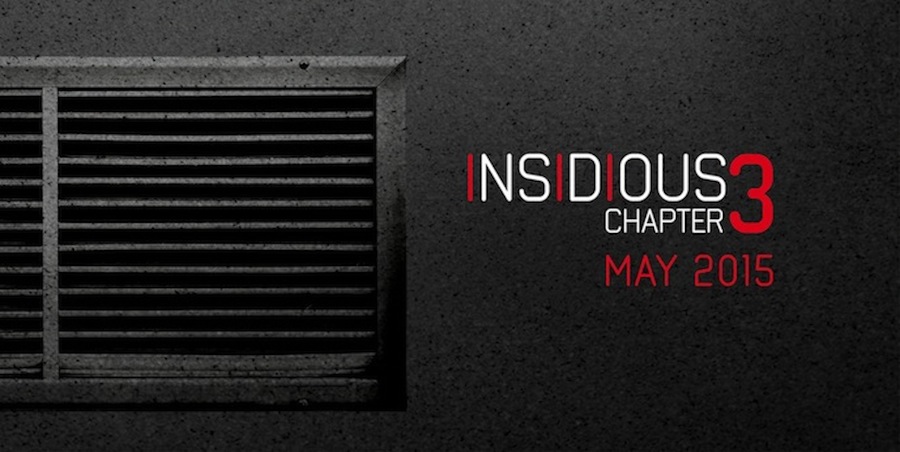 INSIDIOUS: CHAPTER 3
Writer/Director: Leigh Whannell
Starring: Dermot Mulroney, Stefanie Scott, Lin Shaye, Angus Sampson, Leigh Whannell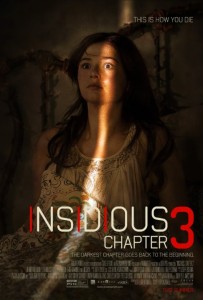 It's almost certain that when a new horror movie performs well that a sequel will be made. It's so rare when we exactly get a scare-fest that feels fresh and original. When the studios turn those hits into a franchise, they end up turning sour quickly due to a repeat of scares and plotlines. Insidious: Chapter 3 is being promoted as a prequel despite the fact it only takes place a couple of years before the events of the first two movies. A new family is introduced this time with Elise (Shaye), the medium, back to help them out. Quinn Brenner (Scott) is a book smart teen who is looking ahead to the future with a big audition looming on the horizon for a drama school. She is still plagued with grief over the death of her mother. She shows up at Elise's house looking for some answers hoping to communicate with her mom. Elise is hesitant as she has vowed to stop communicating with the dead. Quinn's innocence and vulnerability persuade her to attempt contact with her mother. When evil spirits present themselves, Elise warns Quinn never to attempt contact with her mom again.
If only teen girls would listen to their elders. A traumatic incident follows leaving Quinn immobile and bound to spend most of her days in her bedroom. Her dad Sean (Mulroney) has been struggling as well, and this is just one more hardship on the family. She starts to hear voices and the sounds from their creaky apartment complex are just the beginning. Elise feels summoned to help Quinn out and attempts to go into The Further to rid her mother's spirit from the demons that possess her family.
We may have lost director James Wan for this film, but he still remains one of the film's producers and has a little cameo in the movie. He was too busy making Furious 7 to commit to this one. All hope is not lost as the third chapter remains in good hands as writer and creator Leigh Whannell has taken over the directing duties. It's a seamless transition, which you rarely find in horror franchises. If you saw the first two movies, you may also remember him for his role as Specs. Yes, Specs and his goofy sidekick Tucker (Sampson) are back for laughs again. While the idea of a prequel sounds repetitive, Whannell takes his time developing this story. He wants us to get to know these new characters and where they are at in life before he pumps up the scares.
I was surprised by the depth and meaning that came across in terms what themes Whannell decided to focus on this time around. I may be reading too much into the movie, but I was drawn to his exploration of the role of the medium and how we deal with loss. Do we have a right to believe them? Do they really connect with the spirits of the dead? Is it a bad thing if they embellish facts but in the end help their clients? It's a topic I am interested in exploring, but haven't actually spent the money using one to reconnect with any of my family members who have passed away.
It can be tricky to take a supporting character and make them the lead of the movie. I have seen too many spin-offs where the quirky sidekick becomes insufferable when given more screen time. I was a bit nervous when I heard that they were taking that approach here. I should have known that Lin Shaye would be up to the challenge as her take on Elise is a joy to take in. She's more than some weird crazy lady, and really makes her into a character you can sympathize with and understand.
I still think the first film in the Insidious franchise is the best, with Chapter 3 being better than Chapter 2. Whannell took a different approach with this story while still making it feel like it fits in with what has come before. Dare I say that it felt a little reminiscent of Rear Window with the idea that Stefanie Scott's character is immobile and unable to save herself? For someone as she young as she is, she is capable of carrying this film opposite Shaye and Dermot Mulroney. If you are a fan of this franchise, there are plenty of jumps and scares to be had no matter your spook level. Don't forget to keep an eye on what may be lurking in the darkness.
Is It Worth Your Trip to the Movies? If this is the final chapter, the franchise would end on a positive note.
RATING: 3.5 out of 5 TICKET STUBS