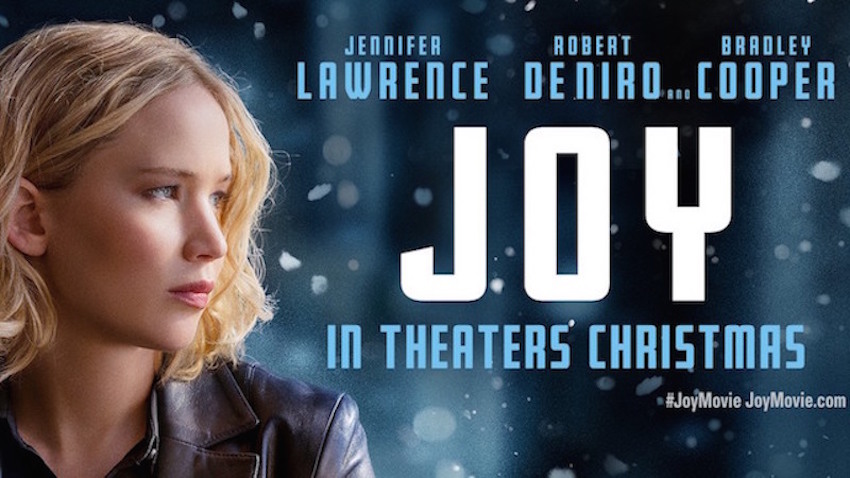 JOY
Director: David O. Russell
Starring: Jennifer Lawrence, Diane Ladd, Robert DeNiro, Bradley Cooper, Édgar Ramírez, Virginia Madsen, Isabella Rossellini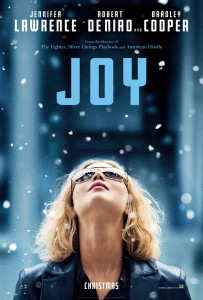 Jennifer Lawrence is the girl on fire again this year. She finished her run as Katniss Everdeen in The Hunger Games: Mockingjay Part 2, and now she's reteaming with director David O. Russell and a few other familiar faces. Lawrence leads the film as Joy, a young single mother struggling to keep her life in order. As a young girl, she was inventive and independent. While playing around she states, "No, I don't need a prince. This is my special power." Her grandmother (Ladd) seemed to be the only person in her life that encouraged her. Her father Rudy (De Niro) and mother Carrie (Madsen) are divorced, and now Joy is divorced after leaving her husband Tony (Ramirez) who wasn't bringing in the money as a singer. She is the head of the house despite the fact that everyone still lives there. Carrie stays in her room watching soap operas, Tony lives in the basement, and Rudy moves back in again after going through a breakup.
With her life in shambles, she goes back to the drawing board. Literally. The light bulb goes off in her head while mopping a broken wine bottle to create a new kind of mop. With a little elbow grease and determination she creates a self-wringing mop. The Miracle Mop, with its washable mop head and plastic lightweight parts, makes its to an executive at QVC (Cooper). There Joy has the opportunity to pitch her product and hopefully have it land in the homes of thousands of Americans.
If you are a frequent watcher of QVS or HSN, the name Joy Mangano may already be familiar to you. Even though I've been known to spend far too much time getting sucked into some sales pitch, I can't say that I was all that familiar with her. I have used the Miracle Mop, but didn't realize its backstory until now. David O. Russell has based Joy on her story and the journey of many women pioneers who have become entrepreneurs. It's not clear how close this story follows Mangano's as it doesn't specifically state that it's based on her nor does it give those typical biopic closing credit updates with pictures of the real life inspirations. Like a majority of his films, he wrote and directed it with the story being credited to Annie Mumolo (Bridesmaids). Apparently Russell did major rewrites on the film once he came on board.
This shift in voice feels very apparent, as it doesn't quite feel like the David O. Russell films we have seen recently. His films The Fighter, Silver Linings Playbook, and American Hustle all had unique characters. Some were grounded in reality, some had serious mental health issues, and others were caricatures. Many of his characters had a distinct voice and personality giving his actors plenty to work with in terms of making memorable characters. Joy lacks the distinct characters I have come to enjoy out of a Russell film. Many of his films feel like ensemble stories, and you would think with this big cast that would be the case. While many of our supporting players are here for moral support to shape the world Joy lives in, they don't really have anything else to do. I found that I didn't really care about anyone outside of Joy, her grandmother, and her children because we weren't given anything to care about. They just feel like standard archetypes we would see in this sort of family drama.
Russell loves to use the same actors over and over in his projects. Lawrence, De Niro, and Cooper have all worked with him before and have been nominated for Oscars for their performances. Lawrence won for her work in Silver Linings Playbook. I could see her getting a nomination here as the film solely rests on her shoulders. Russell has stated that this is the first film of his where she hasn't played a crazy person. Personally, I think she plays crazy really well but we'll have to wait for their next collaboration to see that. Lawrence makes Joy a fighter. She is someone that goes through failure, disgrace, and humiliation, but she is not someone that will let those get in her way. She's someone that sticks to her guns and knows who she is and what she stands for. She's an admirable character that many will find inspiring. Lawrence gives a fantastic performance, because she is that kind of person. That being said, we've seen her tackle this kind of character in many other films. The same goes for Bradley Cooper and Robert De Niro who are not nearly as memorable as they also give performances that we have seen from them before. Neither of them has to stretch too hard.
It's never a good sign when the stunt casting in a film is one of the highlights. Susan Lucci and Donna Mills pop up as soap stars, and Melissa Rivers dons a blonde wig to play her mom, Joan, during the QVC scenes. I wanted to like Joy as I'm a fan of David O. Russell's work. I frequently go back and re-watch Silver Linings Playbook, and I Heart Huckabees is always a fun watch. I really like Jennifer Lawrence and the overall message of empowerment is admirable, but in the end, Joy lacks the energy and drive that its main character has toward her goals.
Is It Worth Your Trip to the Movies? Even these great actors can't save a dull script.
RATING: 2.5 out of 5 TICKET STUBS