LOVE & MERCY
Director: Bill Pohlad
Starring: Paul Dano, John Cusack, Elizabeth Banks, Paul Giamatti, Jake Abel, Kenny Wormald, Bill Camp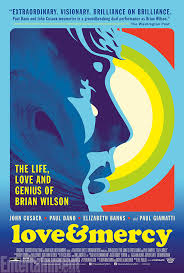 If you love movies that delve into your favorite singers or musical groups, you'll want to check out Love & Mercy starring Paul Dano and John Cusack who both play Brian Wilson, the lead singer of The Beach Boys. The movie goes back and forth between two different time periods in his life. Dano plays Wilson in the 1960s as he was coming off a successful tour with the group. After suffering a panic attack, he wanted to take time off to work on perfecting the idea behind their next album. He had recently fired his father (Camp) who had been the band's manager who is furious with Brian when he starts to hear the sounds coming out of recording studio. Brian brings a variety of musicians and animals into the studio in attempt to replicate the sounds he hears in his head. The album would go on to become "Pet Sounds". His panic attack was just the beginning of the mental health issues that were to follow.
In the 1980s timeline, Cusack takes over as Wilson who was being treated for paranoid schizophrenia after battling drugs, alcohol, and losing custody of his daughters. Melinda Ledbetter (Banks), a Cadillac sales woman, ends up being the help he needs to finally break away from his therapist, Dr. Eugene Landy (Giamatti), who was leading him down a dangerous road. At first she doesn't recognize who he is, but even after knowing it's the Brian Wilson, she is able to break through his fame and issues to find that beautiful part of his soul.
The film is directed and produced by Minnesota's own Bill Pohlad whose production company River Road Entertainment also worked on Wild, Brokeback Mountain, and 12 Years a Slave. A biopic can be a tricky beast to accomplish in order to give the subject the justice he/she deserves. Sometimes the narrative either covers too much territory leading to a generic wash over their life and accomplishments like Get On Up or they can excel when they focus on a singular event in their life like Selma. Pohlad along with screenwriters Michael A. Lehner and Oren Moverman take an unconventional approach by casting two actors to play Wilson. We don't typically see this happen in biographical movies. We usually get one actor that has to play the character spanning a twenty-year period, which inevitably leads to some bad prosthetics or someone like John Lloyd Young who was far too old to play a sixteen-year-old Frankie Valli in Jersey Boys.
This dual approach is very appealing, as it honors not only the musical vision he is known for but takes us inside that other part of him. The 1960s scenes will appeal to those that love a good jukebox type of musical. We hear a variety of those classic Beach Boys songs, and his fans that listened to "Pet Sounds" on repeat will love diving into how that album was made. It really opens your eyes to the genius ideas Wilson had, which goes behind the surfer image The Beach Boys were known for at the time. It's all the more tragic when you realize what he was put through at the hands of his horrible father and later on by his therapist, played so effectively by Paul Giamatti. Giamatti has played so many vile people; it must feel like second nature for him to tap into his inner crazy person. So many of his scenes are downright cringe-worthy. There's a pivotal moment between him and Elizabeth Banks, and naturally you root for her character. She is simply beautiful and shows off that really sweet and delicate relationship Melinda had with Brian. She has such a warmth and vitality in everything she does.
The power of the movie rests with the performances from Paul Dano and John Cusack. Dano's a young, extremely gifted actor who hasn't gotten the acclaim yet that he deserves. He's one of those actors that people probably don't know by name but will definitely recognize from Little Miss Sunshine, There Will Be Blood, or his chilling performance in Prisoners. His approach to Brian Wilson is his best performance to date, as he completely inhabits that concept of being on the edge of insanity and brilliance without it coming off as a showy performance. I hope he is recognized come award season. John Cusack has the harder task of playing Wilson later in life. Unlike Dano, we go in thinking we know what to expect out of Cusack. He can be a great actor, but he's really stretching outside of that comfort zone of characters we like seeing him in. It takes a bit more to convince us that he is Wilson than it is for Dano. He does it exceptionally well by using a massive amount of control without dipping into caricature or being a case study in over acting. His vulnerability helps us understand the pain Wilson went through. After watching interviews with Brian and Melinda, it is all the more apparent how powerful Dano's and Cusack's performances are at capturing his spirit.
Like any successful biopic, it makes you realize there's so much more behind the music than we had ever known. Yes, there will be die-hard Beach Boys fans out there that already know this story, but I was shamefully unaware of his past. I applaud Pohlad for his directorial debut and getting his story out there to his fan club and hopefully a new generation. Plus, it makes you want to dive into their library and listen to those old classics all over again.

Is It Worth Your Trip to the Movies? Whether you are familiar with Brian Wilson or not, you will be enraptured by his story.
RATING: 4 out of 5 TICKET STUBS