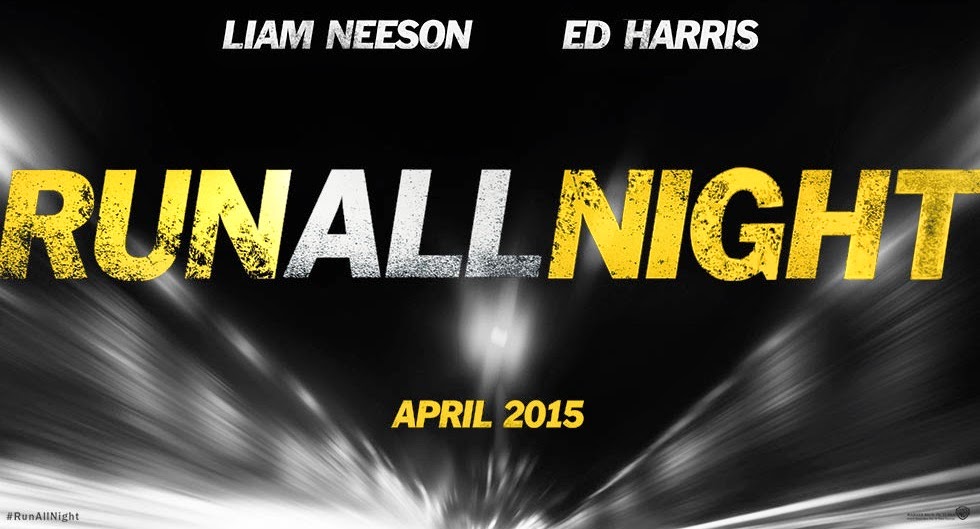 RUN ALL NIGHT
Director: Jaume Collet-Serra
Starring: Liam Neeson, Ed Harris, Joel Kinnaman, Boyd Holbrook, Vincent D'Onofrio, Bruce McGill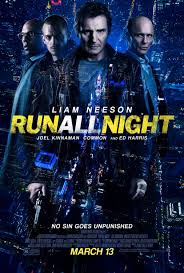 So let me get this straight. Liam Neeson is starring in an action flick with a completely unoriginal title. The star of Taken, Unknown, Non-Stop, A Walk Among the Tombstones and a plethora of sequels is back for Run All Night, another film that seems to fit in quite well with every other film he's done recently. It's like he's created his own mini-genre. He plays Jimmy "The Gravedigger" Conlon, a hitman with a long list of victims. Detective Harding (D'Onofrio) has been following Jimmy's supposed track record for years but has never been able to make an arrest. Jimmy's long time best friend is mob boss Shawn Maguire (Harris). Shawn's son Danny (Holbrook) is finding himself getting sucked into the dangerous business of dealing heroin. He wants his father to get involved in his latest scheme, but Shawn is leery about Danny's involvement and insists he's a "legitimate businessman now".
The friendship between Jimmy and Shawn is tested when Danny's latest drug trade turns deadly. Jimmy's estranged son Michael (Kinneman) works as a limo driver who's latest customers just happen to be part of the trade at Danny's apartment. After Michael witnesses the death of his clients by Danny, he becomes Danny's next target. Your standard chase ensues with Michael getting ahead and making it back to his house. In the meantime, Jimmy gets wind of the trouble Michael has found himself in and shows up unwelcomed. Michael should count his blessings that his father shows up. Michael needs his help more than ever now that Shawn has also gotten involved and has sent out a legion of his men and a group of corrupt cops out to take him and his father down.
The story spans sixteen grueling hours and Jimmy and Michael must have luck on their side as they somehow manage to escape so many sticky situations without getting killed before the night is over. Liam Neeson and his character have been in the business long enough to know how to always be one step ahead of their enemies. There is a fun quality as you wonder how they will make their way out of each situation. You know they are going to or else there wouldn't be a movie.  And there are plenty of chase scenes and thrilling high action moments.
You would be foolish to go into Run All Night looking for some sort of one of a kind action flick. Now that we've seen a slew of these types of movies from Liam Neeson, you really should know going in what you are getting yourself into. If you lower your expectations and go in looking for a mindless good time you will enjoy yourself. In a film where no sin goes unpunished, you can expect vengeance, corrupt cops, dysfunctional father/son relationships, mobsters, drug dealers, Christmastime setting, rain, fire, and flying bullets. What more could you ask for! There is a ridiculous nature when you concede that most of what happens is completely unrealistic. Take Academy Award winner Common. He has a small role in the film as a hired assassin by Ed Harris. He's given some nerdy glasses and a trench coat. Maybe that's in order to blend in, but then he goes all Terminator with his almost robotic like demeanor and behavior.
I normally roll my eyes in frustration at movies that seem like carbon copies of other movies, yet somehow I give a pass to these Neeson ones. I should note that I haven't seen all of his recent movies. I heard Taken 3 was pretty terrible. When movies like Run All Night are fully aware of the kind of movie they are and play into that; I appreciate the self-deprecating nature of it. I gave Non-Stop a positive review and this is now the third collaboration between Neeson and director Jaume Collet-Serra. Neeson can do these types of movies in his sleep, and while they can be fun, I do think they come with an expiration date. Neeson is a fine actor that can do a wide variety of genres but he should stop with these while he's somewhat ahead. If he does too many more, he will become a joke of himself. That's if he hasn't already reached that state.
Is It Worth Your Trip to the Movies? I will admit, I got sucked into this fast-paced and high energy shoot 'em up Neeson flick.
RATING: 3 out of 5 TICKET STUBS