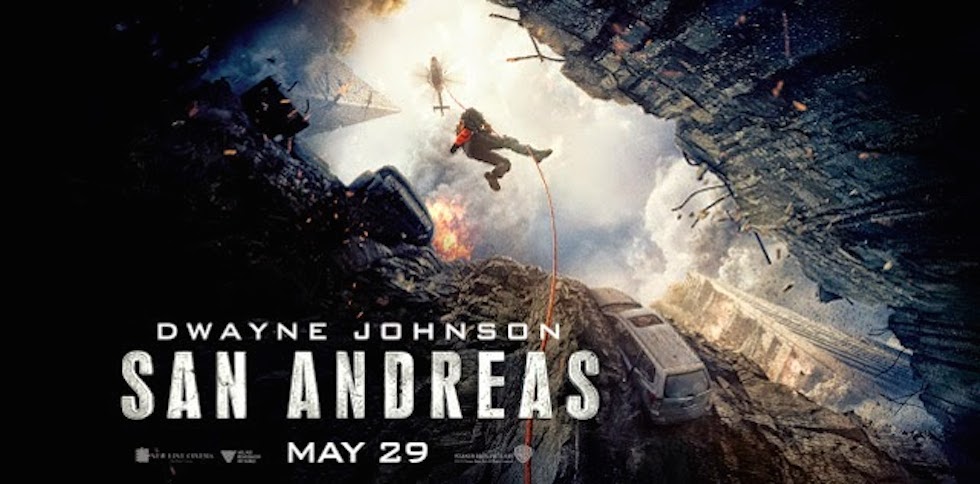 SAN ANDREAS
Director: Brad Peyton
Starring: Dwayne Johnson, Carla Gugino, Alexandra Daddario, Hugo Johnstone-Burt, Paul Giamatti, Archie Panjabi, Art Parkinson, Kylie Minogue, Colton Haynes
Dwayne "The Rock" Johnson leads the latest disaster movie to hit the big screen. He stars as Ray Gaines who works for a search and rescue crew in Los Angeles. He is willing to risk his life for others and no challenge is too scary for him, not even when an earthquake hits. The San Andreas Fault is about one hundred years overdue for a major quake according to Lawrence (Giamatti), a professor of earthquake studies at Cal Tech. A 7.1 earthquake hits the Hoover Dam and is just the beginning of the worst catastrophe to ever hit the area between Los Angeles and San Francisco. Ray Gaines will risk everything to save his ex-wife Emma (Gugino) and daughter Blake (Daddario) who are right in the middle of the action.
Director Brad Peyton has reteamed with his Journey 2: The Mysterious Island star, Dwayne Johnson, and they've brought along Carla Gugino (Sin City), Paul Giamatti (Sideways), Archie Panjabi ("The Good Wife"), and Ioan Gruffudd (King Arthur) along in hopes of surviving this epic tragedy. By tragedy, I mean the earthquake, not the movie. Writer Carlton Cuse ("Lost", "Bates Motel") has aptly included all of those classic ingredients we typically find in this action subgenre: cheesy dialogue, unrealistic situations, clichéd life-altering moments, and a menagerie of familiar character types. We have our fractured family as Johnson is being served divorced papers by Gugino and is frustrated with the idea of being separated by his daughter (Alexandra Daddario). Gruffudd gets to play the "new" boyfriend who, shockingly, is also a jerk. Paul Giamatti is our stern and serious professor who discovers the true danger everyone is in. Luckily, Archie Panjabi's news reporter is standing by to help broadcast his findings. These characters all sound like clichés, but Peyton has a strong enough cast and knows how to use them. I was never annoyed or hated any of them except for Gruffudd, who is playing the antagonist.
Before you start rolling your eyes thinking this sounds like every other disaster flick we've seen before from the likes of Roland Emmerich or Michael Bay, it has some good things going for it. Peyton and Cruse worked with seismologists in order to make the science behind the film somewhat realistic. They also wanted to pay tribute to the men and women of the search and rescue teams that risk their lives when it comes to natural disasters. I applaud their efforts at wanting it to be more than some movie about how badly we can destroy earth as we watch a bunch of dumb characters make stupid choices. There's a fine balance that has to come into play, and I appreciate that it doesn't take itself too seriously. It knows how to use all of these elements and still have fun along the way.
The destruction and demolition is front and center here as it should be. The action is non-stop from the very beginning, and the CGI team is working in overdrive as we watch our ensemble scream against a green screen and jump over fake platforms that are shaking. Yes, there are some character relationships and back-stories that are all established as the ground starts to shake. You get buckled in for this rollercoaster of a ride and it never eases up. Just when you think it couldn't get any worse, disaster strikes again and again…and again. If you get queasy easily, don't see it in 3D, the shaking effects may be too much to handle.
Before the movie started, I was having a conversation with another patron who knew I was a critic and asked me "So how you are you going to go into San Andreas?" He asked an interesting question that is perfect for this kind of movie. It will serve you no good if you go into San Andreas with some sort of elitist attitude. You have to go in expecting that there will be some unrealistic moments and that Dwayne Johnson will inevitably say, "WE'RE GOING TO GET OUR DAUGHTER!" He has definitely moved away from his persona as "The Rock" and can be taken seriously as the lead of an action film like this even if he's given some non-so-subtle one-liners along the way. The film will no doubt be lambasted for being some dumb CGI flick with the likes of other disaster stories that have come before like Armageddon, The Day After Tomorrow, or Volcano. Yes, the film could be better if Cruse and Peyton had gone about this with a completely original approach defying any disaster flick stereotype. That doesn't mean that in its current state it's horrible. They've created an entertaining movie that moves along swiftly as you watch San Francisco and Los Angeles get blown to shreds. Plus, there's a great cover of "California Dreamin'" sung by Sia that plays over the credits.
Is It Worth Your Trip to the Movies? There's nothing wrong with enjoying a good disaster flick, so grab some popcorn and have fun.
RATING: 3 out of 5 TICKET STUBS