SISTERS
Director: Jason Moore
Starring: Amy Poehler, Tina Fey, Maya Rudolph, Dianne Wiest, James Brolin, Ike Barinholtz, Bobby Moynihan, Kate McKinnon, Rachel Dratch, John Cena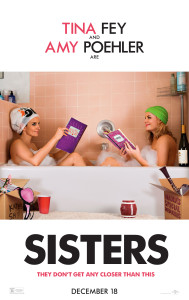 Tina Fey and Amy Poehler have proven time and time again that they are comedy gold. They are making their first return to the big screen together since 2008's Baby Mama. Maura Ellis (Poehler) learns from her parents (Brolin and Wiest) that they are selling their childhood home. They're too scared to tell their other daughter, Kate (Fey), about the news, so it's up to Maura to spread word about the fact their childhood home will soon be on the market. Kate is a bit of a mess. She shuffles around bumming a couch wherever she can and can't keep a job as a beautician. Maura, on the other hand, works as a nurse and is divorced. Maura convinces Kate to come down to Florida for a sisters reunion. She conveniently leaves out that part about their parent's house for the time being. Kate goes ballistic when they finally pull up to the house and see a sold sign in the yard. As they clean out their old room, their possessions are a trip down memory lane as old diaries prove that they haven't really changed over the years. Maura was the goody two shoes, while Kate was the wild child. They come up with the not-so-genius plan of having one last "Ellis Island" house party for all their high school friends.
It's a Saturday Night Live reunion with former writer Paula Pell penning the screenplay for Sisters. Pell's script has that over-the-top sense of humor that you would find in a sketch, as this is by no means grounded in reality. It's also nowhere near as smart as some of the comedy we're used to seeing from Fey and Poehler from their days on 30 Rock and Parks and Recreation, respectively. They get to let loose and have a wild good time with a teenage sense of humor.
Most of humor is stupid funny, yet I couldn't stop laughing for the first half of the movie. The jokes and run-on gags would be incredibly dumb, and I found myself questioning why I was laughing so hard. A lot of that is due to the chemistry between its two stars. Fey and Poehler play off each other so well, I wondered how much of it was just them improving each scene or if they actually stuck to the script. The funnier moments seemed to be the times when director Jason Moore (Pitch Perfect) lets them they go off and riff on some random joke or punch line. There's some role reversal at hand for Fey who typically plays the responsible one with Poehler usually playing the trainwreck character. Both are equally funny here and have comedic partners to play off of including SNL cast members Maya Rudolph, Bobby Moynihan, Kate McKinnon, and Rachel Dratch who pop up in minor roles. It really felt like I was watching a long SNL sketch. John Cena, who's fresh off Trainwreck, continues to stretch his image and hone his comedic chops by playing a rock solid drug dealer that Fey has her eyes on. He towers over her and comes with some face tattoos. Poehler gets a minor subplot involving a budding romance with Ike Barinholtz's (Neighbors) house flipper.
The problem with "dumb funny" is that I can only tolerate it for so long. It wears thin for the two hours long runtime as a majority of the movie is the party as it continues to escalate out of control. The rest of the movie is bookended with family drama with parents James Brolin and Dianne Wiest and Fey being a lackluster mom. My timing could be off as I didn't physically check my watch, but it still feels longer than it needs to be. Why does length continue to be a problem with comedies these days? Trainwreck was too long as well as your standard Seth Rogen, Jason Segel, Judd Apatow films. Timing is everything, and the party would still be as effective with twenty minutes shaved off. Am I getting too old where I want a comedy to be under two hours?
When you think about the "bigger picture", Maura and Kate set out to give a raucous night out for their fellow friends who are parents needing to let loose for one night out of their life. It's a release that many of them need more than they want to realize. Sisters sets out to do the same thing for its audience. You'll either watch the movie with a cocktail in hand or go out to the bar afterwards to continue your night out on the town. You'll laugh and forget your troubles for a couple of hours.
Is It Worth Your Trip to the Movies? It's a complete no-brainer, but it's hard not to laugh when Fey and Poehler are involved.
RATING: 3 out of 5 TICKET STUBS