SPOTLIGHT
Director: Tom McCarthy
Starring: Michael Keaton, Mark Ruffalo, Rachel Adams, Brian D'Arcy James, Stanley Tucci, John Slattery, Billy Crudup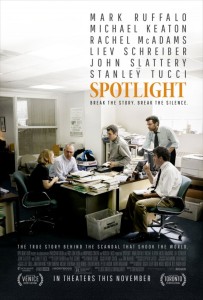 It seems to be commonly thought that journalism is not what it used to be. Instead of simply covering the story, there's a bias thrown in or you expect a certain political angle depending on what channel news you are watching. When you actually stick to the facts and let them speak for themselves, it can in turn be effective and powerful. Director Tom McCarthy takes that approach with the dynamic and moving Spotlight. In July 2001, the Boston Globe received a new editor when Marty Baron (Shreiber) came to work for the publication. There was a reputation in place with him and many feared he was coming in and forcing job cuts, including the Spotlight team. They are a four-person investigative team consisting of Walter Robbins (Keaton), Michael Rezendes (Ruffalo), Sacha Pfeiffer (McAdams), and Matt Carroll (D'Arcy James) who work on undercover confidential stories.
Baron believes the paper isn't doing enough coverage on the Geoghan case. He is a local Catholic priest accused of molesting young children. Baron wants to sue the Church in order to lift the seal on documents stating the Catholic Church knew about priests who were abusing kids. Baron tasks the Spotlight team with the investigation of the cover-up. Their work has to be kept secret as they interview lawyers, surviving victims, and alleged priests who were shuffled around from parish to parish. As they start to realize the depth of the situation, the number of priests involved increases from thirteen to potentially ninety in the Boston area.
In just one-year, director Tom McCarthy went from creating the Adam Sandler flop The Cobbler to writing and directing one of the best movies of 2015. He shares writing duties with Josh Singer (The Fifth Estate). McCarthy does have other great films on his resume like The Station Agent and The Visitor. They waste no time by diving right into the investigation. Like the reporters, they have a mission at hand and want to get to the bottom of it without letting too much time pass. There are no side plots, no exposition, and no character backstories that are thrown in for dramatic purposes. McCarthy and Singer have a continual drive and energy to keep the pace moving to tell this story in the most deliberate way possible. Howard Shore's simple but effective score is a big force behind this momentum.
As the Spotlight team continues to unravel the many layers to the puzzle, it becomes all the more clear that it's a larger issue than many people could have imagined. While the main characters are all of the reporters, McCarthy and Singer keep the voices of the victims a vital part of this story. Hearing their direct stories just puts you in a state of unrest. There's a lump in your throat as you hear the surviving victims describe just how priests use their power to lure kids in and how kids believe they should trust their priests. At one point one of the victims states, "This was like God showing up." For many, there was an agenda and profile the accused would look for in their targets.
Some films that are based on true stories try to boast a big cast of actors but in turn have one or two leads while the others feel like names to fill thankless roles. Spotlight feels like a true ensemble where no one actor is leading this story. Michael Keaton, Rachel McAdams, Brian D'Arcy James, and Mark Ruffalo all share the same amount of screen time with each actor bringing their A-game. It's evident that they are all working together to tell this important story without a weak link in the bunch. Many of them worked with their real life counterpoints to make sure they were getting the story correct. Sacha Pfeiffer and Rachel McAdams were recently interviewed on "The Today Show" together and you can see just how close McAdams came to nailing her mannerisms. Mark Ruffalo continues to show the diversity in his rage without going too far or going to the extremes with each role.
It's an extremely sensitive subject, and the movie handles it with dignity by diving in, asking the right questions and getting hard to hear answers without it ever feeling exploitative. McCarthy shows quite a bit of restraint throughout and knows you don't need to be graphic and show the act in order to make the point. It makes you sick to your stomach to process the depth of the story at hand especially as the credits start to roll with the details of the aftermath and results of their reporting. It can be easy to turn you eyes away from this kind of story, but Spotlight brings it to the forefront and demands it to be heard. The real reporters won a Pulitzer Prize for Public Service, and the film could go on to win the Oscar.
Is It Worth Your Trip to the Movies? Don't miss one of the best of the year. A definite Oscar contender.
RATING: 5 out of 5 TICKET STUBS