STEVE JOBS
Director: Danny Boyle
Starring: Michael Fassbender, Kate Winslet, Jeff Daniels, Michael Stuhlbarg, Seth Rogen, Katherine Waterston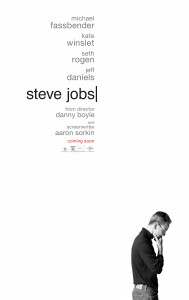 After the death of Apple co-founder Steve Jobs, I saw hordes of people reading the book "Steve Jobs" by Walter Isaacson as a way to get inside his head and use it for motivation in their business ventures. I will proudly admit to drinking the Apple Kool-Aid, but I have not dived into that tome yet. Emmy and Oscar winning writer Aaron Sorkin (The Social Network, "The West Wing") has now used portions of that book as the framework for his script. Instead of doing your standard biopic, he focuses on three different product launches to illustrate a different side of Jobs who's played by the captivating Michael Fassbender. The story starts with the 1984 launch of the Macintosh. You get a clear picture that he is intelligent and a force to be reckoned with if you get in his way. He barely even acknowledges the fact that he has a daughter. He refuses to adhere to fire code safety precautions and laments over the latest Time magazine. On top of that he's berating his colleague Andy Hertzfeld (Stuhlbarg) by demanding he fix the Macintosh to say "Hello" as part of the presentation. Apple's marketing exec Joanna Hoffman (Kate Winslet) is the only person who is able to stand up to him. The story stretches over fifteen years and picks up with the releases of the NeXT cube in 1990 and the 1999 release of the iMac. We also get a glimpse into his firing from Apple by CEO John Sculley (Jeff Daniels) and what brought him back.
If you've ever watched a movie or TV show written by Aaron Sorkin, you know it's extremely well written with fast-paced dialogue, meaty concepts, and a wicked sense of humor. There are some brilliant one-liners along the way; like this one as his daughter, Lisa, describes the iMac "it looks like the inside of a Judy Jetson's Easy-Bake oven." He brings his usual style to Steve Jobs and in some ways heightens it due to the theatrical nature of it being divided into three acts with each one being a countdown to product launch time. Much like last year's Birdman, it's a high-energy backstage drama that goes 100 miles per hour without letting up. The characters are oftentimes zipping back and forth between dressing rooms, hallways, the stage and so on.
The film will naturally draw some comparisons to The Social Network as Sorkin and director Danny Boyle (Slumdog Millionaire, 127 Hours) present a fascinating character study in ego, drive, failure, and intelligence. He's not afraid to show off the darker sides to Jobs. He was a perfectionist and had to face the consequences due to the horrible choices he made along the way. It's not always easy to learn about the inner workings of a man who many people like to add a glowing aura to based on his accomplishments. You can't argue the impact Jobs and Apple has had on the world, but it's smart to learn about what price his family and colleagues had to pay along with that.
A Sorkin script can be both a gift and a nightmare for an actor. It's massively wordy and hard to memorize. There's a Shakespearean quality to him where every word choice, punctuation and beat is important. There's a musicality to it that can be tricky to pull off. Jeff Daniels was already adept with the language having led his three-season HBO drama "The Newsroom". I want him to do every Sorkin project form here on out. As our title character, Michael Fassbender brings a brutish force to Jobs. He's calculating and menacing without falling back on making him a monster. Kate Winslet disappears behind a big pair of glasses, a brunette wig, and gives herself a fairly nasal accent as Joanna. She has remained a bit of a mystery until now, and after watching some clips of her, Winslet is pretty successful with such a unique accent. She's one of the best actresses working today and it's dynamic watching her scenes with Fassbender. Michael Stuhlbarg (A Serious Man) deserves notice too; he's a great character actor that adds the smallest touches to make a pretty small role noticeable. The only actor that seems out of place is Seth Rogen as Steve Wozniak. He may have the looks, but he's not fully believable and doesn't provide the emotional weight the other actors have with their characters.
This film was a target of the Sony e-mail hack with many emails discussing the back and forth drama regarding the film's cast and director. Danny Boyle took over as director after David Fincher left. Christian Bale and Leonardo DiCaprio were all targeted for the role of Steve Jobs. After seeing this film with this crew, I can't imagine seeing anyone but Michael Fassbender in the role. Boyle keeps you invested the whole time and doesn't let the pace drop at any moment. There's a stunning scene that takes two different fights between Steve Jobs and John Sculley and has them edited together going back and forth between the two time periods. You can bet that Steve Jobs will be included in the Oscar race for Best Picture, director, screenplay, and acting nominations for Fassbender and Winslet. I would hope Jeff Daniels is recognized as well.
Is It Worth Your Trip to the Movies? Even if you've never purchased an Apple product, you'll want to see this inside look at the man behind so much of the technology we use today.
RATING: 4.5 out of 5 TICKET STUBS