THE DANISH GIRL
Director: Tom Hooper
Starring: Alicia Vikander, Eddie Redmayne, Ben Whishaw, Amber Heard, Adrian Schiller, Matthias Schoenaerts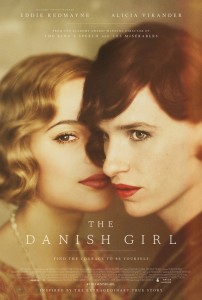 It seems with each passing year, the term and notion of being transgender comes with more acceptance and understanding. We have public figures stepping out and announcing they are transgender, which helps the dialogue and communication about it. Back in 1926, it was practically unheard of. Tom Hooper's new film, The Danish Girl, takes a look into the life of painter Einar Wegener (Redmayne) who went through that transition. He is married and madly in love with his wife Gerda (Vikander). They're both painters with him being more successful than she is as he does landscapes while she does portraits. When one of her models doesn't show, she asks him to wear a dress, tights, and heels to pose for her. He's conflicted yet drawn to it.
His fascination with his wife's undergarments continues to grow and one night Gerda finds him wearing a slip under his shirt. She's not turned off or angry, but quite the opposite, and they have a tender night of intimacy together. She goes so far as to convince him to go to a party dressed as a woman under the disguise of being Einar's cousin with the name Lili. Lili attracts the attention of a guest at the party (Whishaw), but things go too far when Gerda spots them kissing. It's an eye opening night for the both of them. Gerda realizes it may have been a mistake to go so far as to let him dress as Lili. For Einar, it's a realization that he may be happier and freer being Lili than Einar.
The story is a love story at heart between Einar/Lili and Gerda as they navigate and learn more about what Lili's going through. They see a variety of doctors and specialists. In this time period, the concept of transgender was thought of as a mental illness and perversion. The film also explores the concept of sexuality and where that falls into play with gender identification. While Einar starts to explore his feminine side, he also finds himself attracted to men. The story ends up with Lili going through with gender reassignment surgery and claims that she was one of the first to go through with such an experimental surgery.
Director Tom Hooper continues his frequent use of off center shots and specific framing choices to accentuate the architecture and artistry of the period. I debated if he was trying to mimic the work done by Lili and Gerda, but he used this style in both The King's Speech and Les Misérables. He's working with a script by Lucinda Coxon, which is based on the book of the same name by David Ebershoff. I was a little frustrated to learn that the book is a fairly fictionalized account of Lili Elbe's story. You can feel it in the script and with Hooper's attempts at making the film look beautiful, and in turn, they don't dig too deep when you want them to with this material and the time period it's set in.
The emotional core of the characters rests in the hands of stars Eddie Redmayne and Alicia Vikander. Redmayne won the Oscar last year for his portrayal of Stephen Hawking in The Theory of Everything. Lili is another transformation type of performance for him as he gracefully explores his true self. Redmayne does an exceptional job at making you feel the exploration that she went through. He may have the showier of the two performances, but Vikander is just as powerful and dynamic as his wife, Gerda. She is the Danish girl, and the movie is just as much her story as a painter and wife and how she navigates the changes in their life as Einar transitions to being Lili. Lili becomes the perfect muse for Gerda and her paintings of Lili become a huge hit for Gerda. Vikander nails every moment she has as Gerda works through the journey of acceptance, denial, anger, frustration, joy, and hope and where they all fall for Gerda at any given point. It isn't as linear or logical as you would think. Vikander definitely made a name for herself this year after starring in a string of movies, including Testament of Youth, The Man from U.N.C.L.E., and Ex Machina, for which she has been nominated for a Golden Globe.
Vikander and Redmayne give such strong performances that are quite moving when you soley focus on them. Try not to get too distracted by some of Hooper's more artistic elements with the film. I wish he would have spent more with the nitty gritty. It was such a different time for someone to question their gender and explore the possibility of changing it. The societal phobias could have been explored more. Same goes for the surgery scenes. I understand the need to handle the material with a sensitive nature, but it's a bit too delicate regarding the precise science and complications that would arise for Lili. Technical aspects aside, its stars are worthy of the praise and nominations that have been handed their way.
Is It Worth Your Trip to the Movies? See it for the history lesson, even if it takes liberties with the true story.
RATING: 3 out of 5 TICKET STUBS