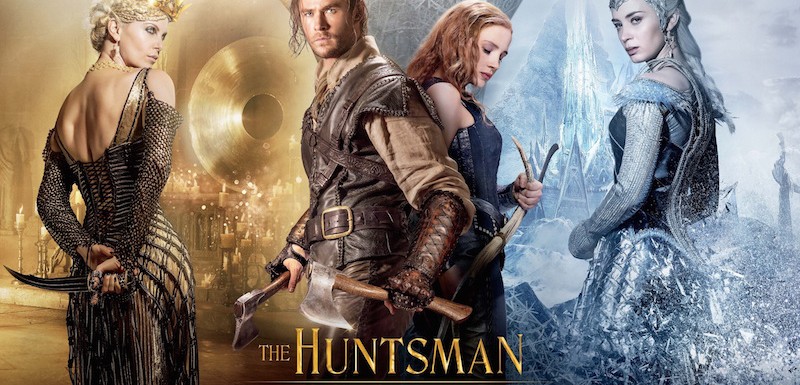 THE HUNTSMAN: WINTER'S WAR
Director: Cedric Nicolas-Troyan
Starring: Chris Hemsworth, Charlize Theron, Emily Blunt, Jessica Chastain, Nick Frost, Sam Claflin, Alexandra Roach, Rob Brydon
I feel like it's a little redundant these days with the fairy tale genre to claim that there's "one story you haven't heard yet." That's precisely how The Huntsman: Winter's War opens as we get a little insight thanks to some Liam Neeson narration. I don't know if I've ever lamented my disdain when movies overly rely on narration to fill in plot points and unnecessarily describe exposition details. We were first introduced to Charlize Theron's Evil Queen Ravenna in 2012's Snow White and the Huntsman. The first part of this film acts as a prequel with a look into what happened with Ravenna before Snow White came into the picture. After killing the king, she ruled the kingdom next to her sister, Freya (Blunt). After the death of her baby, Freya leaves the kingdom in anger and despair to rule over another area turning into the Ice Queen. She creates an army of children to train and become her huntsmen with two of them standing out amongst the rest, Eric and Sara.
When they grow up into Chris Hemsworth and Jessica Chastain, respectively, the sexual chemistry between them is too strong for all parties involved. They fall in love only to have Freya come crashing down on their happily ever after as she has forbidden love in the kingdom. Seven years pass and we come to the point in the story where Snow White has killed Ravenna and is ruling the kingdom. It helps understand the time jump if you've seen Snow White and the Huntsman. Eric is desperate to get his hands on Ravenna's magic mirror for Snow, but Freya also wants the mirror and unleashes her huntsmen onto Eric to get it. Luckily, he has a few dwarves to help him along the way.
As you've probably figured out by now, The Huntsman: Winter's War acts as part prequel and part sequel. Instead of being an interesting plot device, it feels like a strange way to explain the odd absence of Snow White. While the character is mentioned and plays a small factor into this plot, Kristen Stewart is not in this film to reprise her role. Chris Hemsworth is back as our title character, but I'm still debating why they did a spin-off based on a boring character. I had assumed based off the marketing that Charlize Theron's Ravenna would have a bigger role to play off Jessica Chastain and Emily Blunt, but Theron's role is quite limited as she basically bookends the film with her wickedly evil character.
It will be easy to make comparisons to Frozen with the idea of competing sisters; one of whom can turn objects into ice and storms off to rule over another kingdom. Sure, this would have been Frozen 2 if we would have kept that the main plot, but screenwriters Evan Spiliotopoulos and Chris Mazin keep the film focused on Eric and Sara who wield axes and bows and arrows to ward off CGI creatures along the way. This whole middle section drags on and on and on. It's very bland and is missing all the fun that can be had with the genre. There's no life, excitement, or evil present. There is some slight humor with the dwarves but most of the bits fall flat. Alexandra Roach as dwarf Doreena is the only one that can warrant some chuckles. The lack of humor makes all the more sense after learning that one of the screenwriters also wrote The Hangover Part 2 and 3, Scary Movie 3 and 4, and Identity Thief.
The Huntsman: Winter's War should have been a powerhouse of female characters kicking butt and being fierce role models. Jessica Chastain, Charlize Theron, and Emily Blunt are some of the best young actresses working today. Theron earned high praise last year for her role in the action flick Mad Max Fury Road. The same can be said for Emily Blunt's work in Sicario. The lack of fun material in The Huntsman leaves for generic performances. Theron is the only one who can work through it and bring something exciting to her wicked queen. She's by far the best part of the film, but you have to spend a majority of the film waiting and hoping she comes back into play in some juicy fashion. Blunt does what she can do with the material, but could have gone so much further with Freya. She is supposed to be a little more timid and weak next to Ravenna, but it just didn't play as lavish as it could have. Both Chastain and Hemsworth are wasted here. It's a bummer as Chastain was probably looking for a fun, less intense role than the copious Oscar-bait films she has been doing recently. In terms of Hemsworth, I can't figure out if he isn't as good of an actor as I want him to be or if he just keeps taking poor material. He's studly and brutish as Thor, but his other films like Blackhat, In the Heart of the Sea and now this one don't show him off very well as a leading man.
Outside of Charlize Theron, the only other highlights are the production design and the STUNNING costumes by Colleen Atwood. I feasted upon the dresses as I tried to intricately make out all of the materials that went into them. Giving fairy tales new life or telling them from a different perspective can work, but first time director Cedric Nicolas-Troyan and his screenwriters do not have the pedigree to make that happen. Nicolas-Troyan was a visual effects supervisor on the first film. There are some twists along the way that are not all that clever or original. They attempt to build some suspense, but I felt cheated when I realized the writers weren't really going to go in that direction.
Is It Worth Your Trip to the Movies? This prequel/sequel had such potential but falls very flat.
RATING: 2 out of 5 TICKET STUBS