THE INTERN
Writer/Director: Nancy Meyers
Starring: Robert De Niro, Anne Hathaway, Andrew Rannells, Rene Russo, Adam DeVine, Jason Orley, Anders Holm, Linda Lavin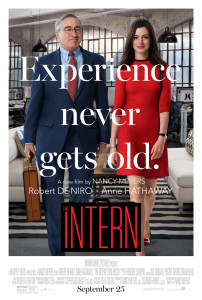 I was a little surprised to find out that Oscar winners Anne Hathaway and Robert De Niro have never starred together in the same movie before. They've worked with many of the same people before, like Meryl Streep, so it seems fitting to finally have them share the screen. They headline the latest film from Nancy Meyers, a director who's known for writing smart, strong female characters as her leads. Hathaway plays Jules Ostin, the CEO of an e-commerce fashion website. Her company has that contemporary, earthy, open concept, feels like one big happy family type of business. It's growing faster than they can handle, but she is determined to have it all. Her family is suffering from her absence as she is always at the office. One of the latest projects is an internship program for seniors. They don't want students, but seniors in life who have the experience and want to get back into the workplace. Enter Ben Whittaker (De Niro) who is a retired widower and could prove to be just what Jules needs to get her life back in order.
If you look back at the last decade of Meyers' films, including Something's Gotta Give and The Holiday, you'll notice that The Intern isn't her typical romantic comedy about troubled relationships. There is a budding romance between De Niro and Rene Russo, but it's a very small subplot. She plays the company masseuse, so you know right there that it is a bit part. The primary focus of the story is the friendship that grows between Ben and Jules. She spends the majority of the day at the office so she naturally is around Ben versus her husband (Holm) and daughter. Ben is your typical hard worker who has a keen eye for noticing when people need help. It's in his nature to reach out to people whether it's his CEO or fellow intern (newcomer Jason Orley). He's of that generation that you want to get to know and pick their brain about life as you know they've lead a good one.
Meyers has a lot of strong concepts and ideas presented in The Intern. She explores the idea of having a female CEO who also acts as the primary breadwinner of the family. We still aren't seeing that concept in a lot of movies. It also presents the generational and cultural changes in the workplace that De Niro's character has to get used to as part of his readjustment. There's also the overriding idea that she can learn a thing or two from him. The big kink in this chain is that it doesn't really know what kind of conflict should go along with it to keep it sustainable. Once they set up the characters and workplace, I began to wonder where it was going and what the ultimate end goal was between the two characters.
Meyers has this way of making it feel like we are just seeing a week in the life of her characters in any movie she writes. Normally, it seems to work and the stakes seem high enough for many of the characters involved. There are pivotal decisions facing Jules, but they come out in little spurts. They should be explored more specifically throughout the movie in order to really drive home the dilemma she and her company are in. On the other hand, everything feels quite content with Ben. He enjoys playing the role of guardian and assistant and there's that budding romance which isn't fully developed. There's not a lot of depth given to his character. You find out some little morsels about his past employment and family life, but it's minimal dialogue at most.
Some of the scenes felt a bit disjointed and edited down. I can only imagine that Meyers' script had far more scenes and characters that were ultimately cut in an attempt to keep the pace up and the runtime down. There's enough left in to question why they are involved in the first place. I mentioned Rene Russo's masseuse character earlier, but then there's Linda Lavin's character who is given two or three scenes as she tries to flirt with Ben, but it's not enough. Mary Kay Place provides the voice of Jules' mom, but we only hear her over the phone. It doesn't make sense to cast her for a simple voiceover, unless she had filmed scenes and were all cut out of the final edit.
All of the actors are doing fine work, but no one is really stepping outside their comfort zones (see Kate Winslet in The Holiday) or has that comeback type of role (Diane Keaton in Something's Gotta Give). It is nice to see Hathaway step into easier territory versus the roles she's been tackling lately. She played the up and coming assistant in The Devil Wears Prada, and now she gets to be the boss. I think she could have channeled her inner-Meryl a bit more to have some bite and edge. Her character is described as being hard to work for, but the script doesn't ever play into that nor does she portray her in that way. De Niro is De Niro, and there's a charming quality to see this softer side of him. It makes you want to listen to his life advice. He even has a scene where he's talking to a mirror that plays off that famous scene from Taxi Driver.
I appreciate the fact that Meyers went against her usual rom-com setup. She even ditches her standard California setting and switches it to the busy New York rat race. It's easy to see why actors want to star in her movies, as they are probably a joy to work on. Hathaway and De Niro are perfectly capable of handling a wide range of issues and emotions, but I wish Meyers had given them more to work with instead of some of the surface level scenes they have together. I normally enjoy a Nancy Meyers film that comes with a glossy sheen that makes you feel all warm and fuzzy inside. While it still looks like one of her movies, I didn't quite get that emotional hit from The Intern.
Is It Worth Your Trip to the Movies? De Niro delivers, but the movie does not.
RATING: 2.5 out of 5 TICKET STUBS