THE MAN FROM U.N.C.L.E.
Director: Guy Ritchie
Starring: Henry Cavill, Armie Hammer, Alicia Vikander, Elizabeth Debicki, Jared Harris, Hugh Grant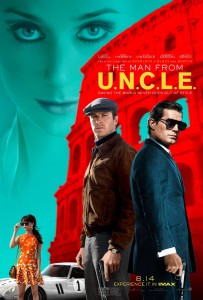 A few years ago Guy Ritchie (Snatch, Lock Stock and Two Smoking Barrels) reimagined Sherlock Holmes for a new audience. He is back for another reimagined reboot with his take on the TV show "The Man from U.N.C.L.E." which ran from 1964-1968. He keeps it in the Cold War era with a high-speed car chase that introduces us to Napoleon Solo (Cavill) and Illya Kuryakin (Hammer). They are top agents who couldn't be farther apart in their approaches to bringing down the nemesis. Solo is a former art thief turned CIA agent who's slick, suave, and sophisticated. Kuryakin is a stoic, no-nonsense KGB agent. With Kuryakin hot on his tail, Solo is attempting to rescue Gaby Teller (Vikander), the daughter of a German scientist who has been kidnapped due to his work on an atom bomb. After Solo's successful getaway with Gaby, he and Kuryakin are both appalled to find out they are tasked to work together on a joint mission. They partner with Gaby to bring down a secret organization looking to produce nuclear weapons and technology.
Let's be honest. I've never seen a single episode of the television show. I would venture to say that most people who go to the movie probably haven't either. I hope that actually doesn't deter people from going to see this version if they've never heard of it before. Much like the reboot of Mission: Impossible, you don't really need to have knowledge of the show to enjoy the movie. Director Guy Ritchie co-wrote the movie with Lionel Wigram, who he partnered with on Sherlock Holmes. If you have seen that or his other films, this one has that same tone and feel. It's not as violent, but it's just as playful at the same time. They injected a constant sense of humor throughout, especially with the playful rapport between Cavill and Hammer.
It's not hard to notice the distinct style and look Ritchie gives to his movies. The Man from U.N.C.L.E. is no exception as that may be what audiences will remember about the movie. There are little touches like the use of large subtitles in yellow font and the use of comic book style panels to show various angles in the action. The panels are an effective way to push the story forward without taking up too much time. The costume design is gorgeous with the dapper 1960s style suits, sleek and elegant dresses, all while set against a rich European landscape.
Man of Steel star Henry Cavill takes over the role of Napoleon Solo originally played by Robert Vaughn. Armie Hammer (The Social Network) steps in for David McCallum as KGB agent Kuryakin. I think Hammer took on another TV role to help us forget about The Lone Ranger. They have great chemistry together. It's always fun watching them play off each other to see who will win each round they go at it. Cavill gets to have the better of the two characters, as he's the outgoing lady killer type. Hammer has to be more reserved being the uptight one. While the men are great, the two female leads equally stand out. Alicia Vikander's Gaby is the Bond-girl of the movie. She's been having a stellar year after starring in multiple movies including: Ex-Machina, Testament of Youth, and fall releases The Danish Girl and Burnt. Vikander knows how to keep Gaby a bit of mystery. What would a spy film be without its femme fatale? The film's main villain is Elizabeth Debicki (The Great Gatsby) as Victoria Vinciguerra. She's a complete badass in her seductive and flirty ways.
So many spy films of late are set in modern day with gadgets and futuristic technology; it's oddly refreshing to have one set back in the 1960s. It has an old-fashioned feel reminiscent of the early James Bond movies, which feels appropriate as Bond creator Ian Fleming worked on early ideas and concepts for the television series. We've seen many spy movies so far this year, and all of them have worked in their own right. The Man from U.N.C.L.E. has a very standard plot structure, which could turn people off who may be looking for something fresh and original. You've got your set-up, mission, climax, reveal, and a coda. And naturally, there are some surprises along the way. I didn't mind that as it fits with the lighter tone Ritchie took with the genre. He knows how to keep up the pace and moves it along at a brisk tempo while making it look all look chic and fun. Maybe it's my love of the genre, but I could see it growing into a decent franchise if it does well at the box office.
Is It Worth Your Trip to the Movies? The best spy movie of the year.
RATING: 4 out of 5 TICKET STUBS