WHILE WE'RE YOUNG
Writer/Director: Noah Baumbach
Starring: Ben Stiller, Naomi Watts, Adam Driver, Amanda Seyfried, Charles Grodin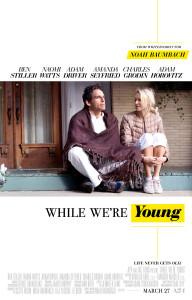 When writer/director Noah Baumbach (Frances Ha, The Squid and the Whale) uses a quote from playwright Henrik Ibsen as the setup for his story, I knew right then and there this was going to be up my alley. Ben Stiller and Naomi Watts play Josh and Cornelia, a married couple who start distancing themselves from their group of friends who have all gone off and had children. They prefer the spontaneity and freedom their life has to offer. He is a documentary filmmaker who has been making the same movie for the last eight years. He feels stuck in a rut and always left in the shadow of his father-in-law (Grodin), another filmmaker who is about to receive a lifetime achievement award. He just happens to be Cornelia's father.
Jamie (Driver) and his wife Darby (Seyfried) are the definition of hipsters. They live in the moment in a chic loft with cats and a chicken. They love to listen to their huge record collection, use a typewriter, watch old VHS movies, and they go on spiritual journeys with shamans. She makes ice cream with peculiar flavor profiles, and Jamie is an aspiring filmmaker. They attend one of Josh's lectures where Jamie musters up the nerve to introduce himself to Josh. Josh is by no means famous and revels in this idea that he actually has a fan. He and Cornelia are attracted to this new lifestyle they are introduced to by Jamie and Darby and use this as a way to feel young again.
I applaud Ben Stiller for the choices he makes in his career. Yes he's banked a lot of money on the Madagascar trilogy, Fockers trilogy, Night at the Museum trilogy, and of course, Zoolander. I prefer Ben Stiller in these types of indie comedies where he can still be funny and play an interesting character without resorting to over the top antics. I like seeing a vulnerable side to him in films like this or the underrated The Secret Life of Walter Mitty. He pairs well here with Adam Driver. They are both strong character actors that can handle the drama and play the comedic moments as well. Driver has really popped up in the last few years, and I have become a big fan of his work. You may recognize him from HBO's "Girls", Inside Llewyn Davis, or This Is Where I Leave You. He plays another crazy and funny oddball here.
Stiller and Driver have both worked with writer/director Noah Baumbach previously in Greenburg and Frances Ha, respectively. It feels as though Baumbach wrote these two roles specifically for these two actors. I hate to admit that I am not as familiar with all of his work as I should be. A majority of the movie is quite funny as you watch Stiller and Watt's characters try to act hip and young but realize they don't have the bodies or energy they once did. It's great to see Naomi Watts step out of her usual realm of heavy dramas. Baumbach's humor and style really reminded me of Wes Anderson's movies if they were set in a realistic setting. They have collaborated before on Fantastic Mr. Fox and The Life Aquatic with Steve Zissou and you can see similarities and differences in their work. In the final act, he decides to get real with his characters when they decide that life isn't always greener on the other side. I have to admit that I did not see the film going in this direction and it really took me by surprise. Not in a jarring way, but there's a noticeable tonal shift that comes into play.
The themes and questions the film asks really resonated with my husband and me. It prompted a nice discussion on the drive home about the generational gaps between these two couples, the hipster stereotype, the push back couples face when they choose not to have a child, social media, making unethical choices to advance your career, and the idea that we live in a world where we expect to have everything at our finger tips. It felt like Baumbach was directly addressing so many conversations we have had in the past. Now, I want to dig out my copy of Ibsen's The Master Builder to see where he got his inspiration and watch some of his other films. His first film, Kicking and Screaming, is on the Criterion Collection and we all know how I feel about that. There's actually a nice little ode to Criterion in While We're Young if keep your eyes peeled.
Is It Worth Your Trip to the Movies? One of the best movies of 2015
RATING: 4 out of 5 TICKET STUBS