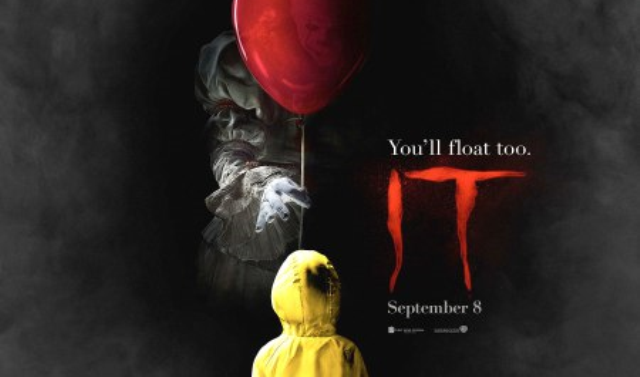 IT
Director: Andrés Muschietti
Starring: Bill Skarsgård, Finn Wolfhard, Jaeden Lieberher, Sophia Lillis, Wyatt Oleff, Jack Dylan Grazer, Chosen Jacobs
I'll come right out and say it that IT is not only my favorite from Stephen King's lofty canon, but it is also one of the scariest books from the master of horror. If you haven't read the 1000+ page book, you're really missing out if you're only knowledge stems from the TV mini-series starring Richard Thomas, Annette O'Toole, John Ritter, and Tim Curry. Curry gives the performance of his career as the absolutely frightening clown, Pennywise who spent centuries killing members of the small town of Derry, Maine. After Pennywise kills little Georgie Denbrough, his brother Bill and his friends, "The Losers Club", set out to confront their demons and kill Pennywise before he can harm any more children. There's so much more to IT than this little description, so you'll just have to take my word for it.
This remake has had a bumpy road to the big screen with True Detective's Cary Fukunaga originally attached to write and direct it. The standard "creative differences" came into play with Fukunaga ultimately leaving the project. Mama director Andrés Muschietti has taken over in order to bring King's creation to the big screen. IT will be told in two films covering the two different time periods the book covers. This first part deals with The Losers Club as kids facing Pennywise, while the second part will see them reuniting as adults after a tragedy brings them together. Bill Skarsgård has the daunting task of playing Pennywise, and it's hard to imagine anyone but Tim Curry in the role. I'm hopeful that he takes the character in a new direction. We do see a little bit of him in the trailer, but not enough to ruin the effect once the movie comes out. The rest of the trailer looks extremely promising. It has a Stranger Things vibe to it and showcases just how scary this movie will be. I can't wait!
Release Date: September 8, 2017
Here's the trailer