STEVE JOBS
Director: Danny Boyle
Starring: Michael Fassbender, Kate Winslet, Seth Rogen, Jeff Daniels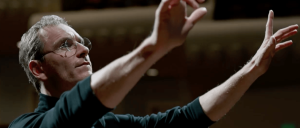 It was only a matter of time after Steve Jobs' passing that his life and career would get the big screen treatment. Most people have probably forgotten about Ashton Kutcher playing him in Jobs. The second movie is simply titled Steve Jobs, and it has far more going for it than Jobs. Director Danny Boyle (Slumdog Millionaire) lined up an all-star cast including: Michael Fassbender in the title role, Seth Rogen as Apple co-founder Steve Wozniak, Kate Winslet as a member of the Mac team, and Jeff Daniels as John Sculley, the CEO of Apple.
The trailer seems to depict the darker side of Jobs and how he built the Apple empire and what that meant to his other relationships in life. I have to admit that I drink the Apple Kool-Aid and am very brand loyal. However, I lack in any knowledge of the life Jobs lead. The film is built around the bestselling biography by Walter Isaacson with a screenplay by the brilliant Aaron Sorkin (The Social Network). I'm still peeved Sorkin's HBO series "The Newsroom" (also starring Jeff Daniels) was cancelled. Steve Jobs is slated for an October release presumably looking for some Oscar love. I, for one, am intrigued due to my love of Apple, Sorkin, and Kate Winslet. What are your first impressions? Feel free to leave them in the comments below!
Release Date: October 9, 2015
Here's the trailer: