DAZED AND CONFUSED (1993)
Writer/Director: Richard Linklater
Starring: Jason London, Shawn Andrews, Rory Cochrane, Joey Lauren Adams, Parker Posey, Anthony Rapp, Adam Goldberg, Ben Affleck, Milla Jovovich, Sasha Jenson, Matthew McConaughey, Wiley Wiggins, Marissa Ribisi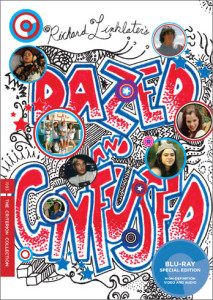 Truth be told I watched Dazed and Confused for the first time just a few weeks ago. The film has received a cult classic status, yet somehow I let it slip through the cracks. One of the first questions I had was that if I watch a movie in 2015 that was made in 1993 that was set in 1976, does it at all feel dated? Absolutely not! There is a timeless feel to Richard Linklater's film that, while it is set on May 28, 1976, anyone watching it can relate back to their last day of school whether you were finally becoming a member of the senior class or if you were moving up from junior high to becoming an incoming freshman.
Linklater's film takes place over a one day period as we pick up with our students waiting for that final bell to ring. Kids are roaming the hall and no one is paying attention to the teacher trying to tell them about the meaning of Independence Day. Members of the football team are asked to sign contracts regarding their use of alcohol and drugs during the off season. Key player Randal "Pink" Floyd (London) needs an "attitude adjustment" as he wants to quit the team. His choice could have a drastic impact on the rest of his teammates. Once the bell rings, the senior hazing toward freshman begins. Darla (Posey) leads the hazing over the freshman girls by having them wear pacifiers while covering them in ketchup, mustard, oatmeal, and raw eggs. O'Bannion (Affleck) heads the group of senior guys that chase the freshman boys with paddles that they'll be beaten with, a ritual that continues throughout the night. Mitch Kramer (Wiggins) is the lucky freshman who gets sympathy from Pink and goes out all night with the other seniors. The night was supposed to end up with a party at Kevin Pickford's (Andrews) house, but his folks bust it before it even starts. The majority of the evening is spent with everyone driving around, smoking lots of pot, and playing foosball. That is until "forever senior" Wooderson (McConaughey) organizes a beer bust at the moonlight tower.
I mentioned previously that it was written and directed by Richard Linklater. He's another director that I haven't fully delved into his filmography yet. I'm embarrassed, yet again, to state that I haven't seen his Before trilogy. If you have been following my work on my website, on "Twin Cities Live", or my tweets, you know that I completely obsess over his latest film Boyhood. This led me to seek out Dazed and Confused as the next film in my Criterion Collection series. I get the feeling that Linklater comes up with an idea or event and shoots a film around that concept without a very scripted or plotted out journey to it. Even with this film, there is a very loose structure to it. There are roughly three sections to the film: the hazing, the cruising around, and the beer bust. Everything else just falls into place as the night progresses. It's hard for any of these characters to go through huge character arcs in a timeframe that spans roughly twelve hours. It doesn't really matter that it doesn't have your traditional plot structure as Linklater wrote such memorable characters. They are diverse enough to keep you invested as to how they approach this memorable night.
The characters were only going to be as rich as they were if Linklater had the right actors behind them. According to one of the included essays that comes with the Criterion set, casting director Don Phillips came out of retirement to work on the film. Phillips also cast Fast Times at Ridgemont High, which is a must-see if you like Dazed. His key idea behind each was to use unknown actors. Of course nowadays, there are many familiar faces we recognize who have gone on to become Oscar winners like Ben Affleck and Matthew McConaughey. Affleck was only 21 years old when he played bad-ass senior O'Bannion, the main bully who loves using his paddle on the freshman. McConaughey made his big screen debut here, which also marks the incarnation of his infamous line "Alright Alright Alright". Parker Posey (The House of Yes, Waiting for Guffman) is one of my favorite character actresses, and you get a glimpse in this film of the wackiness that she so effortlessly puts forth in her characters. It's no wonder why she has maintained a strong indie status. Jason London (The Rage: Carrie 2), Joey Lauren Adams (Chasing Amy), Adam Goldberg (Saving Private Ryan), Milla Jovovich (Resident Evil), and Anthony Rapp (Rent) are all featured here as well.
Yes, it's great seeing all of these famous faces, but my favorite performance in the film is from Rory Cochrane (Argo) who plays Ron Slater. Slater is your typical hippie stoner with the long hair, hat, and all day stoned look on his face. Cochrane fully commits to the dazed and confused essence of his character and is downright hilarious with his drawn out vocal tones and physical tics. His rants and conspiracy theories include the idea that George Washington was part of a cult and grew lots of weed at Mount Vernon.
It would be a disservice to the film and Linklater if I didn't talk about the music that's used throughout. The film opens with Aerosmith's "Sweet Emotion" on full blast and it's hit after hit throughout the rest of the film as there is a specific song choice that transitions each scene. Alice Cooper's "School's Out", "Lowrider" by War, and "Rock & Roll All Night" by Kiss are just some of the songs featured in the film. The Blu-Ray set comes with a music guide and an essay by Jim DeRogatis entitled "The '70s Obviously Sucked-Not! (or at least the music anyway)"
One of the many reasons why I love the Criterion Collection is the care and attention they put into any Blu-Ray/DVD special edition they release. The Blu-Ray release I have comes with: director and cinematographer approved high-definition transfer of the director's cut, 5.1 DTS-HD Master Audio soundtrack, audio commentary by Linklater, the 50-minute behind the scenes documentary Making "Dazed" which includes rare on-set and audition footage, and footage from a ten-year anniversary celebration. This set also includes the collective booklet with various essays by Jim DeRogatis, Chuck Klosterman, and Kent Jones, character profiles, the previously mentioned music guide, and a film poster by Frank Kozik.
If you like films like American Graffiti, Fast Times at Ridgemont High, or even a good John Hughes comedy, you will no doubt like Dazed and Confused. All of these films are very much a product of the generation and decade on display, but they never wear out. They only get better upon multiple viewings. Linklater mentions that these types of teen movies were very out of style at the time and, unlike today, there wasn't a huge crop of teen actors that were named faces. It was an ambitious project for a writer and director tackling his second film. He has a winning cast, and it's very evident it was a very collaborative set between everyone involved. Many of them became friends and consider it a turning point in their careers as it was the launch pad to what we know of their work today.
Is It Worth Your Trip to the Movies? You don't need to be dazed or confused to enjoy Richard Linklater's film.
RATING: 4 out of 5 TICKET STUBS
You can view other films in the My Criterion Collection series HERE