New on 4K UltraHD: POLTERGEIST, THE LOST BOYS
Warner Bros. Home Entertainment has two '80s classics now on 4K Ultra HD just in time for spooky season! Both of these films spawned several sequels and remakes, but there's nothing like the original.
THE LOST BOYS (1987)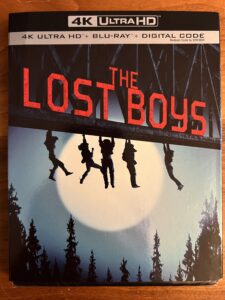 Long before Joel Schumacher cranked out some John Grisham adaptations and gave the Batsuit nipples, he directed a campy teen vampire flick with The Lost Boys. I watched this for the first time a few years ago, and boy, it was a fun one. Not only does it feature The Coreys (Haim and Feldman), but also Jason Patric, Kiefer Sutherland, Alex Winter, DIANNE WEIST, and the great Edward Hermann.
The Blu-Ray disc comes with multiple special features including:
· Commentary by Joel Schumacher
· "The Lost Boys: A Retrospective"
· "Inside the Vampire's Cave: A Director's Vision"
· "Inside the Vampire's Cave: Comedy vs. Horror"
· "Inside the Vampire's Cave: Fresh Blood-A New Look at Vampires"
· "Inside the Vampire's Cave: The Lost Boys Sequel?"
· "Vamping Out: The Undead Creations of Greg Cannon"
· "The Return of Sam and the Frog Brothers: Haimster & Feldog-The Story of the 2 Coreys"
· "The Return of Sam and the Frog Brothers: Multi-Angle Video Commentary by Corey Haim, Corey Feldman and Jamison Newlander"
· The Lost Scenes
· Lou Gramm "Lost in the Shadows" Music Video
POLTERGEIST (1982)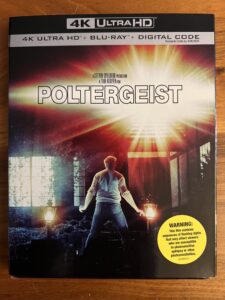 Poltergeist comes from the creative collaboration of Steven Spielberg (Close Encounters of the Third Kind, E.T.) and Tobe Hooper (The Texas Chainsaw Massacre) who wrote the screenplay together with Hooper directing the film. There are urban legends out there that Spielberg directed a majority of the film over Hooper, but no need to get into that here. The film is fantastically scary despite its PG-rating and continues to hold up to this very day thanks to its clever special effects, Heather O'Rourke's incredible performance, and eerie premise.
The new 4K Ultra HD/Blu-Ray release comes with previously released special features:
"They Are Here: The Real World of Poltergeists Pt. 1- Science of the Spirits"
"They Are Here: The Real World of Poltergeists Pt. 2- Communing with the Dead"
"The Making of Poltergeist"
Trailer